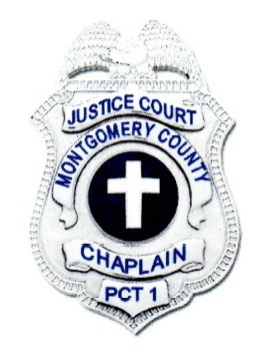 The Freedom From Religion Foundation has won its court challenge to stop a Texas judge from conducting courtroom prayer.
U.S. District Judge Kenneth M. Hoyt today ruled in favor of plaintiffs FFRF and local attorney "John Roe." They had sued Montgomery County Judge Wayne Mack over his divisive and unconstitutional practice of opening each court session with chaplain-led prayer. Mack, as a justice of the peace, has jurisdiction over minor misdemeanor offenses and lesser civil matters. Montgomery County is north of Houston, and its county seat is Conroe.
The decision reads: "The court is of the view that the defendant violates the Establishment Clause when, before a captured audience of litigants and their counsel, he presents himself as theopneustically inspired, enabling him to advance, through the chaplaincy program, God's 'larger purpose.' Such a magnanimous goal flies in the face of historical tradition, and makes a mockery of both religion and law."
FFRF welcomes today's judgment declaring at long last that Mack cannot continue abusing his authority to coerce attorneys, litigants and other citizens into participating in his courtroom prayers.
"A courtroom is not a church, and a judge's bench is not a pulpit," comments FFRF Co-President Annie Laurie Gaylor. "Today's ruling is a victory for the constitutional rights of all Americans and for equal justice under the law."
FFRF and Roe, who originally challenged the courtroom prayers in March 2017, due to various technical reasons refiled the case against Mack in 2019.
Mack, a formerly ordained minister who attended Jackson College of Ministries, made the unprecedented decision to solicit chaplains to open his court sessions with prayer, a practice not replicated by any other court in the country. Despite numerous complaints regarding the practice, Mack insisted on opening his court session with chaplain-led prayer. Attendees have reported Mack surveying the courtroom during prayers, causing concern that their cases would be affected if they did not participate. Mack's bailiff announced the prayers, stating that anyone could leave during the prayer, but then locked the courtroom doors. Mack entered, talked about his chaplaincy program, introduced a chaplain, and gave the name and location of the chaplain's church. While everyone in the courtroom remained standing, the chaplain, who was almost always Christian, delivered a prayer, with no guidelines regarding permissible content.
Since entering the lawsuit, Roe has regularly declined business in order to avoid appearing in Mack's courtroom. On some matters, where a district court has concurrent jurisdiction with Mack's court, Roe elected to bring claims in the district court instead of Mack's court, despite the higher filing fees, higher service fees and the generally slower docket, in order to avoid Mack's prayer practice. These decisions, motivated by a desire to avoid government-prescribed prayer, are not choices that any attorney or private litigant should have to make, FFRF argued in its briefings.
FFRF's suit asserted that Mack's prayer practice is unconstitutionally coercive, with a primary purpose and effect of promoting religion. FFRF noted that Mack's practices cannot be compared to legislative prayer. Unlike legislative prayer, Mack's courtroom chaplains directed their prayers to the audience, not the judge. And in the courtroom setting many of the audience members are compelled, under threat of a warrant issuing for their arrest or other ordered penalties, to appear in the courtroom. Judge Hoyt agreed that the prayers were coercive.
While this latest decision resolves the case, the court issued a ruling on March 25 granting FFRF and its plaintiff Roe default judgment against Mack in his official capacity as a judicial officer. Because the state of Texas elected not to defend the lawsuit, plaintiffs Roe and FFRF moved for, and were granted, a default judgment declaring: "Judge Mack's courtroom prayer practice violates the Establishment Clause of the First Amendment to the United States Constitution." Plaintiffs plan to seek recovery of their attorneys' fees and costs against the state.
"In a time where the wall of separation between state and church is continually chipped away, this decision is welcomed for its straightforward and accurate interpretation of the Establishment Clause, noting the prayer practice 'flies in the face' of our traditions," comments FFRF Legal Director Rebecca Markert.
FFRF and Roe are being represented by FFRF Associate Counsel Sam Grover, with FFRF Associate Counsel Elizabeth Cavell and Attorney Ayesha Khan of Washington, D.C., serving as co-counsel.
The Freedom From Religion Foundation has 35,000 members and several chapters all over the United States, including more than 1,400 members and a chapter in Texas.