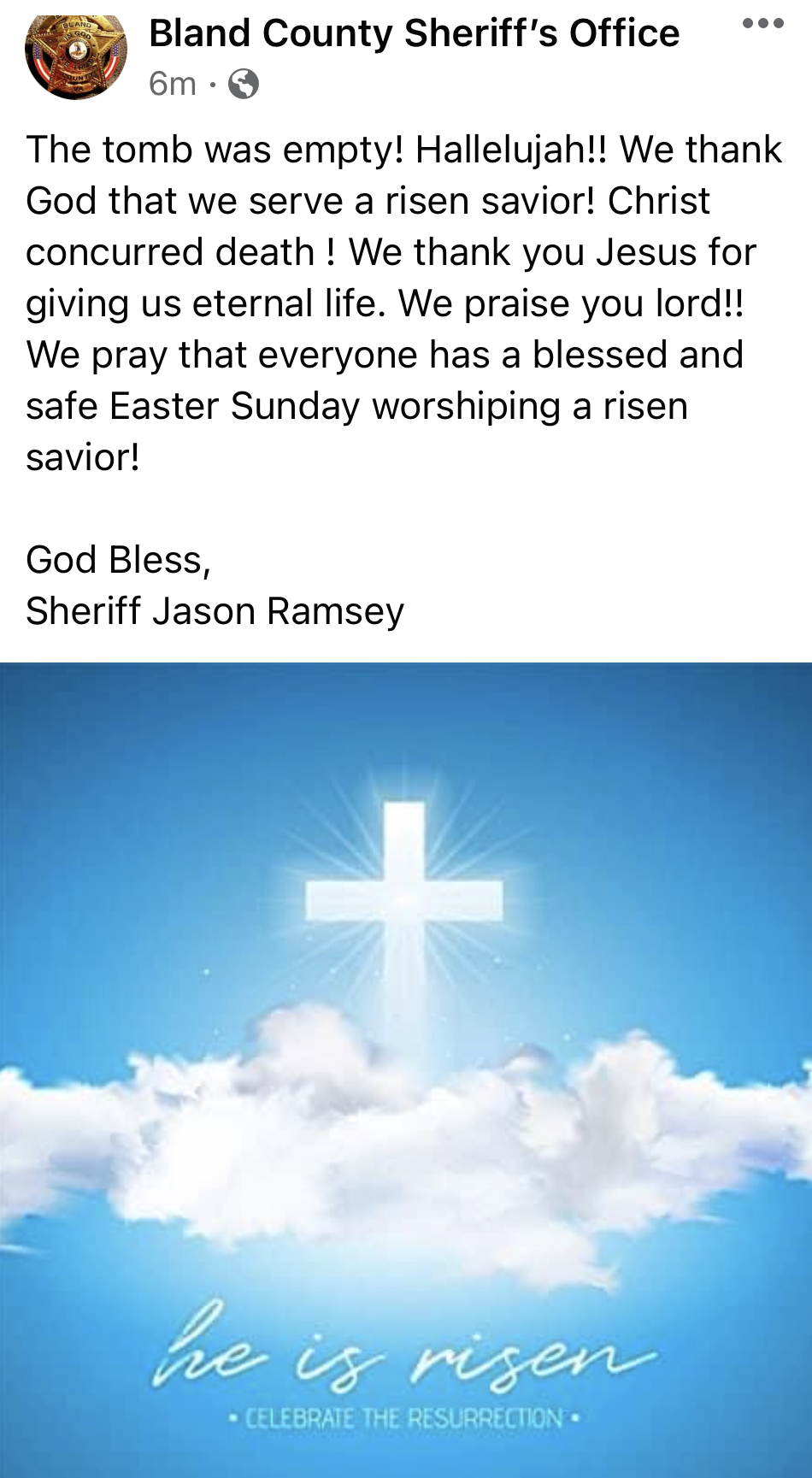 The Freedom From Religion Foundation is urging a Virginia sheriff's department to discontinue its pattern of posting discriminatory religious messages on its official social media account.
A local resident alerted FFRF about the bible verses, prayer requests and other religious messages that Bland County Sheriff Jason Ramsey regularly posts on the office's Facebook page. These posts range from regularly asking for "thoughts and prayers," ending messages with "God bless" to direct Christian proselytizing.
For example, an April 3 post featured a photo of a Latin cross with the message, "He is risen — celebrate the resurrection," along with the caption:
The tomb was empty! Hallelujah! WE thank God that we serve a risen savior! Christ concurred [sic] death ! We Thank you Jesus for giving us eternal life. We praise you Lord!! Our savior lives!! We pray that everyone has a blessed and safe Easter Sunday worshiping a risen savior!
God Bless, Sheriff Jason Ramsey
FFRF Staff Attorney Chris Line's complaint letter to Ramsey points out that it is inappropriate, exclusionary and indeed illegal for the sheriff's office to promote religion on social media. Government employees, FFRF explains, can worship, pray or quote any religious text they wish when acting in their personal capacities, but are not permitted to lend the power and prestige of their government office to their personal religion.
"Citizens interact with and rely on law enforcement officers during some of the more urgent and vulnerable times in their lives," writes FFRF Staff Attorney Chris Line. "Religious endorsements coming from the sheriff's office needlessly alienate the non-Christian and nonreligious citizens in Bland County, turning them into political outsiders in their own community."
FFRF also emphasized that the department's promotion of Christianity needlessly exposes Bland County taxpayers to costly legal liability. Not long ago, the sheriff's office in Bradley County, Tenn., paid more than $40,000 in damages and attorneys' fees after promoting religion on social media and ignoring objections to the practice.
"Law enforcement officers take an oath to protect and serve all citizens," comments FFRF Co-President Annie Laurie Gaylor. "Displaying a preference for religion so clearly right on county property is a betrayal of that oath."
The Freedom From Religion Foundation is a national nonprofit organization with more than 35,000 members across the country, including more than 800 in Virginia. FFRF's purposes are to protect the constitutional principle of separation between church and state, and to educate the public on matters relating to nontheism.