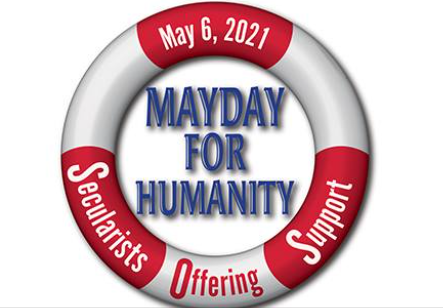 The Freedom From Religion Foundation and four other national secular nonprofits are teaming up to address the increased need for food and shelter assistance due to the pandemic.
In a three-hour fundraising event — "Mayday for Humanity" — FFRF, The Freethought Society, Recovering From Religion, Secular Student Society and Secular Coalition for America will raise funds for homeless shelters and food banks in Wisconsin, Pennsylvania and California.
The virtual event featuring entertainers, singers and celebrities will take place on Thursday, May 6, at 7 p.m. Eastern, during which donations will be collected to benefit pre-selected homeless shelters and food distribution centers. The event coincides with the National Day of Reason called by freethinkers to counter the unconstitutional annual National Day of Prayer proclaimed by Congress.
"'Hands that help are better far than lips that pray,' as the 19th century freethinker Robert G. Ingersoll famously noted," comments Annie Laurie Gaylor, FFRF Co-President. "During this pandemic, the need for helping hands, not useless prayer, is even greater."
Celebrity endorsers of the National Day of Reason Mayday for Humanity include John Davidson, Penn & Teller, John de Lancie, Julia Sweeney, John Fugelsang and Jon Huertas. Entertainers and co-hosts are Ian Harris and Leighann Lord. For more information about the event, please visit the following Facebook event page or the event registration page.
"The Freethought Society is proud to be a co-sponsor of an event that celebrates the National Day of Reason in sharp contrast to the National Day of Prayer," commented organizer and Freethought Society President Margaret Downey. "During the 'Mayday for Humanity' event, the nontheist community will take action and raise funds for citizens in need because prayers simply don't work to solve human problems."
The Freedom From Religion Foundation is a national nonprofit organization with more than 35,000 members and several chapters across the country. FFRF's purposes are to protect the constitutional principle of separation between church and state, and to educate the public on matters relating to nontheism.