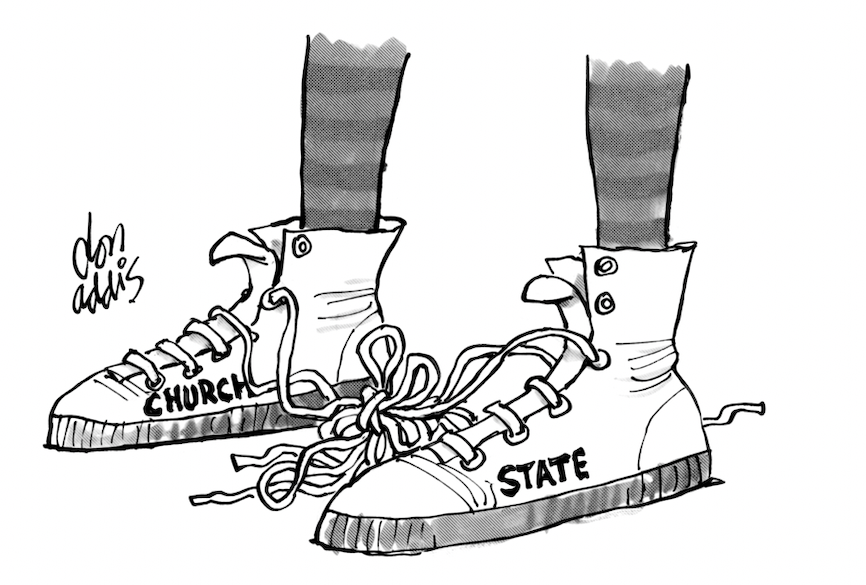 The Freedom From Religion Foundation is trying to ascertain details about a Kentucky city's reported proposal for a church construction at taxpayers' expense.
A concerned Versailles resident and taxpayer has alerted FFRF about an official decision to spend city and federal funds to raise a new church building on church property. "The Versailles City Council held a first reading Tuesday of an ordinance that would annex 21.633 acres of land owned by First Baptist Church and sets the stage for a new church and severe weather shelter to be built there," an article in the local newspaper stated last month.
It is unconstitutional for the city to partner with a church to expend taxpayer funds for constructing a new structure that will be used for worship, FFRF has stressed to local officials.
"We understand the city's desire to build a severe weather shelter, but this purported secular goal does not excuse the fact that the government is building a new church building that will be used for religious worship, which violates taxpayers' right to secular use of government funds," FFRF Staff Attorney Chris Line has written to Versailles Mayor Brian Traugott. "It is also unconstitutional to use federal grant funds for this purpose, given that the severe weather shelter would also serve as the church's sanctuary, directing federal funds directly to support religious worship."
In its attempts to find out what exactly is going on, FFRF has asked for records, including those pertaining to any contracts, agreements, communications or grant requests between the city and First Baptist Church regarding this project. Unfortunately, the mayor has replied in a hostile manner, adopting a derisive tone and baselessly denying the existence of a local complainant.
"The Kentucky Constitution states outright that no person may 'be compelled to attend any place of worship, to contribute to the erection or maintenance of any such place,'" comments FFRF Co-President Annie Laurie Gaylor. "This unconstitutional boondoggle must be deep-sixed."
The Freedom From Religion Foundation is a national nonprofit organization with more than 33,500 members and several chapters across the country, including hundreds of members and a chapter in Kentucky. Its purposes are to protect the constitutional principle of separation between state and church, and to educate the public on matters relating to nontheism.