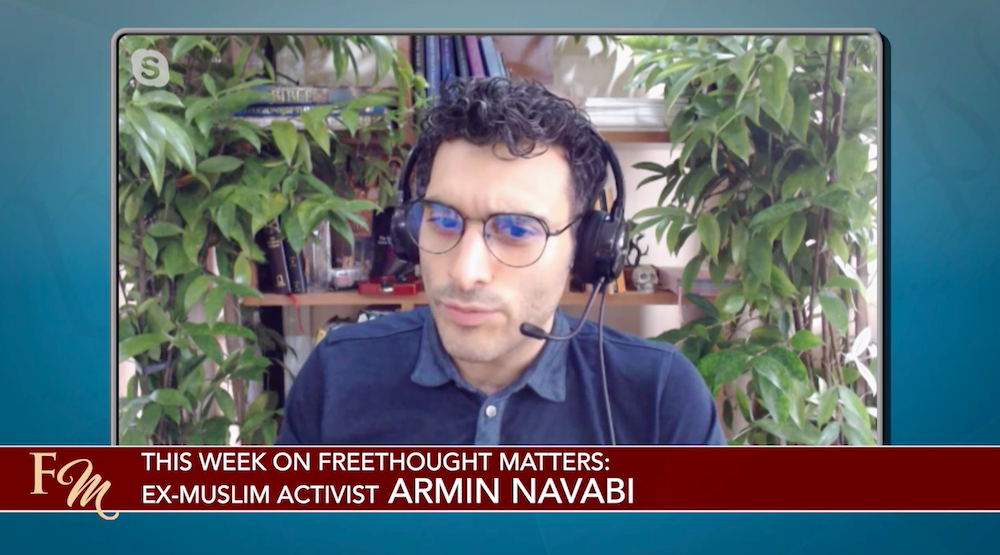 A former Muslim who has become an ardent secular online activist, podcaster and author is the guest on the Freedom From Religion Foundation's TV show this Sunday.
Armin Navabi is an Iranian ex-Muslim. In 2012, he founded Atheist Republic, an online community that now has hundreds of branches in several countries around the world and enables nonbelievers to interact with each other in places where criticism of religion is often repressed and criminalized. His book, Why There Is No God: Simple Responses to 20 Common Arguments for the Existence of God, was published in 2014. Navabi is also the co-host, with Ali Rizvi, of the podcast "Secular Jihadists for a Muslim Enlightenment."
"Atheist Republic's main goal is mostly for atheists to realize that they're not alone, that there's a community for them, that they're not isolated," he tells "Freethought Matters" host Dan Barker. "And also for atheists to understand that not only they shouldn't feel like they need to hide or that they're isolated, but also that they don't have to be apologetic about their views."
If you don't live in the quarter-plus of the nation where the show broadcasts on Sunday, you can already catch the interview on FFRF's YouTube channel.
This is the fall season's 24th episode of "Freethought Matters," airing in over a dozen cities on Sunday, Feb. 7.
Coming shows include interviews with Nate Phelps, the freethinking son of the notorious founder of the Westboro Baptist Church Fred Phelps, and Law Professor Jay Wexler, whose most recent book is Our Non-Christian Nation.
"Freethought Matters" airs in:
Chicago, WPWR-CW (Ch. 50), Sundays at 9 a.m.
Denver, KWGN-CW (Ch. 2), Sundays at 7 a.m.
Houston, KUBE-IND (Ch. 57), Sundays at 9 a.m.
Los Angeles, KCOP-MY (Ch. 13), Sundays at 8:30 a.m.
Madison, Wis., WISC-TV (Ch. 3), Sundays at 11 p.m.
Minneapolis, KSTC-IND (Ch. 45), Sundays at 9:30 a.m.
New York City, WPIX-IND (Ch. 11), Sundays at 8:30 a.m.
Phoenix, KASW-CW (Ch. 61, or 6 or 1006 for HD), Sundays at 8:30 a.m.
Portland, Ore., KRCW-CW (Ch. 32), Sundays at 9 a.m. Comcast channel 703 for High Def, or Channel 3.
Sacramento, KQCA-MY (Ch. 58), Sundays at 8:30 a.m.
San Francisco, KICU-IND (Ch. 36), Sundays at 10 a.m.
Seattle, KONG-IND (Ch. 16 or Ch. 106 on Comcast). Sundays at 8 a.m.
Washington, D.C., WDCW-CW (Ch. 50), Sundays at 8 a.m.
Previous guests from the fall season include: pundit Eleanor Clift, whose interview you can watch here, actor and FFRF After-Life Member John de Lancie of "Star Trek" "Q" fame, Pulitzer Prize-winning reporter Linda Greenhouse, the country's leading analyst of the U.S. Supreme Court, and legislative stalwart and feminist and civil rights pioneer U.S. Rep. Eleanor Holmes Norton. One of the most eminent public intellectuals in the world, Professor Steven Pinker, was interviewed a few episodes ago talking about his new course on rationality. Legendary TV host, actor and singer John Davidson was the guest in early December. Recently, the show featured Ann Druyan, the co-creator of "Cosmos," possibly the most acclaimed TV series of all time. A.C. Grayling, a prominent British philosopher and the author of about 30 books, grappled on the show a couple weeks ago with philosophy and the pandemic, and discussed how he himself dealt as a nonbeliever with a personal tragedy. And just last week, the show interviewed Robert P. Jones, the CEO and founder of Public Religion Research Institute who is an expert on the intersection of religious and racial extremism.
Watch previous seasons here, including interviews with Ron Reagan, Julia Sweeney and Ed Asner, as well as U.S. Reps. Jared Huffman and Jamie Raskin, co-chairs of the Congressional Freethought Caucus.
Please tune in to "Freethought Matters" . . . because freethought matters.
P.S. Please tune in or record according to the times given above regardless of what is listed in your TV guide (it may be listed simply as "paid programming" or even be misidentified). To set up an automatic weekly recording, try taping manually by time or channel. And spread the word to freethinking friends, family or colleagues about a TV show, finally, that is dedicated to providing programming for freethinkers!