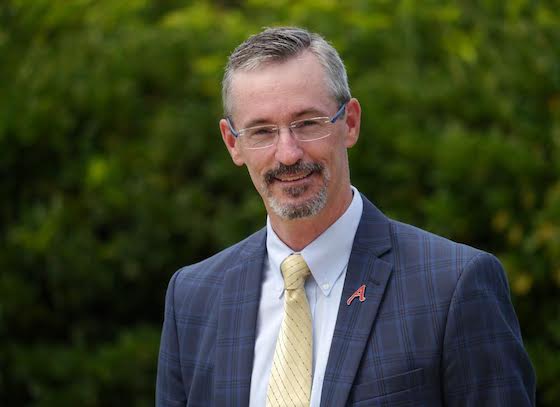 The Freedom From Religion Foundation hails a victory this morning (Jan. 26) for religious freedom and secular inclusion in a Florida county. David Williamson, a director and co-founder of the Central Florida Freethought Community (a chapter of FFRF), offered what is believed to be the first-ever secular (nonreligious) invocation to open a meeting of Brevard's Board of County Commissioners.
Williamson's invocation was noteworthy because the board previously had denied him and other nontheists the opportunity to offer secular invocations to open its meetings, while permitting a parade of religious invocations, thus sparking a nearly five-year-long legal battle. The case, in which FFRF was a major participant, ended successfully a year ago last February when commissioners agreed not to discriminate against nonreligious individuals or those who don't belong to mainstream, monotheistic religions.
Williamson's remarks reflect on the shared American ideals of public service, democracy, compassion, community and seeking common ground. (The text of Williamson's invocation is available here.)
"The religious landscape of Brevard includes a fast-growing number of nonreligious people," states Williamson. "It is an honor to begin the process of including atheists, humanists and others who claim no religion whatsoever as equal members of the community."
Williamson was the lead plaintiff in Williamson v. Brevard County, which was filed in 2015 by FFRF, Americans United for Separation of Church and State, the American Civil Liberties Union and the ACLU of Florida. Other plaintiffs included the Central Florida Freethought Community; the Space Coast Freethought Association and its former president, Chase Hansel; the Humanist Community of the Space Coast and its president, Keith Becher; and Brevard County resident Ronald Gordon.
The plaintiffs settled the case last year after the county agreed to implement a July 2019 decision of the 11th U.S. Circuit Court of Appeals, which made clear that government officials must not engage in religious discrimination when selecting people to deliver opening invocations. As part of the settlement, the county agreed to pay nearly $500,000 in damages and legal fees to plaintiffs.
"This is an important step toward official recognition of the fast-growing numbers of the nonreligious — currently a significant presence in communities all over Florida and the United States," says FFRF Co-President Annie Laurie Gaylor. "We're glad that legal action we were a part of helped bring this about."
The case litigation team included Legal Director Rebecca S. Markert and Director of Strategic Response Andrew L. Seidel of FFRF; Associate Legal Director Alex J. Luchenitser, Vice President and Legal Director Richard B. Katskee, Litigation Counsel Bradley Girard and Legal Fellow Alexander Gouzoules at Americans United; Legal Director Daniel Tilley of the ACLU of Florida; and ACLU Program on Freedom of Religion and Belief Director Daniel Mach.
"David set a high standard that we hope is emulated by future invocation speakers, in Brevard County and throughout America: He offered words of encouragement by focusing on the shared values that unite our communities," comments Luchenitser, lead counsel in the case. "Elected officials across the country should follow the wise example Brevard County has now set by ensuring that no one is denied an opportunity to solemnize governmental meetings because of their beliefs about religion."
Mach adds, "Today's invocation was a welcome celebration of the fundamental right to equal participation in local government."
Comments co-plaintiff Becher, "The Humanist Community of the Space Coast is happy that the county is practicing inclusiveness with its new policy, and we are excited to participate in this new invocation forum. We were pleased to see our friend David Williamson offer the first of what we hope are many inclusive invocations from the Humanist/Atheist communities."
The Freedom From Religion Foundation is a Madison, Wis.-based national organization dedicated to the separation of state and church, with more than 33,000 nonreligious members and several chapters all around the country, including over 1,600 members and a chapter in Florida.
Americans United is a religious freedom advocacy organization based in Washington, D.C. Founded in 1947, AU educates Americans about the importance of church-state separation in safeguarding religious freedom.
For more than 100 years, the ACLU has worked in courts, legislatures, and communities to protect the constitutional rights of all people. With a nationwide network of offices and millions of members and supporters, the ACLU takes on the toughest civil liberties fights in pursuit of liberty and justice for all.