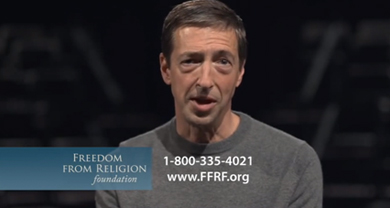 The Freedom From Religion Foundation will be dominating the television landscape tonight, with its ads airing on three separate network comedy news programs.
The national state/church watchdog's iconic endorsement by Ron "Unabashed atheist . . . not afraid of burning in hell" Reagan will make its debut on "Full Frontal with Samantha Bee" on TBS tonight, in addition to running on "The Daily Show with Trevor Noah." The ad is likewise scheduled to play tonight on "The Late Show with Stephen Colbert" on CBS, which starts at 11:30 Eastern, as well as tomorrow night and next week.
Viewers will have two opportunities to catch FFRF's ad on "Full Frontal" tonight. The show will air at 10:30 p.m. Eastern, with the ad scheduled for 10:46 p.m. The comedy news show repeats at 11:30 p.m. Eastern, with FFRF's ad slated to air at 11:47 p.m. (Exact air times are subject to change.) The ad will air on the weekend rerun of "Full Frontal" this Saturday, Jan. 23, replay twice next Wednesday during the Jan. 27 episode, and run a final time on Saturday, Jan. 30.
The 30-second spot by the progressive son of President Ronald and Nancy Reagan is also running this week on "The Daily Show with Trevor Noah" over Comedy Central (11 p.m. Eastern). It will air twice tonight (scheduled for 11:10 p.m. and 11:24 p.m.) and twice tomorrow, Jan, 21, night (slated for 11:10 p.m. and 11:24 p.m.).
In the commercial, Reagan says:
Hi, I'm Ron Reagan, an unabashed atheist, and I'm alarmed by the intrusion of religion into our secular government. That's why I'm asking you to support the Freedom From Religion Foundation, the nation's largest and most effective association of atheists and agnostics, working to keep state and church separate, just like our Founding Fathers intended. Please support the Freedom From Religion Foundation. Ron Reagan, lifelong atheist, not afraid of burning in hell.

"These ads over national networks are raising consciousness about the growing numbers of Americans, even the son of a conservative president, who are making known their dissent from religion," says Dan Barker, FFRF co-president.
Nonreligious Americans are the fastest growing segment of the U.S. population by religious identification — 35 percent of Americans are non-Christians. This includes the more than one in four Americans who now identifies as religiously unaffiliated. A recent survey found that 21 percent of Americans born after 1999 are atheist or agnostic.
Reagan's signature line has spawned an interactive digital "billboard", as well as an "unabashed" T-shirt, cap, a lapel pin and a new handcrafted mug.
FFRF thanks Ron Reagan for his gracious endorsement, as well as FFRF members who contribute to FFRF's advertising fund, which makes possible the advertisements and has significantly grown FFRF's membership, now at over 33,000.