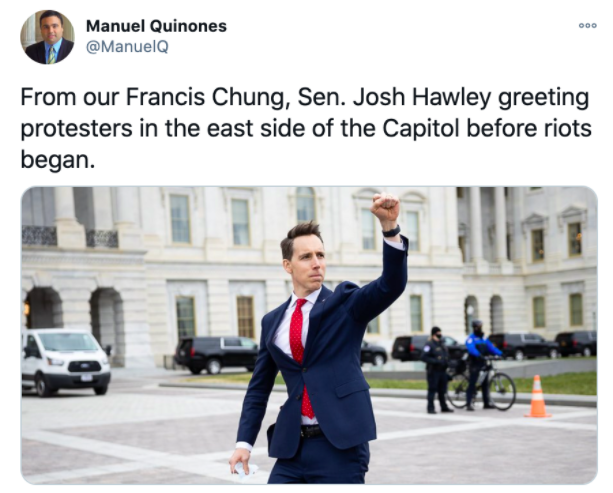 Sen. Josh Hawley, R-Mo., was shamefully captured by news photographers holding his fist up in a sign of support as mobs assembled at the U.S. Capitol Jan. 6 before they sacked his workplace — and the citadel of our republic.
Despite what transpired shortly after — with Trump loyalists invading the Capitol, calling for Vice President Mike Pence to be hanged, terrorizing locked-down members of Congress and ransacking the building — Hawley voted later that night not to certify the election of President-elect Joe Biden.
In fact, Hawley was the first U.S. senator to publicly challenge the Electoral College tally, and led the opposition with Sen. Ted Cruz, R-Texas. He's been condemned even by many in his own party for voting to challenge the election results. The editorial board of The Kansas City Star called on Hawley to resign or be removed, opining that he has "blood on his hands" and "that no one other than Trump himself is more responsible for the coup attempt."
Hawley is a Christian Nationalist.
In a recent op-ed for The New York Times, journalist Katherine Stewart thoroughly documents Hawley's Christian Nationalist credentials, including an address he gave in 2017 saying "our charge" is: "To take the Lordship of Christ, that message, into the public realm, and to seek the obedience of the nations. Of our nation!"
FFRF knew about that infamous address, because we sent a complaint letter to Hawley about it, after he made those statements in his official capacity as Missouri attorney general to a "Pastors and Pews" event in Kansas City. During his remarks, he chillingly referred to his service as attorney general as a "form of ministry":
"There is only one god. That god is Jesus Christ, who is seated on the throne and is lord over all and […] as believers we are charged to take that message—that the lord reigns, that Jesus Christ reigns, that he is risen and is seated on the throne—we are called to take that message into every sphere of life that we touch, including the political realm."
We documented in our letter more of the same kind of truly shocking zealotry, uttered by the highest enforcement officer of his state:
"…our charge [is to] take the lordship of Christ, that message, into the public realm and to seek the obedience of the nations—of our nation… to influence our society, and even more than that, to transform our society our society to reflect the gospel truth and lordship of Jesus Christ."
Hawley ganged up with some other theocratic state attorneys general to oppose two FFRF lawsuits (something that in fact routinely happens): our historic challenge of the IRS privileging of ministers and churches with a lucrative-to-them housing allowance, and sounding out against our lawsuit challenging an enormous cross in a Pensacola public park.
FFRF has long argued that Christian Nationalism is an existential threat to our republic. Even before Hawley smiled upon the Capitol insurgents, conservative columnist George F. Will presciently wrote on Jan. 4 that Hawley (and Cruz) are the Constitution's "most dangerous enemies."
Will got that right. The Freedom From Religion Foundation likewise calls on Hawley to resign.