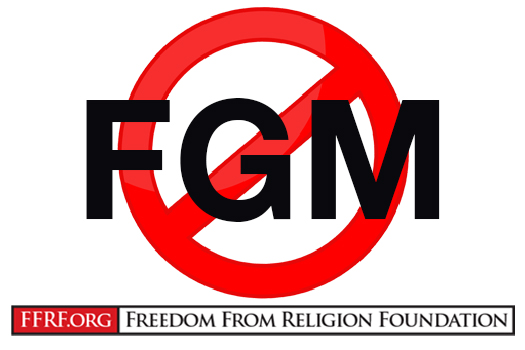 The Freedom From Religion Foundation celebrates the signing into law of a measure that prohibits female genital mutilation on minors across the entire nation.
The STOP FGM Act of 2020 (HR 6100) was a key priority for the Congressional Freethought Caucus, and FFRF worked closely with the office of Rep. Sheila Jackson Lee, D-Texas, to advance its passage.
"We thank Rep. Jackson Lee and the members of the Congressional Freethought Caucus who championed this critical legislation," comments FFRF Co-President Annie Laurie Gaylor. "The barbaric act of female genital mutilation has no place in a modern, free society."
Approximately 513,000 women and girls have experienced the inhumane procedure and its consequences in this country. Worldwide, more than 3 million girls are estimated to be at risk annually.
A federal court ruled in 2018 that the existing statute banning female genital mutilation was unconstitutional because Congress lacked the authority to enact it. While states have been scrambling to ban the practice on a state-by-state basis, this new federal legislation cures the previous law's defect by explicitly stating a constitutional basis for banning the procedure nationwide under the Commerce Clause, which gives Congress broad powers. The bill establishes a statutory maximum term of imprisonment for a violation at 10 years.
Female genital mutilation has no medical benefit and causes lasting medical harm. Regardless of religion or tradition, this is a violent, anti-woman assault and a horrific human rights violation.
The bill was signed into law last week.
FFRF is a national nonprofit organization with more than 33,000 members and several chapters across the country. Its purposes are to protect the constitutional principle of separation between state and church, and to educate the public on matters relating to nontheism.