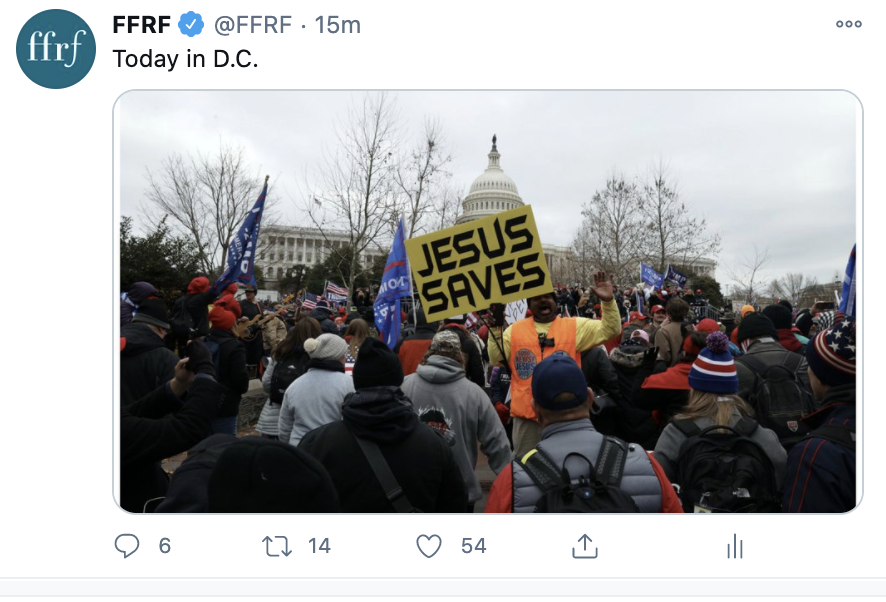 In the wake of the ongoing armed insurrection at the U.S. Capitol, a direct consequence of President Trump's encouragement, the Freedom From Religion Foundation is calling on Congress (once its members are safely out of lockdown) to take immediate action against him.
Our republic has never faced a greater threat from within, and there are two more weeks for Trump to continue the attacks.
We are seeing unfold before our eyes in real time an armed uprising to halt the ceremonial counting of the electoral vote that will declare Joe Biden our next president. The mobs breaching the Capitol, rushing onto the floor, even invading Speaker Nancy Pelosi's office, are a result of Trump's ominous order to the Proud Boys to "stand back and stand by."
This terrorism is a consequence of Trump promising "wild" protests today as Congress was to finalize the election results. Trump's personal attorney Rudy Guiliani even called for "trial by combat" at a "Save America" rally in front of the White House today. At this rally preceding the insurrection, Trump's son Donald Jr. told members of Congress, "We're coming for you." Trump himself egged on his MAGA supporters by castigating the election results and urging: "So let's walk down Pennsylvania Avenue. I want to thank you all. God bless you and God bless America."
The invasion occurred as returns confirmed that two Democrats have won the Georgia senatorial elections — turning the Senate Democratic.
A second impeachment was already overdue, given Trump's disgraceful hour-long phone call seeking to threaten or cajole Georgia Secretary of State Brad Raffensperger to commit election fraud — and his brazen request to Vice President Mike Pence to throw out electoral votes.
When Trump belatedly told the mob to "go home," he prefaced his remarks not only with more grievances and his Big Lie that the election has been stolen from him, but assurances to the terrorists that "We love you. You're very special."
It behooves FFRF to point out the Christian Nationalist connection. A huge banner saying "Jesus 2020" can be seen in the riot shots. Trump's base is white evangelicals, 81 percent of whom voted him into office, with the majority of Protestants and Catholics voting for him in his re-election bid. We cannot understand what is happening now without understanding the growing threat of Christian Nationalism. Protesters in Michigan today erected a highly-symbolic 10-foot-tall cross outside the state Capitol.
"Stay safe" is taking on a new meaning as we hear from locked-down members of Congress. U.S. Rep. Jared Huffman, co-founder of the Congressional Freethought Caucus, has tweeted:

And his colleague Rep. Jamie Raskin provides steadying and true words:

There must be consequences for any U.S. president who behaves like a strongman dictator and who continually voices his refusal to honor election results and our nation's unbroken history of peaceful succession.
Congress needs to take action now.