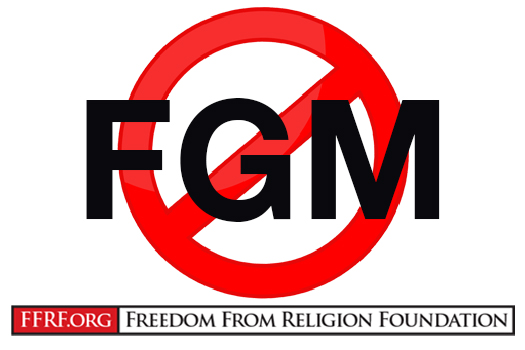 President Trump needs to immediately sign into law a bill banning the barbaric practice of female genital mutilation in the United States, the Freedom From Religion Foundation is urging.
In a rare show of bipartisan support, the U.S. Senate has passed H.R. 6100, the STOP FGM Act of 2020, a priority piece of legislation for FFRF and the Congressional Freethought Caucus. FFRF has been working closely with the office of Rep. Sheila Jackson Lee, D-Texas, to advance the bill.
The STOP FGM Act of 2020 prohibits female genital mutilation on minors across the entire nation. Approximately 513,000 women and girls have experienced the inhumane procedure and its consequences in this country. Worldwide, more than 3 million girls are estimated to be at risk annually.
A federal court ruled in 2018 that the existing statute banning female genital mutilation was unconstitutional because Congress lacked the authority to enact it. While states have been scrambling to ban the practice on a state-by-state basis, this new federal legislation cures the previous law's defect by explicitly stating a constitutional basis for banning the procedure nationwide under the Commerce Clause, which gives Congress broad powers. The bill establishes a statutory maximum term of imprisonment for a violation at 10 years.
Female genital mutilation has no medical benefit and causes lasting medical harm. Regardless of religion or tradition, this is a violent, anti-woman assault and a horrific human rights violation.
Though no religious texts prescribe the practice, practitioners often believe the practice has religious support, according to the World Health Organization. Religious leaders take varying positions with regard to female genital mutilation: Some promote it, some consider it irrelevant to religion and others contribute to its elimination. Local structures of power and authority, such as community leaders, religious leaders, circumcisers and even some medical personnel can contribute to upholding the practice.
"Finally, something both parties can agree on!" celebrates FFRF Co-President Annie Laurie Gaylor. "The barbaric and disgusting act of female genital mutilation has no place in a modern, free society. This should be signed into law without delay."