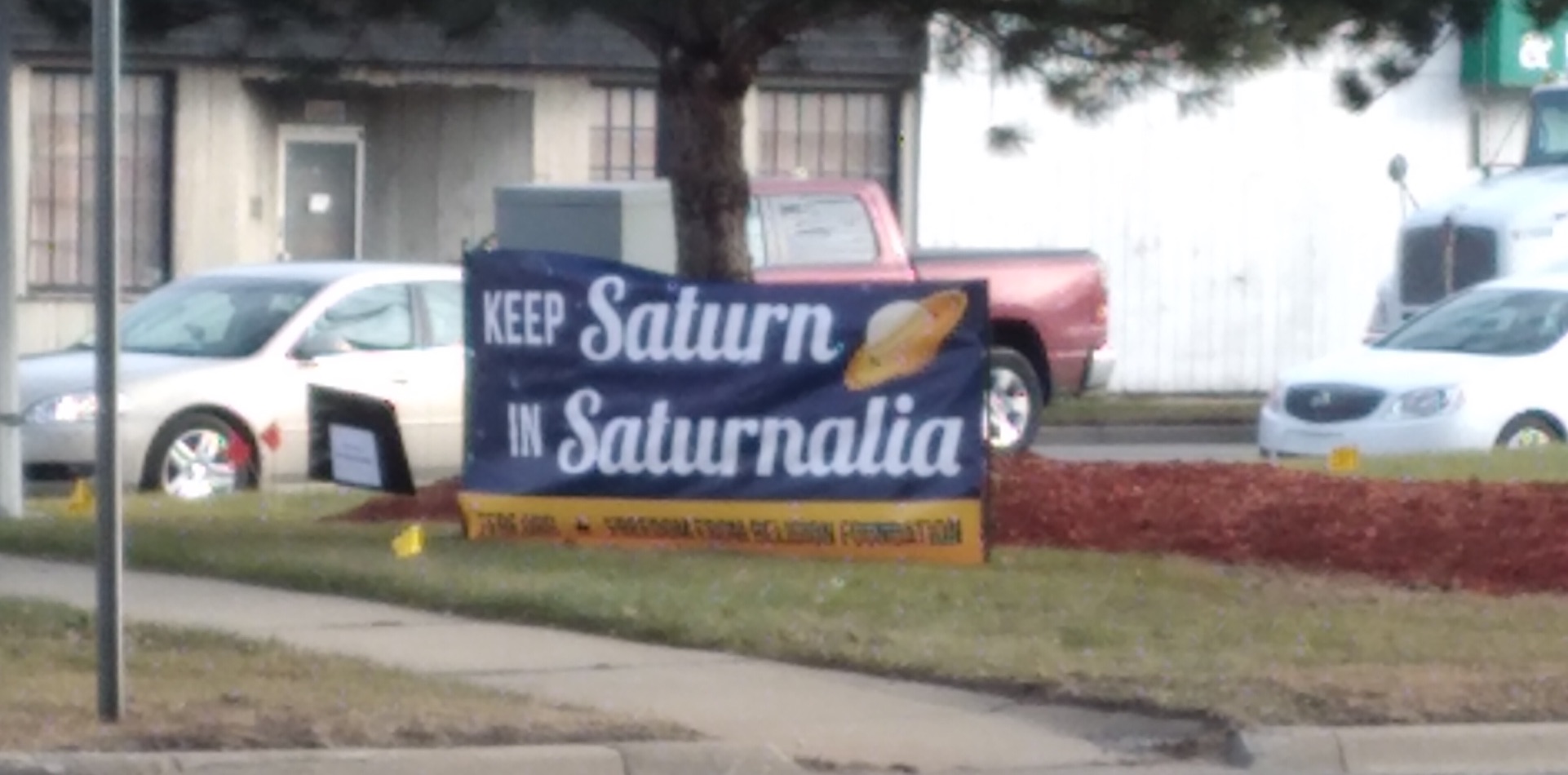 The Freedom From Religion Foundation is giving Solstice greetings once again in Warren, Mich.
FFRF's irreverent "Keep Saturn in Saturnalia" banner has again been placed near the intersection of Mound and Chicago roads.
Saturnalia, observed during the time of the Roman Empire, was one of the largest of the Winter Solstice festivities, and many Christmas traditions are based on it. The slogan on FFRF's banner is a riff on "Keep Christ in Christmas," and is meant to remind the public of the real "reason for the season": the Winter Solstice.
FFRF Legal Director Rebecca Markert sent a letter to the Macomb County Road Commission back in 2008 requesting an investigation into the placement and permit of a nearly 10-foot-tall crèche at the site where the FFRF banner is now displayed. The commission determined that the person who installed the Nativity scene in the median of a highway had never received a proper permit and ordered him to remove it.
After a lengthy court battle, the 6th U.S. Circuit Court of Appeals said any individual or organization could apply for a permit to put up a display. That's when FFRF arranged for a banner to be put up alongside the Christian Nativity scene.
"If there's going to be a public forum including religion, then there has to be 'room at the inn' for a freethought perspective," says FFRF Co-President Annie Laurie Gaylor.
FFRF extends a warm thanks to local member and stalwart activist Doug Marshall for organizing the installation of the display.
The Freedom From Religion Foundation is a national state/church watchdog with approximately 33,000 nonreligious members all over the country, including more than 700 in Michigan.