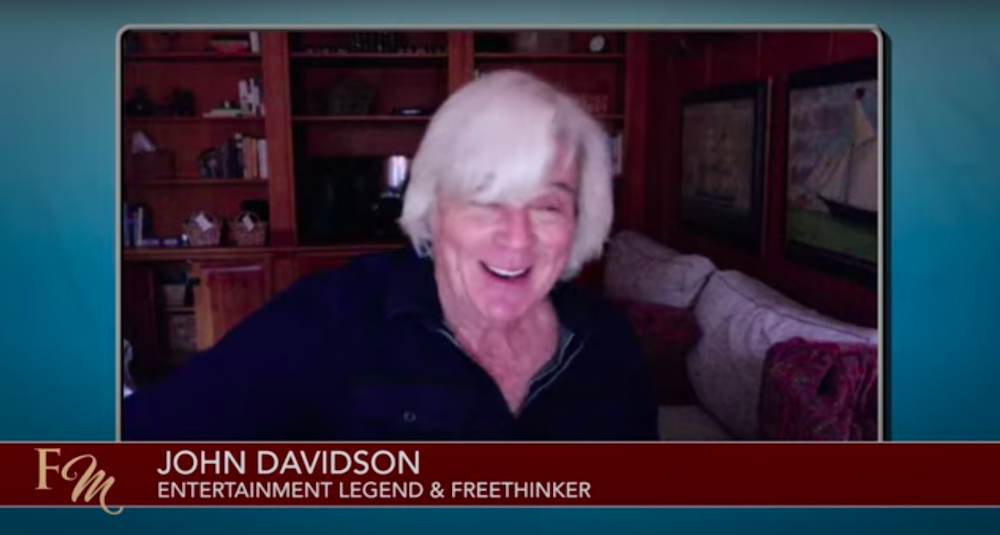 A legendary multitalented Hollywood personality who has also been a near lifelong atheist is the guest on the Freedom From Religion Foundation's television talk show this Sunday.
Singer and actor John Davidson was the host of several fondly remembered TV shows, including "That's Incredible," "The $100,000 Pyramid" and, most famously, "The New Hollywood Squares." He hosted his own variety show for a season and was one of the most used guest hosts on "The Tonight Show Starring Johnny Carson." Davidson has starred in several TV series, including with Sally Field on "The Girl with Something Extra," and in a number of movies ("Edward Scissorhands" among them). He has also released a dozen solo albums. A highlight of Davidson's theatrical appearances has been his national tour as The Wizard in "Wicked."
"Freethought Matters" opens with a lively homage of clips spotlighting Davidson's long career. He performs an original freethinking song on "Freethought Matters," in addition to discussing his nonbelief.
If you don't live in the 27 percent of the country's markets where the show broadcasts on Sunday, you can already catch the episode on FFRF's YouTube channel.
"I had these discussions with my dad, but they wouldn't go anywhere because my dad would say: 'Well, look at the good that Christianity has done,'" Davidson, the son of two Baptist ministers, tells "Freethought Matters" co-hosts Dan Barker and Annie Laurie Gaylor. "And I would say: 'Look at the harm that Christianity has done.' I lived in Mexico, as I know Dan did for a while. And I would see these poor, poor Mexican people come in and light a candle and give their last couple of pesos to the church, which has billions of dollars in Rome, and be brainwashed into giving money so that they could be happy."
This is the fall season's 14th episode of "Freethought Matters," airing in 12 cities on Sunday, Dec. 6.
Upcoming guests include "Cosmos" series producer/writer Ann Druyan, who also co-wrote the original "Cosmos" and many best-selling books with her husband Carl Sagan.
"Freethought Matters" airs in:
Chicago, WPWR-CW (Ch. 50), Sundays at 9 a.m.
Denver, KWGN-CW (Ch. 2), Sundays at 7 a.m.
Houston, KUBE-IND (Ch. 57), Sundays at 9 a.m.
Los Angeles, KCOP-MY (Ch. 13), Sundays at 8:30 a.m.
Madison, Wis., WISC-TV (Ch. 3), Sundays at 11 p.m.
Minneapolis, KSTC-IND (Ch. 45), Sundays at 9:30 a.m.
New York City, WPIX-IND (Ch. 11), Sundays at 8:30 a.m.
Phoenix, KASW-CW (Ch. 61, or 6 or 1006 for HD), Sundays at 8:30 a.m.
Portland, Ore., KRCW-CW (Ch. 32), Sundays at 9 a.m. Comcast channel 703 for High Def, or Channel 3.
Sacramento, KQCA-MY (Ch. 58), Sundays at 8:30 a.m.
Seattle, KONG-IND (Ch. 16 or Ch. 106 on Comcast). Sundays at 8 a.m.
Washington, D.C., WDCW-CW (Ch. 50), Sundays at 8 a.m.
Previous guests this season include: pundit Eleanor Clift, whose interview you can watch here, Professor Khyati Joshi, an expert on Christian privilege, actor and FFRF After-Life Member John de Lancie of "Star Trek" "Q" fame, atheists and jazz artists Addison Frei and Tahira Clayton providing a double musical treat, Pulitzer Prize-winning reporter Linda Greenhouse, the country's leading analyst of the U.S. Supreme Court, and legislative stalwart and feminist and civil rights pioneer U.S. Rep. Eleanor Holmes Norton. One of the most eminent public intellectuals in the world, Professor Steven Pinker, was interviewed a few episodes ago talking about his new course on rationality.
Watch previous seasons here, including interviews with Ron Reagan, Julia Sweeney and Ed Asner, as well as U.S. Reps. Jared Huffman and Jamie Raskin, co-chairs of the Congressional Freethought Caucus.
Please tune in to "Freethought Matters" . . . because freethought matters.
P.S. Please tune in or record according to the times given above regardless of what is listed in your TV guide (it may be listed simply as "paid programming" or even be misidentified). To set up an automatic weekly recording, try taping manually by time or channel. And spread the word to freethinking friends, family or colleagues about a TV show, finally, that is dedicated to providing programming for freethinkers!
The Freedom From Religion Foundation, based in Madison, Wis., a 501(c)(3) nonprofit educational charity, is the nation's largest association of freethinkers (atheists, agnostics), and has been working since 1978 to keep religion and government separate.