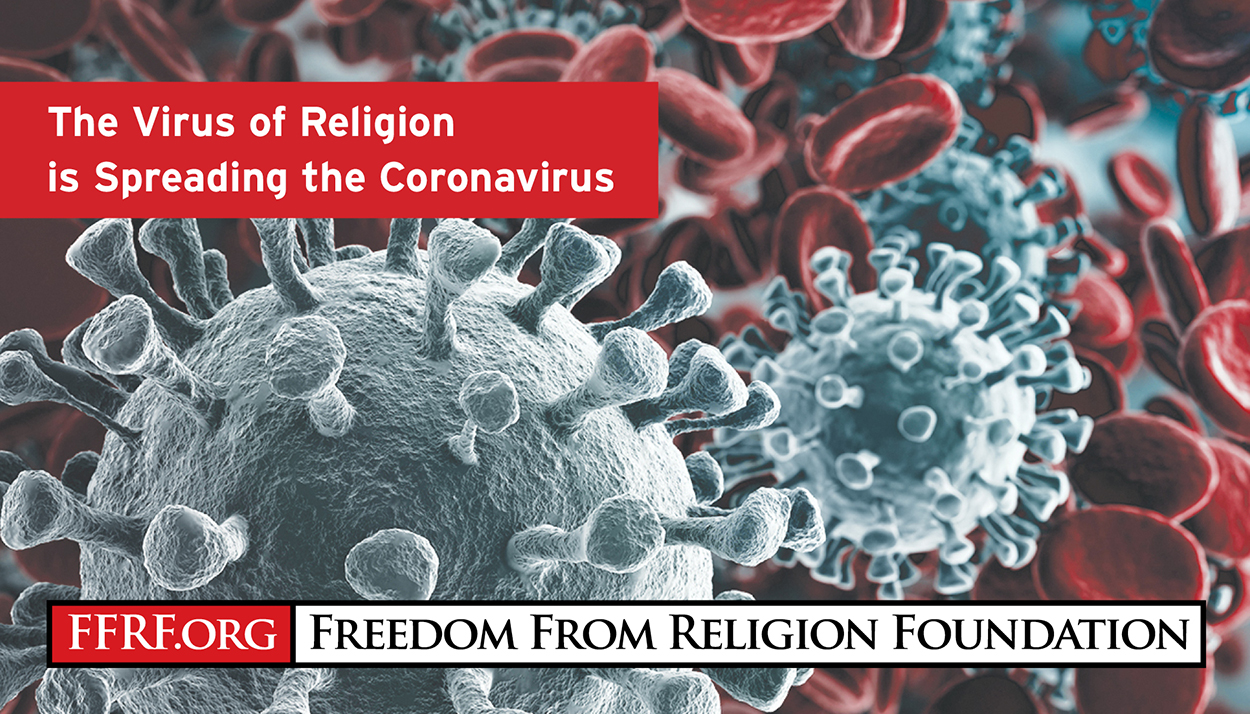 The Freedom From Religion Foundation has filed an amicus brief before the Wisconsin Supreme Court urging it to overturn its injunction halting COVID-19-related school closure orders as they apply to religious and private schools in the state/church watchdog's home county.
The Supreme Court had issued such an injunction in September in favor of a petition by a number of religious schools and parents challenging emergency safety orders temporarily prohibiting in-person classes in Dane County for students in grades three through 12.
FFRF has filed its brief at a time when the pandemic is raging uncontrollably — globally, nationally and particularly at the state and local levels.
"Wisconsin stands out as a hotspot with some of the highest rates of viral transmission anywhere, and Dane County has been among the hardest-hit counties," FFRF's brief points out. "Wisconsin has opened its first field hospital, and over 850,000 children have tested positive for the pathogen across the U.S."
Public Health Madison & Dane County contends the school closure orders will prevent irreparable social harm. FFRF defends Public Health Madison & Dane County's proactive order as being sound and in the public interest.
"Nondiscriminatory public health measures during a pandemic cannot be subject to strict scrutiny," states the brief. "The nature of judicial review and the adversarial system means that review of health measures will be infused with hindsight criticism."
It is too much to expect public health officials to be omniscient, FFRF emphasizes.
"Executive officials cannot know every contingency and future scientific fact," states its brief. "Therefore, it would be a fortuitous coincidence for health officials to issue an order that is truly 'the least restrictive means' of preventing viral spread."
FFRF's brief outlines a few criteria for the Wisconsin Supreme Court to employ in its final ruling.
"First, the court should apply rational basis review, which the [Public Health Madison & Dane County] order easily survives," the brief says. "Second, Dane County citizens' right to live is as important as petitioners' free conscience rights."
The COVID-19 crisis gripping our country, state and Dane County is anything but normal, and courts across the country have responded by applying rational basis review in recognition of this fact, FFRF explains in elucidating the first point. In support of its second contention, it stresses that while petitioners may be inconvenienced by health measures requiring their children to learn virtually, other members of the public may lose their lives because of the inevitable viral transmission when thousands of children in petitioners' private schools gather in classrooms and hallways.
"Petitioners' claims cannot survive the proper standard: rational basis review," FFRF's brief concludes. "The focus on alleged encroachment on religious liberty misses the point that other Wisconsinites have an equally important right to life. For these reasons, the court should rule in favor of respondents on petitioners' religious liberty claims, or leave the constitutional questions for another day."
A troubling aspect of the situation is that a number of the religiously segregated schools suing have received taxpayer voucher money, including Lighthouse Christian School, which was the recipient in 2019-20 of $1,157,757 in public funds and High Point Christian School, which obtained $634,762 in taxpayer financing.
"This is an open-and-shut case made even more obvious by the alarming situation currently prevailing in Dane County and Wisconsin," says FFRF Co-President Annie Laurie Gaylor. "It is particularly audacious that religious schools grabbing hundreds of thousands, even millions in tax subsidy refuse to play by the same health code rules that apply to public schools."
The legal challenge by private schools demanding to be exempted from health mandates will not affect virtual learning practices by public schools in Dane County, where no public school districts are fully in-person.
The friend-of-the-court brief was filed on FFRF's behalf by FFRF Senior Counsel Patrick Elliott and FFRF Legal Fellow Brendan Johnson on Nov. 10.
The Freedom From Religion Foundation is a national nonprofit organization whose primary purposes are to educate about nontheism and to preserve the constitutional principle of separation between religion and government. It has more than 33,000 members, including nearly 1,500 Wisconsin members. FFRF's headquarters is in Madison, Wis.