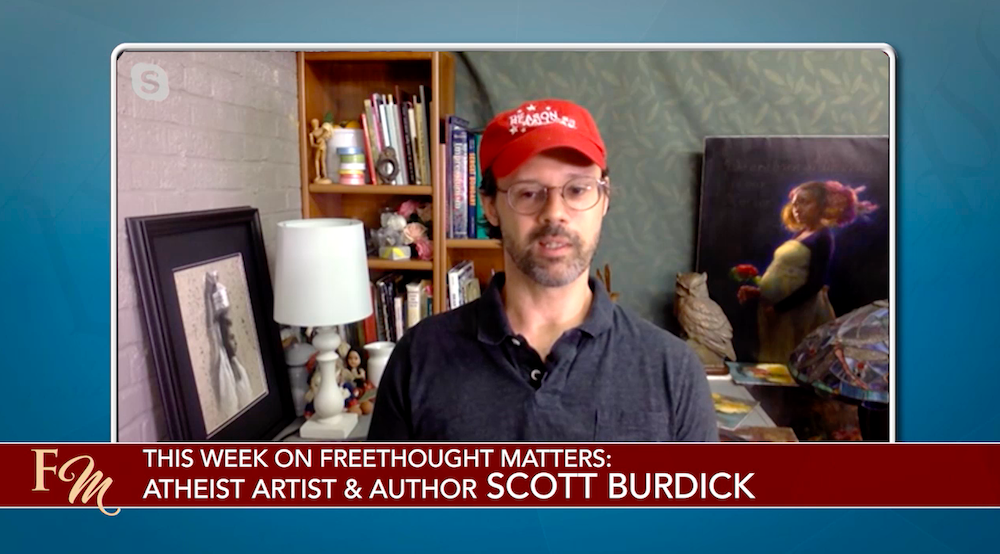 A talented artist and dedicated secularist who works in several mediums is the guest on the Freedom From Religion Foundation's "Freethought Matters" show this week.
In the midst of an unsettling political time, FFRF's television talk show will provide a calming respite with a look at the remarkable work of world-renowned painter Scott Burdick. Burdick, an atheist and Life Member of the Freedom From Religion Foundation, has also produced documentaries on major state/church issues, including a fascinating record of the fraught challenge removing a Christian flag and statue of a soldier kneeling before a cross in King City, N.C. After discussing his art, beautifully displayed during the interview, Burdick talks about that case, and the invasion of our public schools by evangelical outfits, the topic of another documentary of his. His novels include Nihala and The Immortality Contract, which is currently optioned to become a Netflix series. Those who love art, cinema and books and our secular Constitution will find much to savor in this interview.
If you don't live in the 27 percent of the country's markets where the show broadcasts on Sunday, you can already catch the episode on FFRF's YouTube channel.
"The Immortality Contract has very much an atheist sort of a theme," Burdick tells "Freethought Matters" co-hosts Dan Barker and Annie Laurie Gaylor. "Christians constantly would say to me that when you're on your deathbed, you're going to change your mind. And so I thought, what if a scientist offered the world a pill that would make them young again indefinitely. But what if he then said: 'I'm only offering this to people who will agree not to support organized religion.'"
This is the fall season's 10th episode of "Freethought Matters," airing in 12 cities on Sunday, Nov. 8.
Upcoming guests include movie/TV actor and singer John Davidson, a nonbeliever, Elizabeth Cady Stanton's great-great-granddaughter and feminist Coline Jenkins and atheist/ feminist folksinger Shelley Segal.
"Freethought Matters" airs in:
Chicago, WPWR-CW (Ch. 50), Sundays at 9 a.m.
Denver, KWGN-CW (Ch. 2), Sundays at 7 a.m.
Houston, KUBE-IND (Ch. 57), Sundays at 9 a.m.
Los Angeles, KCOP-MY (Ch. 13), Sundays at 8:30 a.m.
Madison, Wis., WISC-TV (Ch. 3), Sundays at 11 p.m.
Minneapolis, KSTC-IND (Ch. 45), Sundays at 9:30 a.m.
New York City, WPIX-IND (Ch. 11), Sundays at 8:30 a.m.
Phoenix, KASW-CW (Ch. 61, or 6 or 1006 for HD), Sundays at 8:30 a.m.
Portland, Ore., KRCW-CW (Ch. 32), Sundays at 9 a.m. Comcast channel 703 for High Def, or Channel 3.
Sacramento, KQCA-MY (Ch. 58), Sundays at 8:30 a.m.
Seattle, KONG-IND (Ch. 16 or Ch. 106 on Comcast). Sundays at 8 a.m.
Washington, D.C., WDCW-CW (Ch. 50), Sundays at 8 a.m.
Previous guests this season include: punditEleanor Clift, which you can watch here, Professor Khyati Joshi, an expert on Christian privilege, joint interviews with possibly the foremost scholars on Christian Nationalism in the United States, actor and FFRF After-Life Member John de Lancie of "Star Trek" "Q" fame, atheists and jazz artists Addison Frei and Tahira Clayton providing a double musical treat, Pulitzer Prize-winning reporter Linda Greenhouse, the country's leading analyst of the U.S. Supreme Court, and legislative stalwart and feminist and civil rights pioneer U.S. Rep. Eleanor Holmes Norton. One of the most eminent public intellectuals in the world, Professor Steven Pinker, was interviewed was interviewed two episodes ago talking about his new course on rationality. The freethinkingly entertaining singer-songwriter Roy Zimmerman was the guest last week.
Watch previous seasons here, including recent interviews with Ron Reagan, Julia Sweeney and Ed Asner, as well as U.S. Reps. Jared Huffman and Jamie Raskin, co-chairs of the Congressional Freethought Caucus.
"We want to provide sympathetic programming for the 'unmassed masses,' and offer an alternative, so that religious programming does not win by default," says Gaylor.
Please tune in to "Freethought Matters" . . . because freethought matters.
P.S. Please tune in or record according to the times given above regardless of what is listed in your TV guide (it may be listed simply as "paid programming" or even be misidentified). To set up an automatic weekly recording, try taping manually by time or channel. And spread the word to freethinking friends, family or colleagues about a TV show, finally, that is dedicated to providing programming for freethinkers!
The Freedom From Religion Foundation, based in Madison, Wis., a 501(c)(3) nonprofit educational charity, is the nation's largest association of freethinkers (atheists, agnostics), and has been working since 1978 to keep religion and government separate.