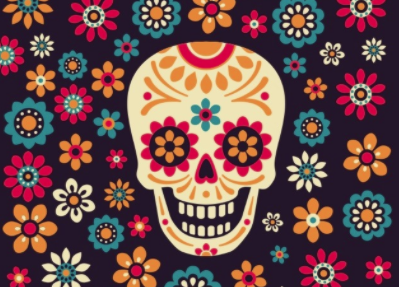 The Freedom From Religion Foundation is excited to be co-sponsoring and co-hosting an upcoming global Secular Day of the Dead event, which is previewed on FFRF's live "Ask an Atheist" program on Wednesday, Oct. 21 at noon Central. (If you miss the live show, the program can be accessed and subscribed to via FFRF's "Ask an Atheist" playlist by Wednesday night.)
Margaret Downey and Victoria de la Torre, co-founders of Secular Day of the Dead/Día de los Muertos Secular, are featured guests on the Facebook Live program, co-hosted this week by FFRF Co-Presidents Dan Barker and Annie Laurie Gaylor. Tune in for an ambience-filled preview of the event.
The traditional Day of the Dead celebration for 2020 is taking on a decidedly nonreligious atmosphere this year with the online observance of the Secular Day of the Dead/Día de los Muertos Secular event on Sunday, Nov. 1. Secularists all over the world will gather on that date virtually via Zoom at 2:45 p.m. Eastern.
Special Honoring Ceremony guests include actor John Huertas, actor John de Lancie, author Sasha Sagan, author Fernando Alcantar, sculptor Zenos Frudakis and Hollywood legend John Davidson. They will be honoring the life of their departed loved ones who are respected and missed. The bilingual event will include a keynote, "Adios a Dios" by FFRF Co-President Dan Barker at 3:30 p.m. Eastern, about his journey from an evangelical preacher in Mexico to atheist. FFRF Co-President Annie Laurie Gaylor will share a remembrance at about 3 p.m. Eastern of her mother and FFRF principal founder Anne Nicol Gaylor. Musical entertainment includes artists Gary Stockdale, Christine Jones, Abraham Steven Mackey and Juan Carlos.
Participants are encouraged to share a photograph or portrait of a deceased loved one during the Honoring Ceremony portion of the event. Prizes will be awarded for best decor and costume. A Spanish speaker's Zoom room will be available with a mirrored schedule. Advance registration is requested, and so please register here. To reserve a three-to-five minute time slot to celebrate a deceased loved one, email This email address is being protected from spambots. You need JavaScript enabled to view it.. Información en Español.
"Nontheist Hispanics view the Secular Day of the Dead/Día de los Muertos Secular as a perfect way to remember the legacy of deceased loved ones in a way that does not require prayer, church or any religious dogma," says Barker. "To nontheists, our legacies are our afterlife."
The observance is additionally co-sponsored by Freethought Society, Hispanic American Freethinkers, American Atheists and Center for Inquiry.
"Contrary to the name, the Secular Day of the Dead/Día de los Muertos Secular event is actually a celebration of life," says de la Torre. "The 2020 Secular Day of the Dead/Día de los Muertos Secular event will honor many Hispanic traditions and rituals in a way that celebrates our one and only life."

Downey says, "More and more people are abandoning their religious upbringing, but still want to celebrate the beauty of their Hispanic culture. This is why a Secular Day of the Dead/Día de los Muertos Secular was created. Many nontheist Hispanics want to continue traditions and cultural rituals, but in a secular way."

Dia de los Muertos or Day of the Dead honors all dead loved ones. Traditions connected with the holiday include building private altars called ofrendas; honoring the deceased using sugar skulls and marigolds, as well as the favorite foods and beverages of the deceased. Some families and friends will make a point on this day to visit graves with these items as gifts. Some also leave possessions of the deceased at the gravesite. Secularists, however, are encouraged to meet with other like-minded individuals to enjoy Hispanic food, beverages, music, presentations, and socializing — even if it must be done online this year.

On Sunday, Nov. 1, join us to celebrate life, legacies — and the joy of being human.