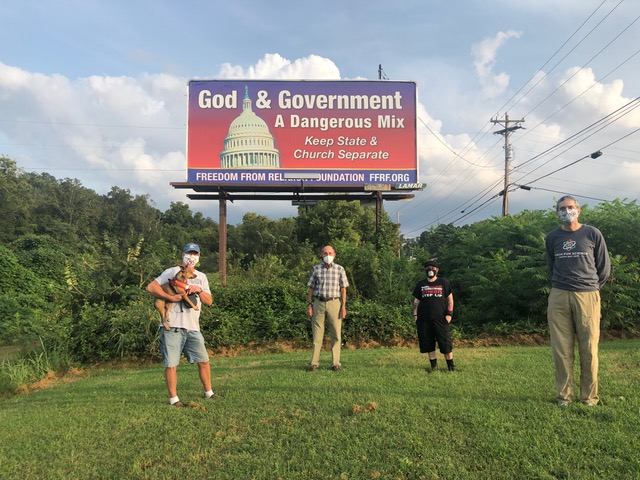 Undeterred by COVID-19, the Freedom From Religion Foundation has placed a new billboard in the Knoxville area reminding people of the importance of the separation of state and church.
With the aid of its local chapter, FFRF has put up on Route 62 at Jim Jones Lane in Oak Ridge, Tenn., a multihued billboard stating: "God & Government — A Dangerous Mix: Keep State & Church Separate." FFRF appreciates the help of its East Tennessee Chapter in helping to pay for and hoist the freethought banner — more needed in these times than ever. It went up about three weeks ago and will be up until at least Monday, Oct. 12.
The billboard is urgently required in Tennessee. The current Tennessee governorship has proven to be constitutionally transgressive from the start, with FFRF strongly objecting to Gov. Bill Lee's religion-infused inaugural. Then, FFRF Co-Presidents Dan Barker and Annie Laurie Gaylor published an op-ed in the Knoxville paper chiding him for his exclusionary approach when he declared Oct. 10 last year as an official day of prayer and fasting. Lee has come under criticism more recently for his unscientific approach in handling the pandemic, exhibiting a particular reluctance to ask state residents to don a mask.
The billboard is the latest in a series that FFRF has erected around Knoxville. Last year, it installed a billboard similar to the current one. And around the same time, it raised a billboard near the University of Tennessee campus in Knoxville spotlighting a freethinking student at that institution — and the pride he feels at breaking free from religion.
FFRF thanks its East Tennessee chapter, including its President Aleta Ledendecker, for making all this happen.
"We have seen the dangers when religious views or magical thinking have supplanted science during the pandemic," says Gaylor. "We firmly believe that we need to protect the First Amendment, because it protects us all."
The Freedom From Religion Foundation is a national nonprofit organization with more than 33,000 members and several chapters across the country, including over 400 members in Tennessee and the East Tennessee chapter. FFRF's purposes are to protect the constitutional principle of separation between church and state, and to educate the public on matters relating to nontheism.