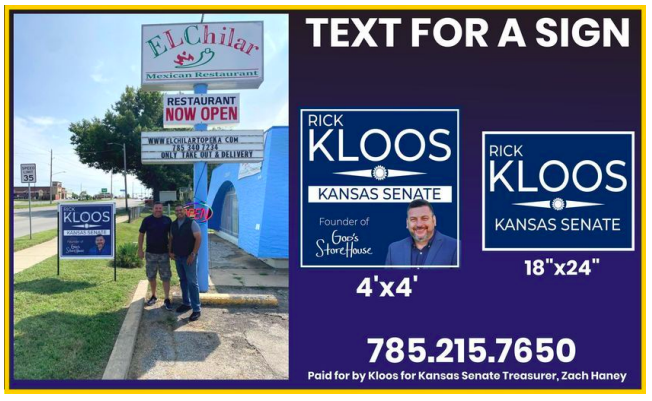 The Freedom From Religion Foundation is alerting the IRS to potential electioneering violations related to a Kansas state Senate candidate's campaign.
Rick Kloos is the founder and pastor of God's Storehouse, a thrift store run as a church in Topeka. He is running for a Kansas Senate seat and is using his position as a representative of God's Storehouse to promote his campaign, including on official campaign yard signs, as the image up above reveals. This logo reportedly appears on campaign literature as well. Furthermore, Kloos is due to appear at "A Place Called There" Church for a campaign event on Sunday, Sept. 27. A church representative stated that they were not subject to electioneering restrictions because of the "Promoting Free Speech and Religious Liberty" executive order, which President Trump claimed "got rid" of the electioneering prohibition for churches.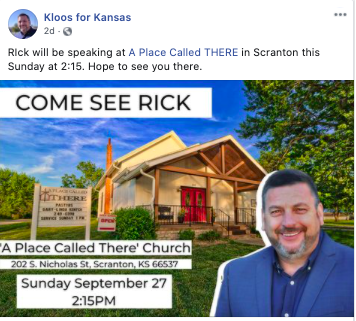 In FFRF's lawsuit over this order, the Justice Department admitted that "the order does not exempt religious organizations from the restrictions on political campaign activity applicable to all tax-exempt organizations," FFRF reminds the IRS.
"IRS regulations specify that 501(c)(3) organizations, which include churches and other religious organizations, are prohibited from '[participating in or intervening in] … any political campaign on behalf of (or in opposition to) any candidate for public office,'" FFRF Staff Attorney Madeline Ziegler writes to IRS official Mary Epps. "A candidate using his role as a representative as a nonprofit to advance his campaign is a violation of these regulations, as is a church hosting a candidate's campaign event and making it clear it supports that candidate."
The IRS must correct these violations of electioneering restrictions, as well as the continued misapprehension of churches that the "Promoting Free Speech and Religious Liberty" executive order exempts them from the prohibition on nonprofit political campaign activity, FFRF contends.
"There is a lot of religious electioneering happening during this election season," says FFRF Co-President Annie Laurie Gaylor. "The IRS has a responsibility to ensure that such conduct doesn't take place."
The Freedom From Religion Foundation is a national nonprofit organization with more than 32,000 members across the country, including in Kansas. FFRF's purposes are to protect the constitutional principle of separation between church and state, and to educate the public on matters relating to nontheism.