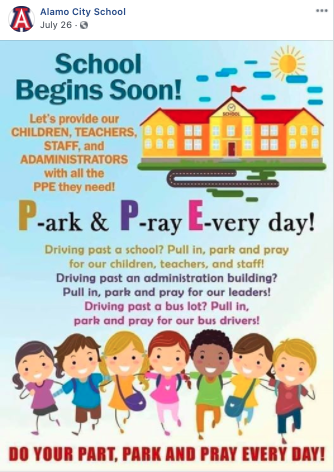 The Freedom From Religion Foundation has brought to an end a Tennessee school district's preachy misuse of its official social media.
A concerned complainant contacted the state/church watchdog to report that on July 26 the Alamo City School District posted a graphic on its official Facebook account encouraging students and parents to "P -ark & P -ray E -veryday." The graphic and its long religious message, evidently directed at the public, announces "Let's provide our children, teachers, staff, and administrators with all the PPE they need!" and asks: "Driving past a school? Pull in, park and pray for our children, teachers, and staff!," with similar injunctions if driving past the school administration building or the school bus lot. It ends: "Do your part, park and pray every day!" The graphic can be seen in its entirety above.
When a government entity like a public school urges citizens to pray, it endorses religion in violation of the First Amendment of the U.S. Constitution, FFRF emphasized to the school district.
"It is well settled that public schools may not advance, prefer or promote religion," FFRF Legal Fellow Brendan Johnson wrote to Alamo City School District Director Reecha Black. "Advancing, preferring and promoting religion is exactly what a school district does when it posts religious messages on official public social media pages. These religious messages give the appearance of district endorsement of religion over nonreligion and exert an exclusionary influence on many families."
All district schools need to cease posting religious content on their official social media pages, and the particular post FFRF complained about (and any like it) should be taken down immediately, FFRF asked school officials.
The school district has reacted well to FFRF's advice.
"We have removed the post from our website," Black recently emailed. "Thank you for letting us know."
FFRF is glad that its constitutional admonishment went down well.
"It is hard to understand why a school district would urge strangers to drive into school parking lots or by buses, where small children may be present and traffic hazards abound, much less for the purpose of prayer. But sometimes, school districts don't realize how alienating some of their messages can be," says FFRF Co-President Annie Laurie Gaylor. "We're always there to nudge them to be more inclusionary."
The Freedom From Religion Foundation is a national nonprofit organization with over 32,000 members and several chapters across the country, including more than 400 members and a chapter in Tennessee. Its purposes are to protect the constitutional principle of separation between state and church and to educate the public on matters relating to nontheism.