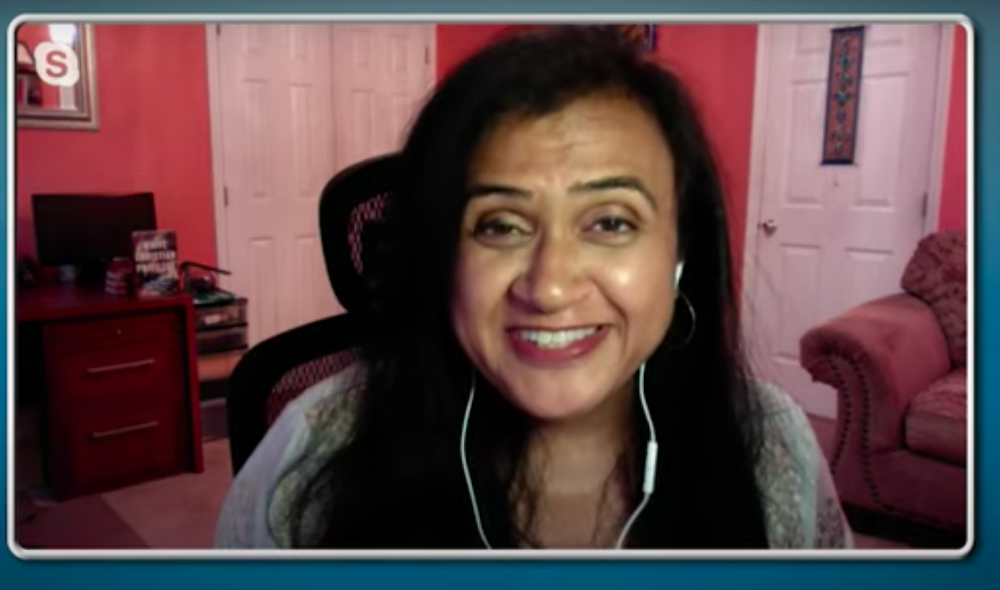 An expert on the benefits that Christianity enjoys in the United States is the interview guest on the Freedom From Religion Foundation's television show this Sunday.
On the season's second episode of "Freethought Matters," airing this Sunday, Sept. 13, in 12 cities, FFRF Co-Presidents Dan Barker and Annie Laurie Gaylor interview Khyati Joshi, a professor of education at Fairleigh Dickinson University who studies the intersection of race and religion with ethnicity and immigration and has written a number of books, most recently White Christian Privilege: The Illusion of Religious Equality in America.
If you don't live in the 22 percent of the country's markets where the show broadcasts, you can already catch the show on FFRF's YouTube channel.
"Imagine two cars going around a racetrack, and the whiteness car and the Christian car kind of side by side," she says on the show. "But what has happened is that because we have freedom of religion enshrined in the First Amendment, the Christian car, if you will, has kind of faded to invisible, but it's right there. And my goal in this book is to make what has been invisible, visible."
FFRF has enthusiastically launched the fall season of its TV show, "Freethought Matters," in the face of the pandemic. The season's first episode was broadcast last Sunday with the distinguished journalist and pundit Eleanor Clift, which you can watch here.
Upcoming guests and topics include the imperiled Constitution with Supreme Court expert Linda Greenhouse, who covered the court for 30 years for the New York Times, and the rise of Christian Nationalism, with authors Andrew L. Whitehead and Samuel L. Perry, authors of Taking America Back for God. "Freethought Matters" will also soon feature interviews with the distinguished D.C. delegate, Rep. Eleanor Holmes Norton (a member of the Congressional Freethought Caucus), and '60s and '70s pop star, movie and TV actor and singer John Davidson, today a nonbeliever. For a change of pace, upcoming musical guests will include the talented and nonbelieving jazz couple pianist Addison Frei and vocalist Tahira Clayton. Irreverent troubadour/songwriter Roy Zimmerman and freethinking songwriter and singer Shelly Segal will also be interviewed.
Freethought Matters" airs in:
Chicago, WPWR-CW (Ch. 50), Sundays at 9 a.m.
Denver, KWGN-CW (Ch. 2), Sundays at 7 a.m.
Houston, KUBE-IND (Ch. 57), Sundays at 9 a.m.
Los Angeles, KCOP-MY (Ch. 13), Sundays at 8:30 a.m.
Madison, Wis., WISC-TV (Ch. 3), Sundays at 11 p.m.
Minneapolis, KSTC-IND (Ch. 45), Sundays at 9:30 a.m.
New York City, WPIX-IND (Ch. 11), Sundays at 8:30 a.m.
Phoenix, KASW-CW (Ch. 61, or 6 or 1006 for HD), Sundays at 8:30 a.m.
Portland, Ore., KRCW-CW (Ch. 32), Sundays at 9 a.m. Comcast channel 703 for High Def, or Channel 3.
Sacramento, KQCA-MY (Ch. 58), Sundays at 8:30 a.m.
Seattle, KONG-IND (Ch. 16 or Ch. 106 on Comcast). Sundays at 8 a.m.
Washington, D.C., WDCW-CW (Ch. 50), Sundays at 8 a.m.
Watch previous seasons here, including recent interviews with Ron Reagan, Julia Sweeney and Ed Asner, as well as U.S. Reps. Jared Huffman and Jamie Raskin, co-chairs of the Congressional Freethought Caucus.
"We want to provide sympathetic programming for the 'unmassed masses,' and offer an alternative, so that religious programming does not win by default," says Gaylor.
Please tune in to "Freethought Matters" . . . because freethought matters.
P.S. Please tune in or record according to the times given above regardless of what is listed in your TV guide (it may be listed simply as "paid programming" or even be misidentified). To set up an automatic weekly recording, try taping manually by time or channel. And spread the word to freethinking friends, family or colleagues about a TV show, finally, that is dedicated to providing programming for freethinkers!