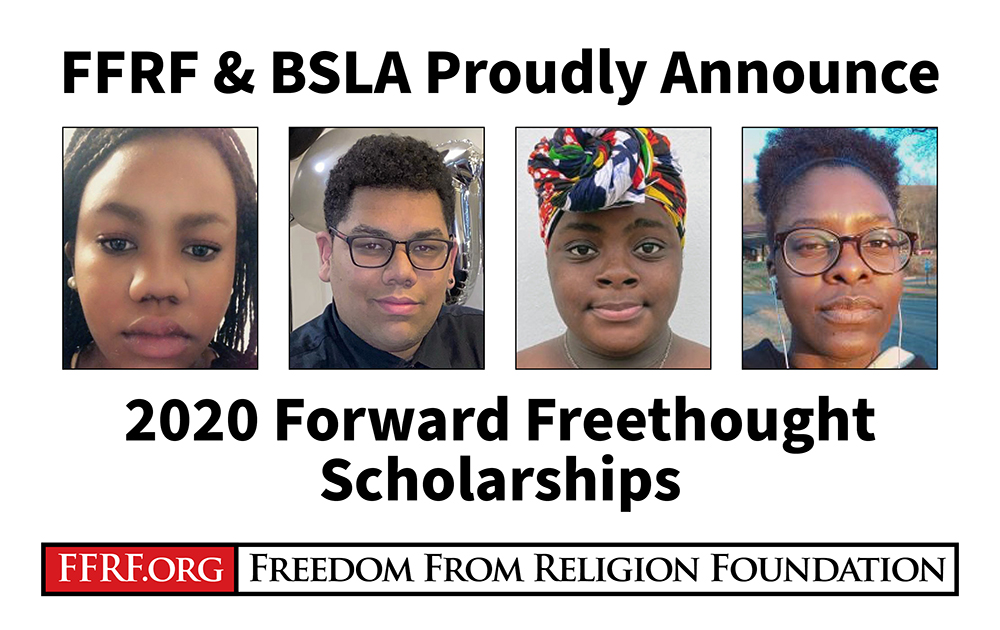 2020 Scholarship Recipients
The Freedom From Religion Foundation is announcing $5,000 scholarships for four students, making this its second annual distribution of the Forward Freethought Tuition Relief Scholarships funded by generous FFRF benefactor Lance Bredvold. This year, the students were selected by Black Skeptics Los Angeles, an African-American humanist-atheist community-based organization.
FFRF has previously partnered with BSLA in its annual "first in the family" humanist scholarships for outstanding secular students of color. This year, the tuition relief was doubled to $5,000, thanks to the fund Bredvold has endowed for FFRF.
This year's winners are: Justin Fajar, 17, Dartmouth College (pre-med); Kitty Anne Dubuisson, 18, MCPHS University in Boston (pre-medical and health sciences); India Quick, 17, Fayetteville State University (business major); and Jalyn Williams, 19, Albright College (environmental studies). Each recipient will receive $5000 apiece to support their college education and expenses.
"Secular African American youth disproportionately come from religious backgrounds and communities," says BSLA founder Sikivu Hutchinson. "These youth are often marginalized in K-12 and higher education due to their nonconformity. This scholarship program provides a platform for their voices and experiences."
BSLA is the first secular humanist atheist organization to specifically address college pipelining for youth of color through its ongoing scholarship, college and K-12 youth leadership partnerships. FFRF has proudly partnered with BSLA for seven years to provide tuition grants, gradually increasing the funding and number of scholarships.
Watch a short video by Justin Fajar, an aspiring pediatrician, who notes: "Mixing religious beliefs and medicine leads to discrimination and unnecessary deaths" and that "health care [should be] based on facts, not beliefs."
Kitty Anne's video says, "It's so important to question. Every great discovery started with wonder, someone unwilling to accept the norm. I came to realize that the qualities that would make me a good scientist also made me a terrible believer."
In Jalyn Williams' video, she notes that she prefers to work, not pray, for change and wants to offer more "secular opportunities for communities of color" to show that religion is not the only path for improvement for their communities. "I hope freethinking will become a more widely accepted world view in communities of color . . . and that when things need to be done, we skip the prayers and be more proactive," she said.
Both Fajar and Williams will be taking part in a BSLA-hosted Zoom panel discussion on Saturday, Sept. 26, with Black secular Gen Z youth recipients from the 2016 and 2020 classes of its First in the Family Humanist Scholarship/Freedom From Religion Foundation award.
You may donate to the Forward Freethought Tuition Scholarships (choose "Tuition Scholarships" in the dropdown designation). Kind donations for this purpose will help future students and are deductible for income-tax purposes.
The Freedom from Religion Foundation is a nonprofit organization with 32,000 members that works as an umbrella for those who are free from religion and are committed to the cherished principle of separation of state and church.