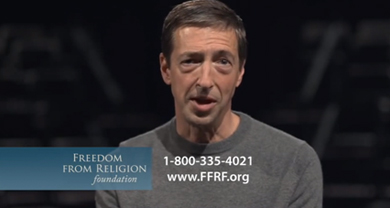 The Freedom From Religion Foundation's iconic TV commercial recorded by Ron Reagan ("unabashed atheist, not afraid of burning in hell") will return to Comedy Central and MSNBC starting next week.
The 30-second spot will run six times during MSNBC's "Rachel Maddow Show" (between Sept. 7-Sept. 20) and four times during the same time period on Comedy's Central "The Daily Show." Next week, the ad will be broadcast on Maddow's show Tuesday, Sept. 8 ( 9:44 p.m. Eastern), Wednesday, Sept. 9 (9:25 p.m. Eastern ), and Thursday, Sept. 10 (9:25 p.m. Eastern). It will air on "The Daily Show" on Wednesday, Sept. 9 (11:23 p.m. Eastern), and Thursday, Sept. 10 (11:10 p.m. Eastern).
Reagan, the progressive son of President Ronald Reagan and Nancy Reagan, says during the ad, which has been viewed nearly a million times on YouTube:
Hi, I'm Ron Reagan, an unabashed atheist, and I'm alarmed by the intrusion of religion into our secular government. That's why I'm asking you to support the Freedom From Religion Foundation, the nation's largest and most effective association of atheists and agnostics, working to keep state and church separate, just like our Founding Fathers intended. Please support the Freedom From Religion Foundation. Ron Reagan, lifelong atheist, not afraid of burning in hell.
CBS, NBC, ABC and Discovery Science networks have refused the ad since 2014, but it has run periodically as funds permit on CNN, Comedy Central and Rachel Maddow's program on MSNBC.
FFRF's ad made a big splash when it ran during several of the Democratic primary debates on CNN last fall and early this year. Fox News reported after the ad ran during a mid-October debate:
Ron Reagan was not on stage Tuesday night for the Democratic presidential primary debate, but his provocative plug for a prominent atheist group earned him the top spot on Google after he declared himself a "lifelong atheist, not afraid of burning in hell." . . . Some on Twitter said Reagan had the best showing during the Democratic debate, and Google Trends agreed if search metrics are the standard. The tech giant tweeted out in the middle of the debate that his name was the top trending search on Google.
Studies show that secular voters could comprise about a quarter of the electorate and care deeply about hot-button issues, including the direction of the judiciary and protecting abortion and LGBTQ rights. FFRF will soon release findings from its membership survey over secular voter concerns, showing a deep commitment to reproductive rights, civil rights and environmentalism among its membership.
FFRF thanks Ron Reagan for lending his name and irreverency, and FFRF members who've donated to FFRF's Advertising Fund for making possible this major campaign in September.