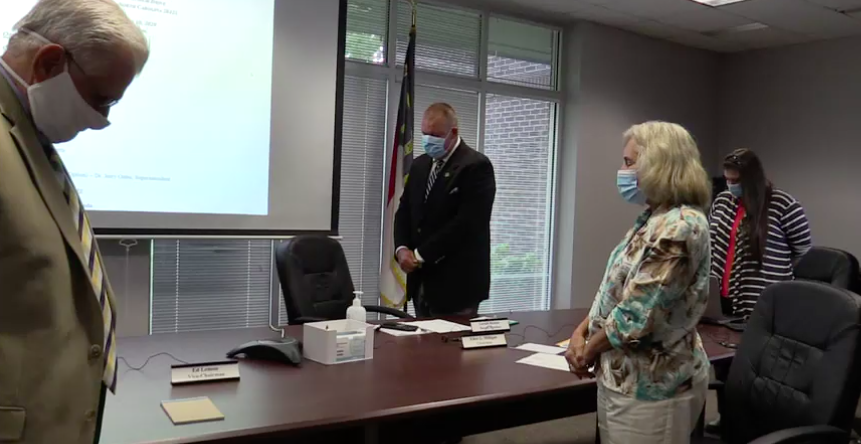 The Freedom From Religion Foundation is insisting that a North Carolina school board immediately cease injecting sectarian religion and prayer into its meetings.
A concerned local resident has contacted FFRF to report that the Brunswick County School Board regularly opens its meetings with prayer, including references to "our heavenly father." The meeting attendees, including students, have reportedly been asked to stand for the invocations, which are then led by Board Chair Ellen G. Milligan.
"When a government entity like the board engages in prayer at its meetings, it violates the First Amendment of the U.S. Constitution by showing preference for religious belief," FFRF Legal Fellow Brendan Johnson writes to Brunswick County Schools Superintendent Jerry Oates. "The Supreme Court has consistently struck down prayers offered at school-sponsored events."
A public school board is an essential part of the public school system, FFRF points out. Public school boards exist to set policies, procedures and standards for education within a community. The issues discussed and decisions made at school board meetings are wholly school-related, affecting the daily lives of district students and parents. In a recent court case striking down a school board's prayer practice won by FFRF, the 9th U.S. Circuit Court of Appeals reaffirmed that Establishment Clause concerns are heightened in the context of public schools "because children and adolescents are just beginning to develop their own belief systems, and because they absorb the lessons of adults as to what beliefs are appropriate or right." (Chino Valley)
Students and parents have the right — and often have reason — to participate in school board meetings. It is coercive, embarrassing, and intimidating for nonreligious citizens to be required to make a public showing of their nonbelief (by not rising or praying) or else to display deference toward a religious sentiment in which they do not believe, FFRF contends. The fact that a board meeting is currently conducted via video conference is no excuse. (The August school board had in-person attendees, too.) The School Board ought not to lend its power and prestige to religion, an action that excludes the 35 percent of Americans who are not Christian, including the 26 percent who are nonreligious.
"The Brunswick County School Board is imparting the wrong lessons to its students," says FFRF Co-President Annie Laurie Gaylor. "Surely, it should instead be diligent in educating students and the community about the fact America was first in history to adopt an entirely secular Constitution, leaving religion out of government functions."
The Freedom From Religion Foundation is a national nonprofit organization with more than 32,000 members and several chapters across the country, including over 700 members and a chapter in North Carolina. FFRF's purposes are to protect the constitutional principle of separation between state and church and to educate the public on matters related to nontheism.