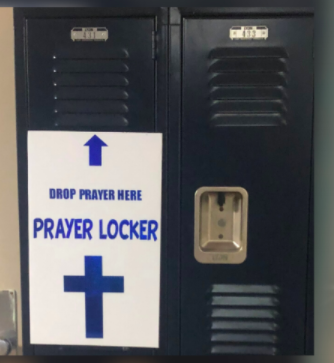 The Freedom From Religion Foundation has notched up a few constitutional victories recently.
A concerned resident contacted FFRF to report that the Morgan County School Board in Tennessee had been opening its meetings with a Christian prayer. For instance, the July meeting began with a prayer led by a board member that ended with: "In Christ's name, we pray."
"The Supreme Court has consistently struck down prayers offered at school-sponsored events," FFRF Legal Fellow Brendan Johnson wrote to Morgan County School Board Chair Wade Summers. "In each of these cases, the Supreme Court struck down school-sponsored prayer because it constitutes a government advancement and endorsement of religion, which violates the Establishment Clause of the First Amendment. Further, it is beyond the scope of a public school board to schedule or conduct prayer as part of its meetings."
In a recent court case finding school board prayer unconstitutional, which was won by FFRF, the 9th U.S. Circuit Court of Appeals reaffirmed that Establishment Clause concerns are heightened in the context of public schools: "Children and adolescents are just beginning to develop their own belief systems, and . . . absorb the lessons of adults as to what beliefs are appropriate or right." (Chino Valley).
The Morgan County School Board found FFRF's reasoning persuasive.
"We will comply with your request," Summers recently emailed the state/church watchdog. "We will no longer be having prayers at board meetings."
FFRF's powers of persuasion were strong enough to get a "prayer locker" removed from a Texas junior high school, too.
A concerned resident contacted FFRF to report that Prairiland Junior High School had established locker 431 as a "prayer locker" for its students, marked with a Latin cross and a sign that read: DROP PRAYER HERE PRAYER LOCKER. The purpose of this locker was to encourage students to submit prayer requests to an outside religious group — Youth For Christ.
"The district has a constitutional obligation to remain neutral toward religion," Johnson wrote to Prairiland Independent School District Superintendent Jeff Ballard. "When district employees approve installation of Christian 'prayer boxes' in public schools, citizens will understandably conclude that the government is endorsing prayer."
The district serves a diverse population that consists of not only Christians, but also minority religious and nonreligious students, FFRF reminded the district. Placing overtly Christian prayer boxes in public schools sends a message that excludes the more than 30 percent of young American adults who do not identify as religious.
FFRF's assertions convinced the school board. "The 'prayer locker' has been removed," Ballard wrote back a few days ago.
FFRF appreciates the openness of officials to its constitutional message — and commends the hard work of its Fellow Brendan Johnson.
"We're glad to impart constitutional lessons to school districts," says FFRF Co-President Dan Barker. "It's part of the public service that we provide."
The Freedom From Religion Foundation is a national nonprofit organization with over 32,000 members and several chapters across the country, including almost 1,400 members and a chapter in Texas and hundreds of members and a chapter in Tennessee. Its purposes are to protect the constitutional principle of separation between state and church, and to educate the public on matters relating to nontheism.