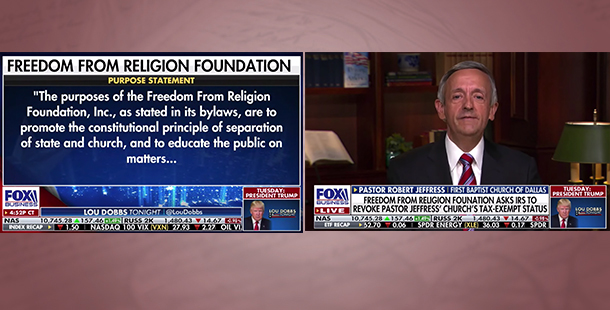 The Freedom From Religion Foundation's complaint to the IRS over a prominent evangelical's illegal politicking has not only made national news — but the pastor's comments have formed the basis for yet another request for an IRS investigation.
FFRF first wrote the IRS alerting it to Vice President Mike Pence's June 28 appearance at Pastor Robert Jeffress' First Baptist Church in Dallas that "morphed from a worship service to a Trump/Pence campaign rally." On a recent episode of Fox's "Lou Dobbs Tonight," Jeffress took exception to FFRF requesting an investigation of his partisan politicking. Dobbs and Jeffress gleefully attacked FFRF and its complaint during the interview, in which Jeffress stated: "The only evangelicals who are going to vote for Joe Biden are those who have sold their soul to the devil."
Citing the 82 percent approval rating that evangelicals are bestowing on Trump, Jeffress said there was a "snowball's chance" of any significant evangelical vote for Biden. He concluded, "On November 3rd, there is going to be a tsunami-sized surprise of voters turning out to support our great president, Donald Trump."
Jeffress then repeated the political endorsement that had prompted FFRF to originally contact the IRS, admitting he had told his congregation during the Pence rally: "There are millions of Christians who are hoping, Mr. Vice President, that when you finish your term in 2024, that you move down the hall and continue to build on the legacy of the greatest and most faith-friendly president in history, Donald J. Trump." Jeffress compounded his partisanship by urging other pastors to follow his lead, saying "It's time for every pastor to speak out — the future of the nation is at stake."
FFRF Attorney Maddy Ziegler notes in her new letter to the IRS that its regulations expressly specify that 501(c)(3) organizations, which include churches, are prohibited from "participating in or intervening in . . . any political campaign on behalf of (or in opposition to) any candidate for public office" (a prohibition known as the Johnson Amendment).
Ziegler points to another troubling aspect of Jeffress' comments: He deliberately creates a false impression that the Johnson Amendment is no longer in force, for instance bragging to Dobbs that revocation of his church's tax-exempt status "wouldn't happen."
"What does concern us at FFRF is the vice president's claim during his June 28 political speech before the First Baptist Church that the IRS itself is not enforcing the Johnson Amendment," comments Annie Laurie Gaylor, FFRF co-president. It remains to be seen whether the IRS will, as FFRF's letter requests, "commence an investigation into these brazen violations of the law and take the appropriate enforcement action."
FFRF sued Trump when he first issued an executive order in 2017 falsely claiming he had overturned the Johnson Amendment. FFRF dropped the suit only when the Justice Department attested he had done no such thing.
The Freedom From Religion Foundation works to defend the constitutional principle of separation between state and church and has more than 32,000 members nationwide who are personally free from religion, including over 1,300 members and a chapter in Texas.