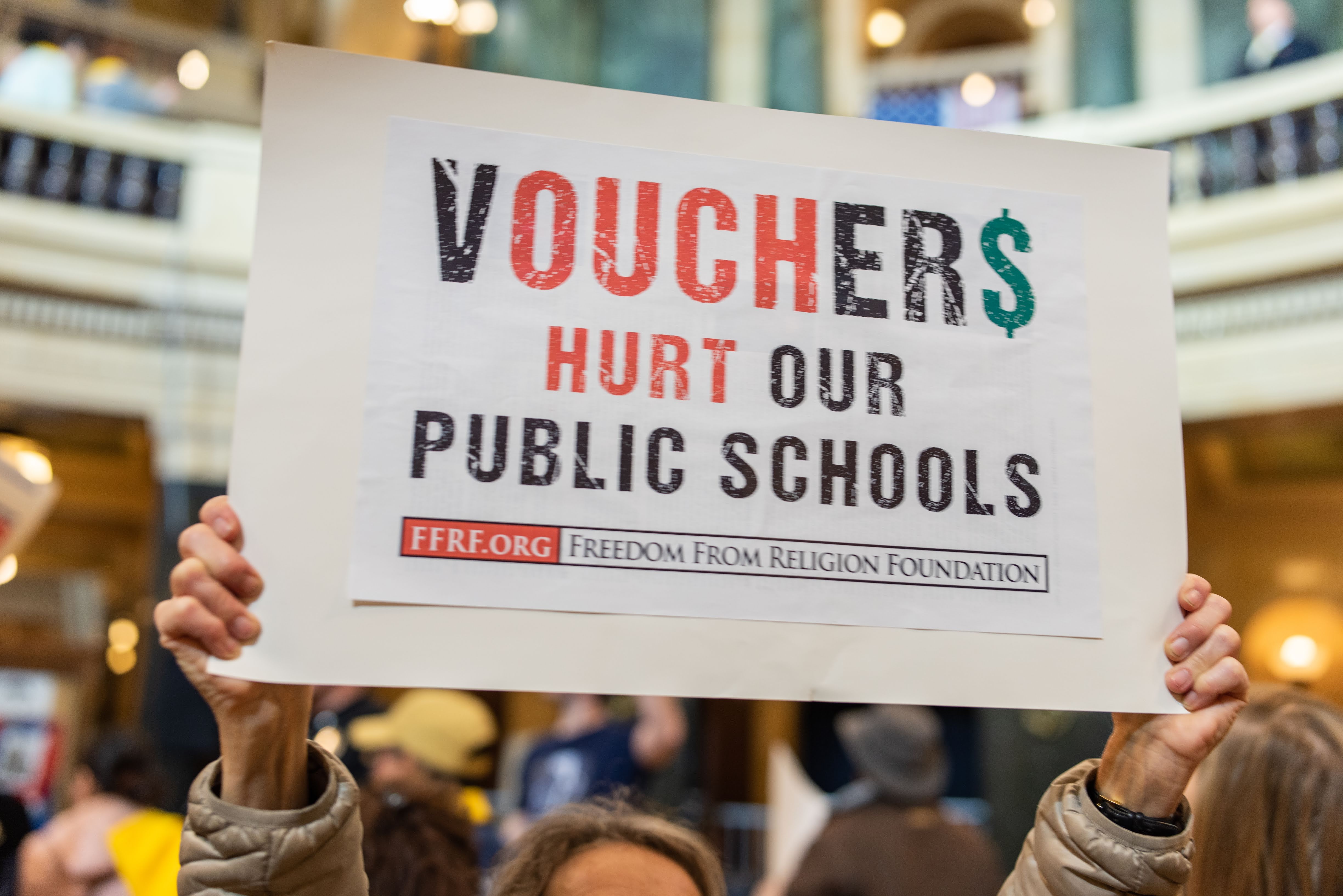 The nation's leading secular groups, including the Freedom From Religion Foundation, are urging Congress to halt the Trump administration's proposed channeling of public funds to private, mostly religious schools.
Education Secretary Betsy DeVos has announced plans to divert taxpayer money to private (almostly exclusively religious) schools if public counterparts are not able to safely open for in-person education. She has also laid out a scheme to use $300 million in COVID stimulus money for "microgrants" to private and religiously segregated schools.

"The Establishment Clause of the First Amendment to the Constitution of the United States requires governmental neutrality between religions, and between religion and nonreligion," states a joint letter signed by FFRF, Center for Inquiry, American Humanist Association, American Atheists and Secular Coalition for America. "This separation of church and state is a bedrock element of our religious freedom. To uphold religious freedom, the United States must reject taxpayer funding of religious instruction of school children."

Lawmakers need to be aware that the nonreligious are a substantial, rapidly growing segment of the U.S. population, the organizations stress. The religiously unaffiliated became the single largest bloc by religious identification in the adult U.S. population, representing almost a quarter of Americans in 2018. Maintaining secular public schools is a priority policy issue for these citizens, with more than half identifying it as a key priority in a recent survey.
"The mission of public schools to provide a quality secular education to all students without discrimination remains crucial, and they can only fulfil that mission with public support," the letter reminds congressional leaders. "The pandemic has been and continues to be enormously disruptive to school planning, budgeting, and operations."

In addition to the direct costs of providing an education while maintaining social distancing, masking, and related hygiene practices, school budgets are suffering from revenue losses associated with the economic recession caused by COVID-19. And private schools have sources of funding that are not available to the public schools, which educate 90 percent of children in the United States today. For example, private schools received billions of dollars in taxpayer funding through the Paycheck Protection Program, which was unavailable to public schools.

Very importantly, the novel coronavirus does not discriminate in whom it infects, but many private schools do discriminate when selecting children they choose to educate and who they hire to teach. Unlike public schools, private schools are not subject to various federal anti-discrimination protections. More than three-fourths of private school students attended a school with a religious mission in the 2017-2018 school year (the most recent for which data are available). It is impossible to fund private schools without directly funding religious programming.
Many religious schools also discriminate against other protected categories including class, sex and disability. In diverting funding from the public school system to private, largely religious schools, vouchers favor the education of a chosen few over the education of all.

In addition, vouchers are simply bad policy, the letter points out, since they do not succeed in improving educational outcomes.
"DoVos' untenable proposals must be blocked," comments Annie Laurie Gaylor, FFRF co-president. "They would punish our vital public school system, robbing it of urgently needed resources during a pandemic in order to reward unaccountable religious schools."

Coronavirus relief legislation must not include private school vouchers or any voucher-like policy that would divert desperately needed funding from our country's public schools to private, largely religious schools, the letter concludes. Public dollars belong in public schools.
The Freedom From Religion Foundation is a national state/church watchdog organization with more than 32,000 nonreligious members and several chapters all over the country.
Photo by Chris Line