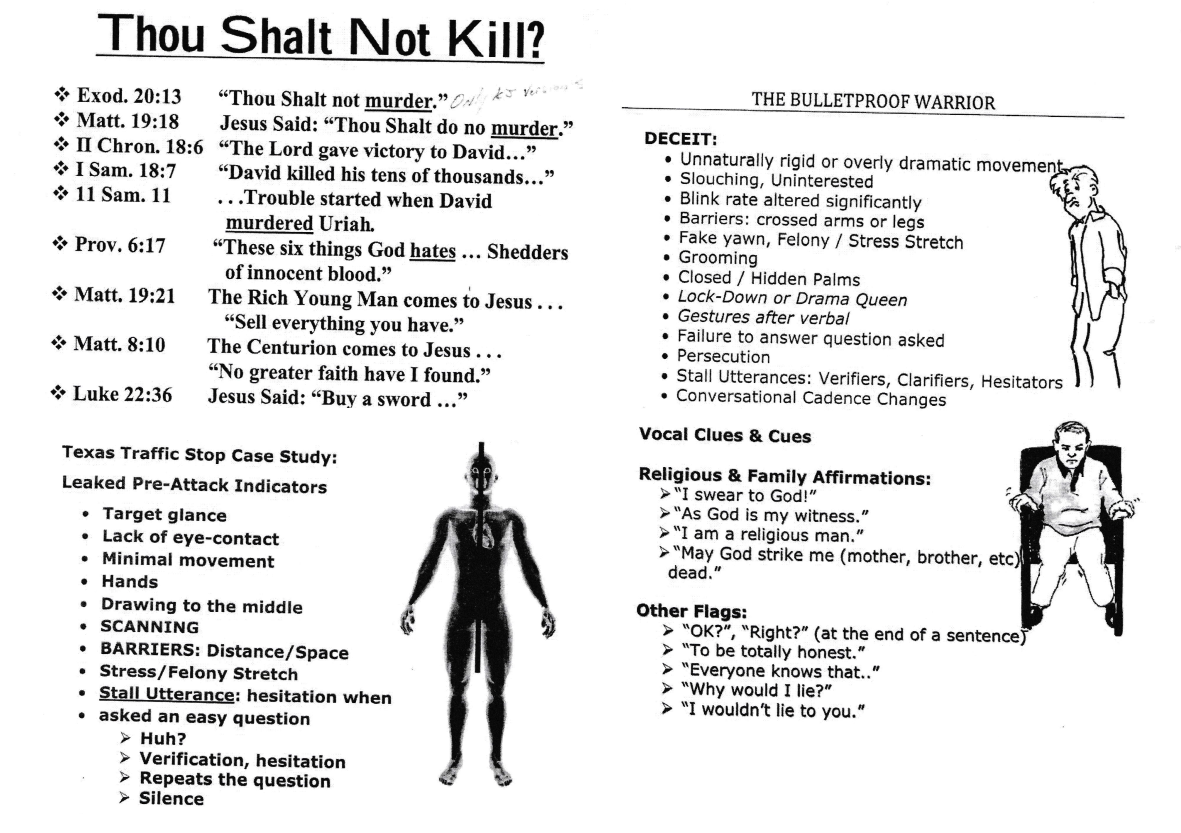 The Freedom From Religion Foundation is objecting to an upcoming mandatory "training seminar" at the Spokane County Sheriff's Office that mixes religion and policing.
The two-day event, scheduled for October, is orchestrated by Bulletproof Mind, an ultraviolent police training seminar program that is under increasing scrutiny and pressure as Black Lives Matter protests have grown around the country. FFRF is formally asking the sheriff's department to cancel the training and to not require deputies to attend this or any similar "warrior-style" training programs in the future.
FFRF points out in a complaint letter to Spokane Sheriff Ozzie Knezovich that, in addition to the shockingly violent nature of the program, it's inappropriate to require state officials to attend a training that takes positions on religious and biblical truth.
As the Bulletproof training manual shows, the program is based on what it maintains is the correct interpretation of the bible. The group claims that the bible says "Thou shalt not murder" rather than "Thou shalt not kill," a broader prohibition that prohibits all killing. So the Bulletproof program interpretation implies that some forms of killing are justified and therefore acceptable under its brand of Christian ideology.
Killing versus murder is debated among different translations of the Christian bible. For instance, the King James Version and Douay-Rheims translation (the Catholic translation) both render the Exodus 20:13 command as a prohibition on killing: "Thou shalt not kill." Bulletproof is taking a theological stance that contradicts these bibles, choosing a specific biblical translation more amenable to its ends, and teaching it as a religious truth to make a point that is disputed among scholars.
"The Sheriff's Office will be violating the First Amendment of the U.S. Constitution if it requires deputies to attend a training program that makes claims about biblical truth and theology," writes FFRF Director of Strategic Response Andrew Seidel. "The First Amendment's Establishment Clause does not allow the government, including sheriffs' offices, to endorse or mandate a program that preaches a religion or indoctrinates attendees. This training program does just that."
The Bulletproof program and its creator, former Army Ranger Dave Grossman, have come under stark criticism as worldwide Black Lives Matter protests have highlighted the urgent need for reform around police use of force. It has been revealed that the officer responsible for the now infamous 2016 murder of a Black man named Philando Castile during a traffic stop in Minnesota had attended one of these trainings.
"The bible is a fundamentally violent book that advocates for rape, murder and genocide," comments FFRF Co-President Dan Barker. "It has absolutely no place as the basis for a government training program."
In an era fraught with police killings of Black Americans, spurring nationwide and ongoing protests, including in Washington State, it is shocking that a police department would consider contracting with this company, FFRF affirms. This contract must be severed.
FFRF is a national nonprofit organization with more than 32,000 members across the country, including more than 1,300 members in Washington and a local chapter, the Inland Northwest Freethought Society, with more than 300 members. Its purposes are to protect the constitutional principle of separation between state and church, and to educate the public on matters relating to nontheism.