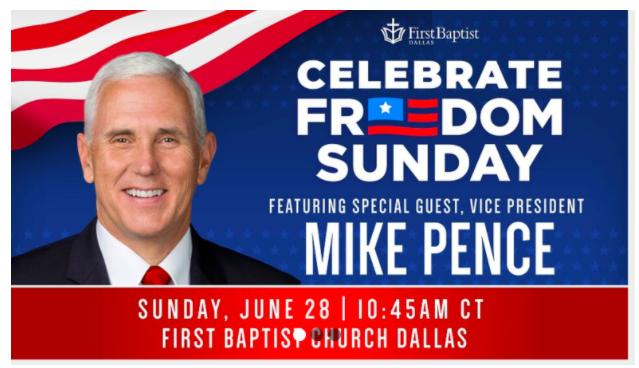 Among the more than half dozen complaints about unlawful church political activity that the Freedom From Religion Foundation has recently made to the IRS is one over a service at a Dallas megachurch that crossed the line from pastoral to political.
Pastor Robert Jeffress, who sits on President Trump's Evangelical Advisory Board, invited Vice President Mike Pence to speak during the regular service of the First Baptist Church Dallas on Sunday, June 28. The event was controversial in many ways, since COVID-19 numbers had started to spike dangerously in Dallas and Texas. In introducing Pence, Jeffress said "President Trump, we love you," and continued by indicating "we are hoping and we are praying" that Pence would be re-elected vice president and then become president himself.
After praising Pence as a "a man of faith, a man of prayer," Jeffress said: "Mr. Vice President, I know I probably shouldn't say this — but my congregation knows that has never stopped me — there are millions of Christians in this country just like me who are hoping and are praying that when you have finished your term of vice presidency in 2024 that you don't move [interrupted by vigorous applause] . . . We're praying that when you finish your term in 2024, we don't want you moving out of the West Wing. We just want you to move down the hall a few doors and continue to build on the legacy of the most faith-friendly president in history!" [huge applause]
Such a blatant political endorsement during a church function, clearly signaling from the pulpit who a pastor wants to win not only in the 2020 but also in the 2024 election, is in violation of IRS rules, FFRF points out.
Pence addressed the congregation as part of the church's "Celebrate Freedom Sunday" annual service. Other politicians introduced included prominent Republicans such as Texas Lt. Gov. Ken Paxton, Texas Sen. John Cornyn, Texas Gov. Greg Abbott and Housing Secretary Ben Carson, who also spoke. With waving flags, patriotic music and the other politicians being singled out, the event had all the trimmings of a campaign appearance.
After calling Trump "a friend mine," Jeffress went on to praise him as "the most resilient, the most courageous, the most faith-friendly president in the history of America. President Donald Trump, President Donald Trump, we love you." He next pronounced Trump "the most pro-life, pro-religious liberty, pro-Israel, pro-conservative judiciary [president] in the history of America," and celebrated the fact that the U.S. Senate had just confirmed the 200th "conservative judge" on the bench.
In introducing Pence, Jeffress reminded the crowd that Pence labels himself "a Christian, a conservative, and a Republican — in that order." Pence's remarks continued to blur the distinction between church and politics. While discussing faith and religion, much of it was in the context of pointing out political issues Trump has delivered on to his evangelical base, and was largely indistinguishable from a conventional campaign speech. Pence bragged about rolling back red tape, talked about jobs, the economy, support for Israel, funding for the armed forces, defending the Second Amendment and vowing to "bring Texas and America back bigger and better than ever before" all to rapturous applause by the 2,400 congregants assembled. The service was also live-streamed.
"IRS regulations specify that 501(c)(3) organizations, which include churches and other religious organizations, are prohibited from '[participating in or intervening in] . . . any political campaign on behalf of (or in opposition to) any candidate for public office,'" FFRF Staff Attorney Madeline Ziegler writes to IRS official Mary Epps.
Jeffress has inappropriately used his position as pastor of First Baptist Church to intervene in an election, by making it very clear to his congregants who he is endorsing in the 2020 presidential election, FFRF emphasizes. That's why FFRF is respectfully requesting that the IRS commence an immediate investigation of First Baptist Church Dallas and take appropriate action to remedy this violation of 501(c)(3) nonprofit regulations. Despite the fact that Pence categorically stated during his church appearance that Trump has "ended enforcement of the Johnson Amendment," that IRS rule correctly prohibits any (c)(3) nonprofit from misusing its tax-exempt resources for political purposes.
"Robert Jeffress has unashamedly engaged in prohibited electioneering," says FFRF Co-President Annie Laurie Gaylor. "The IRS needs to scrutinize the tax-exempt privileges that have been accorded to his church."
In similar complaints, FFRF this year has also written to the IRS about a Joe Biden campaign stop in Florida, as well as blatant electioneering by churches in California, Pennsylvania, Georgia and Ohio, among others.
The Freedom From Religion Foundation is a nationwide nonprofit organization with over 32,000 members and several chapters across the country, including more than 1,300 members and a chapter in Texas. Its purposes are to protect the constitutional separation between state and church and to educate the public on matters related to nontheism.