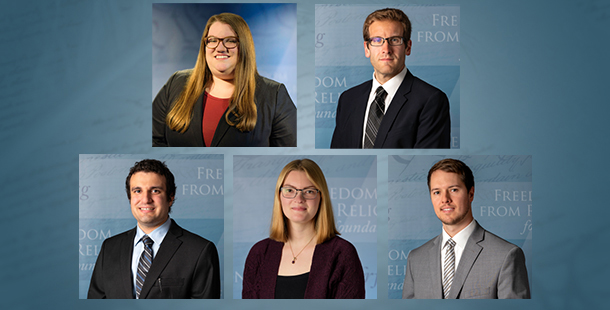 Apart from dealing with pandemic-related issues, the Freedom From Religion Foundation has also been recently busy fielding a variety of dismaying non-COVID First Amendment violations.
A lot of these (not surprising in an era of physical distancing) involve inappropriate promotion of religion on government social media. And a number of infringements still involve in-person promotion of prayer and religion.
Below is a representative roundup of violations that FFRF has sent complaint letters about just in the past month and a half:
Governmental promotion of prayer, religion
— Post Office, Louisville, Miss.: Conducting a daily morning prayer at the mandatory safety meeting.
— Caddo Parish Public Schools, Shreveport, La.: Opening each meeting with prayer, invariably Christian, led by school board members who often mention "Jesus Christ."
— City of Franklin, Va.: "Blessing" food and beginning a May 22 lunch in honor of public works employees with an invocation "in the name of Jesus Christ."
— City of Findlay, Ohio: Organizing and participating in a prayer event outside the county courthouse with Christian-only churches. Said Mayor Christina Muryn: "I think that religion, and faith and Christ are an important part of every issue that we face, as individuals and as a community."
— Gregg County Courthouse, Longview, Texas: Judge Bill Stoudt organizing a June 27 prayer rally, stating his intention was for "everyone to get together and let's just do some praying." The lectern featured the official Gregg County seal.
— Christian County Sheriff's Office, Ozark, Mo.: Sponsoring and promoting a "Day of Prayer" event on Ozark Square, including a post on the official Facebook page containing a Latin cross and New Testament bible verse inviting everyone to pray.
— City of Frankfort, Ky.: Gov. Andy Beshear relentlessly promoting Christianity during official press briefings, such as inviting Rev. C.B. Akins to lead the state in Christian prayer on May 28 at the daily coronavirus update.
— Morganfield Police Department, Morganfield, Ky.: The chief of police leading a group of citizens in prayer while on duty.
— City of Prattville, Ala.: Organizing and hosting a June community prayer event, advertising it on the city's website and social media pages, holding it in city hall, and streaming it online.
— Abilene ID, Abilene, Texas: Craig Middle School using its text-reminder system for parents to promote attendance at religious events, granting a Fellowship of Christian Athletes coordinator access to the confidential list of phone numbers, reminding parents to send children to FCA meetings, including one at a church.
— Department of Natural Resources, Madison, Wis.: Requiring employees to attend an awards ceremony at a resort wherein DNR chaplains led prayer and invoked Jesus Christ and a presentation was given with overtly religious themes about grieving.
Promoting religion over social media
The Freedom From Religion Foundation has been contacted by citizens around the nation alerting us to many instances in which governmental social media sites are promoting religion. These include:
— Nicholas County Health Department, Summersville, W.Va.: Regularly endorsing and promoting Christianity in social media posts, encouraging citizens to pray, such as in a May 19 post saying "There is power in prayer!"
— Jefferson County Sheriff, Mount Vernon, Ill.: Posting a video on the official Facebook page where the sheriff said he believed truth is found "In God's word alone," and that the U.S. and state constitutions are secondary legal authorities below "the word of God."
— Baker County Sheriff's Office, Macclenny, Fl.: Promoting religion on its official Facebook page.
— City of Central Fall, R.I.: The mayor announcing an official day of mourning and lament before inviting a Christian pastor to deliver a short sermon, concluding "in the name of Jesus," all posted on the city's official Facebook page.
— City of Longview, Texas: Posting a graphic quoting Psalm 37:4 as part of its updated posting on coronavirus cases.
— Hinton Public Schools, Hinton, Okla.: Posting a religious message by a coach on the team's Facebook page referencing living by the bible. The religious post was removed after FFRF objected, and we were assured it wouldn't happen again.
— Greenfield Police Department, Greenfield, Wis.: On multiple occasions promoting Christianity on its Facebook page such as images and videos with biblical quotes.
— City of Madera, Calif.: Posting a video address from the mayor on its official Facebook page urging citizens to "continue to rely on your faith . . . We all know we cannot get through this without our lord and savior Jesus Christ," asking residents to pray.
— Polk County Commissioners, Bartow, Fla.: Deleting comments, then access by members of a local atheist group from the official Facebook page, simply for expressing viewpoints different from the county board's chair.
In their own category were promotions of religion on social media by various members of Congress and statehouses, including:
— State Rep. Ric Metzgar, R-Md., who on July 4 posted on his official government Facebook page the bible verse 1 Peter 2:16, urging his constituents to begin "living as servants of God" and seeking the "gift of Jesus' salvation."
— U.S. Rep. Bill Johnson, R-Ohio, who regularly posts religious messages every Sunday, and on other occasions as well.
— U.S. Rep. Roger Williams, R-Texas, who sent an email to constituents urging them to adopt faith as a central fact of their lives and stressing that the United States was founded "on Judeo-Christian values."
— State Rep. Scott Plakon, R-Fla.: His Memorial Day post on his official Facebook page was a religious message and New Testament verse that began, "We all should thank God every day."
FFRF salutes its intake and letter-writing legal team, overseen by Legal Director Rebecca Markert, headed by Intake Attorney Madeline Ziegler, with Staff Attorney Chris Line, Legal Fellows Brendan Johnson and Dante Hartootunian, and Legal Assistant Greta Martens. We will miss Dante, who will be departing at the end of the month for his federal clerkship in American Samoa.
The Freedom From Religion Foundation, based in Madison, Wis., a 501(c)(3) nonprofit educational charity, is the nation's largest association of freethinkers (atheists, agnostics), and has been working since 1978 to keep religion and government separate.