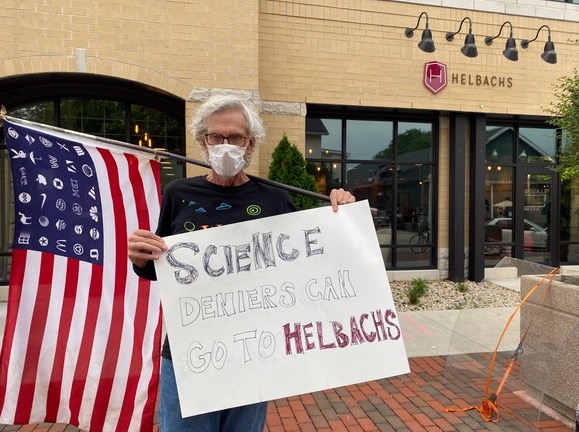 The Freedom From Religion Foundation commends its home county for taking action against an evangelical-run coffeehouse that advertised itself as a "mask free zone" in violation of a countywide public health order.
FFRF had emailed a complaint letter on Monday, July 20, to Public Health Madison and Dane County, asking it to extend its order requiring indoor masking in shops and stores to defiant establishments such as Helbachs Coffee in Middleton. On Tuesday, July 21, health authorities fined Helbachs $263.50 for violating the masking requirement. WKOW TV quotes an official as saying that since the mask mandate went into effect on July 13, the office has received 390 compliance complaints — with 180 of those against Helbachs. Madison Assistant Attorney Marci Paulsen had reported that the coffeeshop's owners called the police when she and a public health inspector went to the restaurant on July 15 seeking to educate people about the order.
FFRF noted in its letter that employees of the coffeehouse, run by a couple who started divisive "Jesus Lunches" at Middleton High School, had belittled customers, including small children, who entered while wearing masks and reportedly had refused to space out seating to comply with social distancing regulations. The shop also briefly posted a "mask free zone" announcement warning that it would not admit anyone wearing a mask. Although the poster was removed last week, the business has failed to publicly post the required order from the county on wearing masks. Individuals have picketed the shop, including FFRF staff. The national state/church watchdog, based in the neighboring town of Madison, asked officials to suspend Helbachs' food and drink license if it refused to comply with the mask order.
"Businesses that refuse to abide by the Public Health Madison and Dane County's regulations risk the health of everyone in their communities," stated FFRF Legal Fellow Dante Harootunian. Failing to enforce the order puts responsible coffeeshops and comparable businesses at a competitive disadvantage for obeying the law and protecting their customers, he noted. The mask enforcement, FFRF pointed out, had to include businesses whose owners claim that the mask mandate violates their deeply held personal religious beliefs: "The coronavirus does not make distinctions between individuals based on their beliefs, and to be effective in combating the virus, PHMDC must do the same."
As the Wisconsin Department of Health Services notes, "COVID-19 remains very contagious and most people in Wisconsin are still at risk of getting sick from the virus." Wisconsin has seen almost 48,000 confirmed cases to date and Dane County is in the "high activity level." That's why FFRF is pleased that Dane County authorities have taken action against Helbachs in the interest of public health and well-being.
FFRF last week also contacted Public Health Madison & Dane County to urge it to revise Emergency Order #8 "to remove the exemption for religious meetings from the mass gatherings rule" found in Section 2. It objected to what appears to be an exemption for religious organizations from public gathering regulations, noting that "houses of worship have repeatedly been shown to be hotbeds for spreading COVID-19."
"As the coronavirus doesn't care whether an individual has 'sincerely-held religious beliefs' or whether a gathering is religious in nature, there can be no exceptions from public health orders for these reasons either," notes Annie Laurie Gaylor, FFRF co-president.
The Freedom From Religion Foundation is a Madison, Wis.-based national nonprofit organization with more than 32,000 members across the country, with hundreds of members in Dane County (which includes Middleton and Madison).