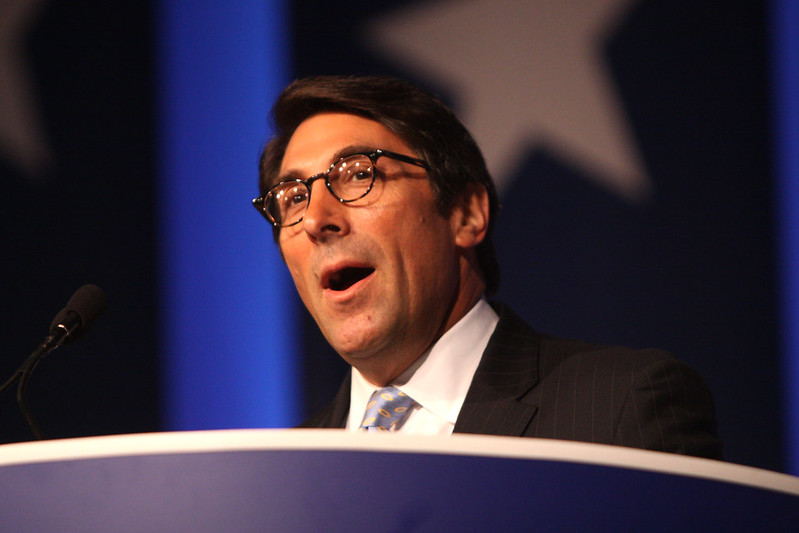 Maybe the Freedom From Religion Foundation should consider it a badge of honor that Jay Sekulow attacked the state/church watchdog the same week he represented President Trump before the Supreme Court.
Sekulow, a granddaddy of the Religious Right, virulent Christian Nationalist, and leader of the misnomered American Center for Law and Justice (founded by televangelist Pat Robertson), took aim at FFRF for promoting science-based responses to the COVID pandemic and for defending the Establishment Clause.
Sekulow and the ACLJ denounced FFRF in an article entitled: "Despicable." Revealing the intimate ties between Christian Nationalism and the Christian media, CBN News republished the piece nearly verbatim a day later, with an extra quote from Sekulow:
"Prayer and expressions of faith are not only constitutional, they are crucial during this pandemic," said ACLJ Chief Counsel Jay Sekulow, adding, "To attack prayer and leaders who are offering spiritual solace to those in need during this pandemic is nothing short of despicable."
With hyperbole and a paucity of nuance, ACLJ claimed in its original piece that "some are trying to silence those prayers at this time when many would contend we need them more than ever. The atheistic organization called the Freedom From Religion Foundation is reportedly harassing public officials because they offered prayer or other expressions of faith for the families they serve during this health crisis."
Days later, Sekulow appeared before the Supreme Court to argue as Trump's personal attorney that he is above the law — even before he was the president. His performance was panned by court watchers and experts, many of whom remarked on his strident, grating and inappropriate tone. "Bombastic . . . blowing smoke," said one. Earlier this year, Sekulow defended Trump in his impeachment trial.
FFRF has indeed been active defending the Constitution and the First Amendment during these trying times. FFRF has worked to stop the government from doling out taxpayer money to pay clergy salaries, to ensure that stay-at-home orders apply to churches, and to prevent government officials from abusing their power in a time of crisis to promote their personal religion.
"Sekulow's ties to the government are emblematic of what FFRF is fighting against," says FFRF Co-President Dan Barker. "Christian Nationalism is rampant in this administration — and the fruits of the virulent ideology are on display for all to see."
Barker noted that in calling FFRF "despicable" for "attacking" public prayer, Sekulow is actually attacking the words of Jesus himself. The Sermon on the Mount cautions: "When you pray, do not be like the hypocrites, for they love to pray standing in the synagogues and on the street corners to be seen by others." Matthew 6:5.
This is not the first time Sekulow has used FFRF to fearmonger and fundraise. The ACLJ has invoked FFRF's defense of the Constitution in the past to gather personal information from possible donors by asking people to sign anti-FFRF petitions. ACLJ is using the pandemic the same way it did FFRF's groundbreaking report on unconstitutional chaplains in college football at public universities and FFRF's request that hotel chains and university hotels start removing bibles from their rooms.
ACLJ's fearmongering and fundraising, which seem to benefit the Sekulow family personally, have raised red flags for groups like Charity Watch, led to exposès in The Guardian and The Washington Post, and investigations by the attorneys general of North Carolina and New York.
"'Charity begins at home' seems to exemplify Sekulow's nonprofit philosophy," notes Annie Laurie Gaylor, FFRF co-founder.
FFRF received a perfect score and four-star rating from Charity Navigator last fall, one of only three in the human and civil rights category out of nearly 2 million U.S. charities to be given such scores and the only one that fights for the First Amendment.
The Freedom From Religion Foundation is the nation's largest association of freethinkers (atheists and agnostics), with more than 31,000 members nationwide. FFRF also works as a watchdog guarding the constitutional separation between religion and government.
Photo: Gage Skidmore via Flickr