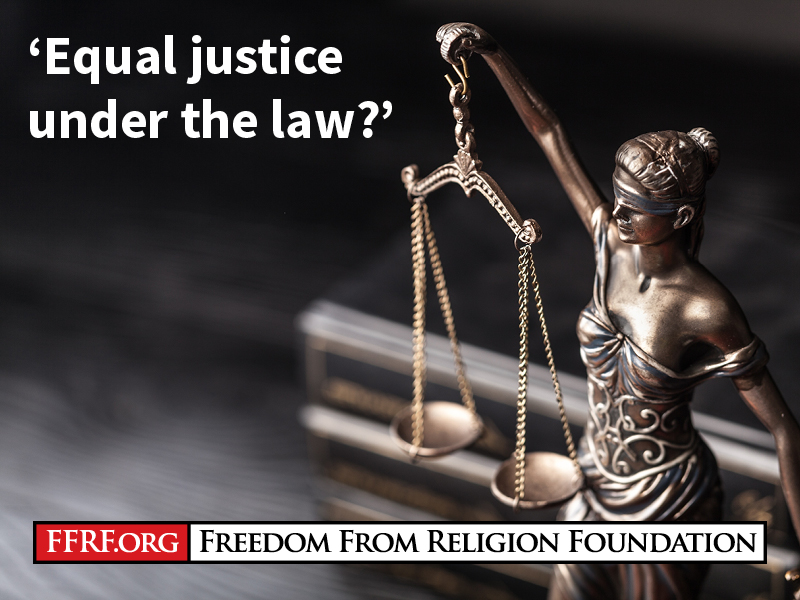 The Freedom From Religion Foundation is asking the U.S. Supreme Court to safeguard the civil rights of individuals working for religious institutions.
In an amicus brief filed before the court today, March 10, in Our Lady of Guadalupe School v. Morrissey-Berru, the state/church watchdog is asking the high court to reject the overbroad firing practices of two Catholic schools. Oral arguments will be heard in April over the "ministerial exception" defense invoked by the private schools to justify allegedly discriminatory termination.
The two schools are arguing for the right to conduct hiring, firing and other employment decisions under the claim that their teachers are subject to the so-called "ministerial exemption," which permits churches to disregard civil rights laws when hiring spiritual leaders.
Agnes Morrissey-Berru, who is not a practicing Catholic, is charging her employer, the Our Lady of Guadalupe School, based in Hermosa Beach, Calif., with age discrimination for not renewing her contract after 16 years as a full-time teacher. Kristin Biel, who was a full-time teacher at St. James School in Torrance, Calif., filed charges for disability discrimination with the Equal Employment Opportunity Commission after her dismissal while being treated for breast cancer. Biel has since died, and the case is continuing under the aegis of her widower, Darryl Biel. Both argue they did not serve as ministers, but as teachers. Both teachers had won their discrimination suits before the 9th U.S. Circuit Court of Appeals, which ruled they were secular teachers, not ministers.
FFRF in its friend-of-the-court brief writes that the cases demonstrate why the "totality of the circumstances" test from Hosanna-Tabor Evangelical Lutheran Church & Sch. v. E.E.O.C. (2012) best protects the hard-won rights of American employees. The alternative "function-only" test promoted by the two private Catholic schools would create a constitutional norm that all employees of religious organizations lack the civil rights that shelter their secular counterparts from adverse employment actions on the basis of "race, color, religion, sex, or national origin," as well as sexual orientation.
FFRF maintains that under the function-only test, a religious organization could effectively deny civil rights protections to any of its employees with only minimal creative characterization of that employee's job duties, thanks to the fuzzy line between religious and nonreligious functions. An employee's understanding of his or her own job duties and position within an organization are highly relevant. The schools are asking the Supreme Court to ignore Morrissey-Berru's compelling testimony and narrow its inquiry to the consideration of only the employer's position.
In addition, the function-only test and the deference it grants to religious organizations can and will be abused, FFRF emphasizes. Many religious organizations freely classify otherwise secular employees as ministers when it is financially beneficial or otherwise convenient. FFRF calls attention to one organization that filed a brief in support of the religious schools in this case, noting that the group has published advice that all religious employers should add religious employment criteria "for every employee" in order to circumvent laws protecting employees from discrimination based on sexual orientation and gender identity. For instance, the organization suggests, "if a church receptionist answers the phone, the job description might detail how the receptionist is required to answer basic questions about the church's faith, provide religious resources, or pray with callers." FFRF notes that this obviously isn't the type of employee to which the ministerial exemption was meant to apply.
FFRF's brief is also unique in warning the court that adopting the function-only test would have an immediate, devastating impact on the civil rights of more than 1 million health care employees. FFRF partnered with fellow amicus curiae American Medical Women's Association to get this point on the record. Approximately 15 percent of all U.S. hospitals are Catholic-owned, with an additional 4 percent of hospitals operated by other religious organizations. The rights and job security of every doctor, nurse and other staff member at these hospitals hang in the balance. If the Supreme Court endorses the function-only test favored by the religious schools, these medical professionals would be employees today and "ministers" tomorrow, regardless of their religious beliefs or how they or their employers currently view their roles in the hospitals. If the totality of the circumstances are considered instead, as they were in Hosanna-Tabor, health care providers would retain their civil rights as secular employees.
"This court and this country stand at a fork in the road," FFRF's brief concludes. "One road leads to an unprecedented limitation on the people's ability to democratically legislate civil rights protections. . . . A second road leads to a nation whose inhabitants know their government provides recourse in the face of invidious reproach or termination based on a person's 'race, color, religion, sex, or national origin,' regardless of where they work."
The Freedom From Religion Foundation, the largest national association of freethinkers, has more than 30,000 members and chapters all over the country. FFRF Attorneys Patrick Elliott, Sam Grover and Brendan Johnson prepared this brief. Fellow amicus curiae American Medical Women's Association is an organization of women physicians, medical students and others dedicated to serving as the unique voice for women's health and the advancement of women in medicine.