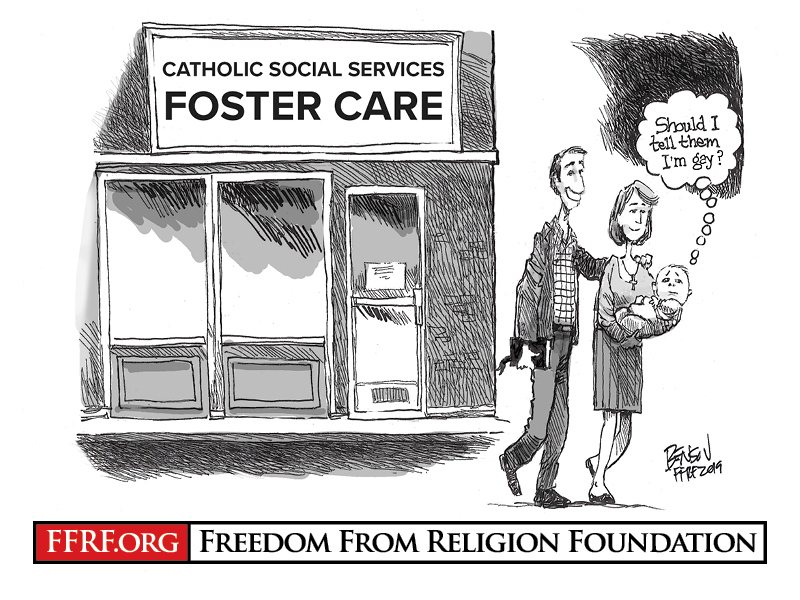 It is alarming that the U.S. Supreme Court today announced it will hear a case involving a Catholic charity suing the city of Philadelphia for ending its contract, after it refused to allow same-sex parents to provide foster care. The case could upend decades of precedent protecting our secular legal system.
Fulton v. City of Philadelphia involves Catholic Social Services, one of 30 agencies that Philadelphia contracted with to place abused and neglected children in new homes. The city of Philadelphia properly ended its contract with the Catholic group in 2018, after learning it would not place children with LGBTQ individuals as foster parents.
The 3rd U.S.Circuit Court of Appeals ruled in favor of the city of Philadelphia, noting that "religious belief will not excuse compliance with general civil rights laws." Therefore it's a bad sign that the Supreme Court granted review. The case will be briefed and argued later this year.
The Freedom From Religion Foundation plans to weigh in on this case with a friend-of-the-court brief filed in support of the city of Philadelphia and the two groups that have intervened in the case, Support Center for Child Advocates and Philadelphia Family Pride. The consequences of Fulton v. City of Philadelphia for the country's secular principles are too potentially calamitous for the state/church watchdog to just stand by.
"It is more than troubling that the Supreme Court would take this case, given the expansive issues involved," says FFRF Co-President Dan Barker. "This could lead to a disastrous decision allowing religious individuals or groups to be exempt from almost any law."
The city of Philadelphia pays millions in taxpayer dollars to agencies that help with foster placements. Its contract with such agencies specifies that contractors may not discriminate against prospective foster families on the basis of characteristics enumerated in the Philadelphia Fair Practices Ordinance, including sexual orientation.
Catholic Social Services has asked the Supreme Court to overturn Employment Division v. Smith, which provides that generally applicable laws do not violate the Free Exercise Clause if they have a rational basis. In his majority decision in Smith, even Justice Antonin Scalia recognized the inherent problem in allowing religious individuals to be exempt from laws simply because of their religious beliefs. He quoted an earlier case: "To permit this would be to make the professed doctrines of religious belief superior to the law of the land, and in effect to permit every citizen to become a law unto himself."
Catholic Social Services also claims that the nondiscrimination rule violates its "free speech" rights. The 3rd Circuit correctly rejected this argument, finding that the group would be performing a public service based on a contract with the government. Thus, the city was not restricting speech, but was choosing to only fund programs complying with its nondiscrimination rules.
"Religious individuals do not get to rewrite all laws and exempt themselves from those laws if they disagree with them," says FFRF Senior Counsel Patrick Elliott.