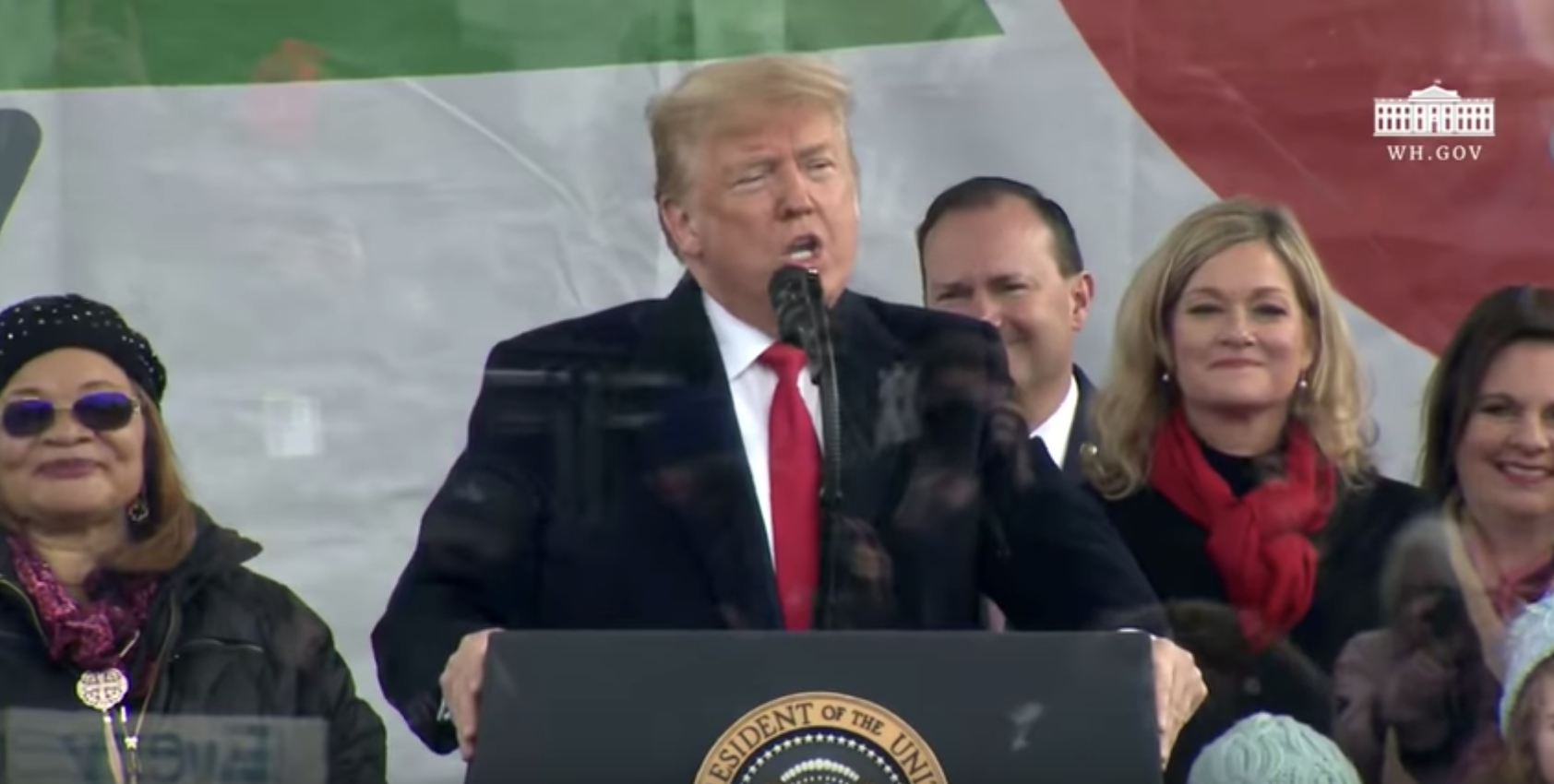 President Trump's remarks on Friday at the biggest anti-abortion event of the year confirm how much religious zealotry is the motivation for that movement.
Trump became the first U.S. president ever to speak in person at the annual March for Life in Washington, D.C., boasting to loud cheers that "unborn children have never had a stronger defender in the White House." He immediately added: "As the bible tells us, each person is wonderfully made."
Trump bragged about his anti-abortion bona fides, including expanding an anti-abortion global gag rule, "preserving faith-based adoption" (i.e., opposing the right of LGBTQ folks to adopt), protecting "religious liberty" (i.e., seeking to merge religion and government), and appointing 187 federal judges and two Supreme Court justices (all of whom were screened to meet anti-abortion litmus tests).
Trump peppered his remarks with constant references to God.
"You are empowered by prayer," Trump told the crowd. "All of us here understand an eternal truth: Every child is a precious and sacred gift from God. … When we see the image of a baby in the womb, we glimpse the majesty of God's creation." And so on and so forth.
He went on to proclaim: "Sadly, the far left is working to erase our God-given rights, shut down faith-based charities, ban religious leaders from the public square, and silence Americans who believe in the sanctity of life. They are coming after me because I am fighting for you and we are fighting for those who have no voice. And we will win."
His remarks also included some gross misstatements: "Nearly every top Democrat in Congress now supports taxpayer-funded abortion all the way up until the moment of birth."
As a gesture to diss the 47th anniversary of Roe v. Wade last week, the Trump administration vowed to withhold federal funds from California if the state continues to require private insurers to cover abortion care. California Gov. Gavin Newsom stated in response that "we won't back down from defending reproductive freedom for everybody — full stop." And the state Attorney General Xavier Becerra said, "We will fight this by any means necessary."
The Freedom From Religion Foundation was started in part due to the realization by its principal founder, reproductive rights activist Anne Nicol Gaylor, that women would never be free while religion dictates governmental policy. In fact, as she has written: "Unless religion is kept in its place, all personal rights will be in jeopardy. To be free from religion is an advantage for individuals; it is a necessity for government."
It should be considered un-American to seek to impose a faith-based view upon unwilling others who do not share that religious belief. Unfortunately, both the Establishment Clause and Roe v. Wade have never been under more severe attack. The anti-abortion movement has greatly contributed to that.