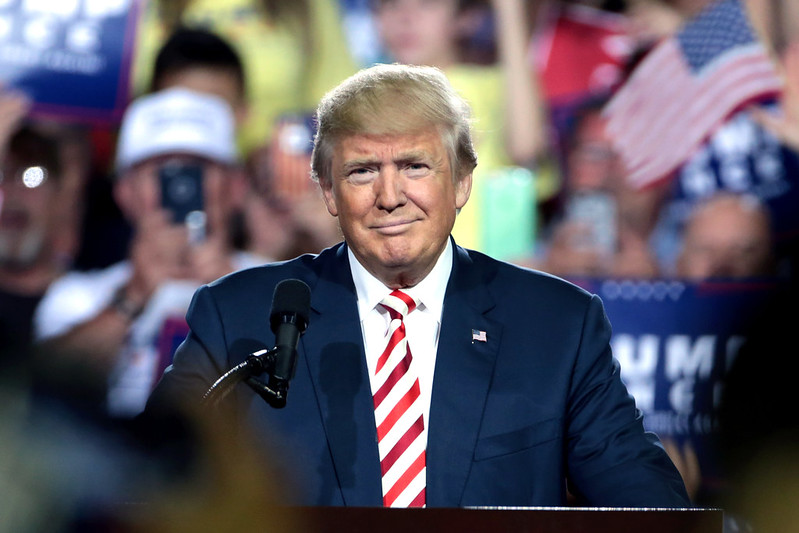 Photo courtesy of Gage Skidmore on Flickr
The IRS must take action regarding a pro-Trump rally being hosted by a church in Miami, Fla., a national state/church watchdog is urging.
Ministerio Internacional El Rey Jesús (King Jesus Ministry) is reportedly scheduled to host a political rally for President Donald Trump on Friday, Jan. 3 at 5:00 P.M. EST. FFRF has been informed that the church's leader and pastor, self-proclaimed "apostle" Guillermo Maldonado, urged his congregation to attend this political rally. According to reporting by the Tampa Bay Times, Maldonado told congregants:
"If you want to come, do it for your pastor. That's a way of supporting me."
Freedom From Religion Foundation Legal Director Rebecca Markert has written to Acting Director of Exempt Organizations Examinations Mary A. Epps urging the IRS to promptly investigate King Jesus Ministry. FFRF calls his actions a clear violation of IRS regulations prohibiting 501(c)(3) organizations from participating in a political campaign.
This provision, known as the Johnson Amendment, specifies that 501(c)(3) organizations, which include churches and other religious organizations, are prohibited from "participating in or intervening in any political campaign on behalf of (or in opposition to) any candidate for public office." Rev. Rul. 2007-41, 2007-25 I.R.B. (June 28, 2007). While leaders of churches or religious organizations may express their opinions on political matters as individuals, they are, according to this rule, precluded from making "partisan comments in official organization publications or at official functions of the organization."
"In urging congregants to come to a political rally, and in hosting the political rally, King Jesus Ministry appears to have inappropriately used its religious organization and 501(c)(3) status by intervening in a political campaign," Markert writes. "It violated IRS regulations by seemingly expressing its support for a candidate in the November 2020 presidential election."
Although Trump has claimed that the Presidential Executive Order Promoting Free Speech and Religious Liberty "got rid of" the Johnson Amendment, the order did no such thing. The Department of Justice has twice disavowed this notion in open court, after FFRF sued to prove that an executive order cannot overturn enacted legislation. The Johnson Amendment remains in full effect, and churches may not promote political campaigns.
"It would be hard to imagine a more overt and flagrant violation of ethics and the IRS code than this planned rally," said FFRF Co-President Annie Laurie Gaylor. "But perhaps it is not surprising, given the president's incessant and untrue mantra that the Johnson Amendment has been repealed."
The Freedom From Religion Foundation is a national nonprofit organization with more than 30,000 members and several chapters across the country, including over 1,500 members and a chapter in Florida. FFRF's purposes are to protect the constitutional principle of separation between church and state, and to educate the public on matters relating to nontheism.