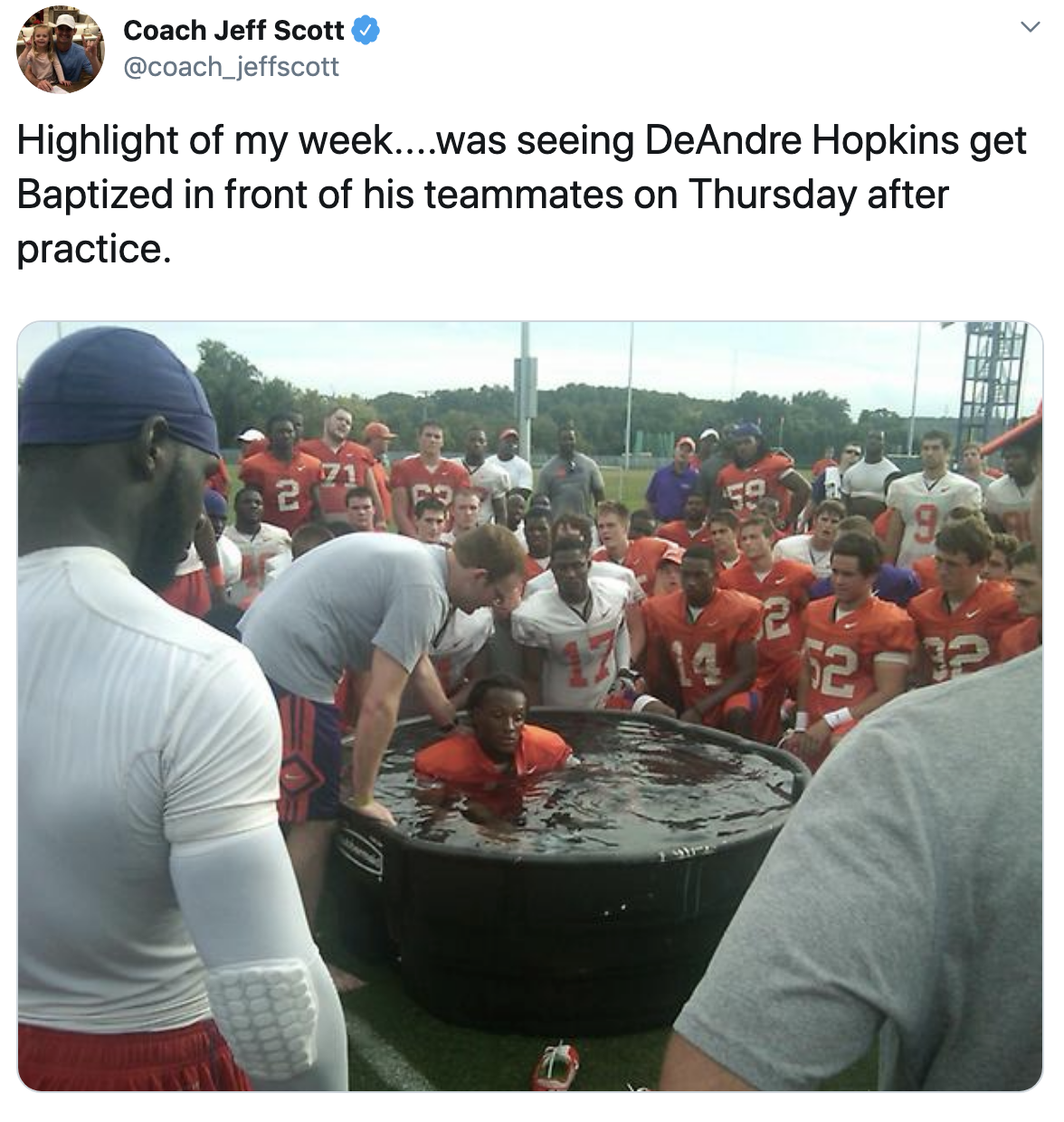 The Freedom From Religion Foundation has alerted a Florida university to potential constitutional concerns involving its newly hired head football coach Jeff Scott.
The University of South Florida recently hired Scott after he, according to numerous reports, repeatedly abused his position as an assistant coach at Clemson University to push evangelical Christianity on players.
Scott is coming to the university from a program that did not value the rights of conscience of student athletes and that imposed unconstitutional religious practices on players. At the behest of coaches, the Clemson team took annual "Church Day" trips to evangelical churches. Based on public reports (and records FFRF has received from Clemson), the program has had team religious devotionals, chapel services, scheduled baptisms or players in team facilities, and religious activities led by a team chaplain. Evangelical Christianity was embedded in the program and Scott was a major instigator of this unconstitutional conduct. He notoriously tweeted in 2012: "Highlight of my week… was seeing DeAndre Hopkins get baptized in front of his teammates on Thursday after practice." He also tweeted a video of a player being baptized in front of the team during one of the "Church Day" trips.
"These reports raise serious legal concerns for the University of South Florida," FFRF Senior Counsel Patrick Elliott writes to University of South Florida President Steven C. Currall. "As a public university employee, Scott violates the Constitution when he abuses his university position to promote his personal religion to students."
FFRF is urging the university to take pre-emptive action to ensure that it complies with both the U.S. and Florida Constitutions as Scott takes over the football program.
"Scott's team is full of young and impressionable student athletes who would not risk giving up their scholarship, giving up playing time, or losing a favorable recommendation from the coach by voluntarily opting out of his unconstitutional religious activities — even if they strongly disagrees with his beliefs," Elliott adds. "Using a coaching position to promote Christianity amounts to religious coercion."
The University of South Florida is home to students of various religious beliefs and nonreligious views, FFRF reminds the university. Students should not be made to feel like they do not belong because a school employee with power over them disapproves of their beliefs. Nationally, about 38 percent of young Americans are nonreligious. If unchecked, religious activities within football programs will alienate and exclude a significant portion of students.
The University of South Florida must take action to protect student athletes and to ensure Scott understands that he has been hired as a football coach and not a pastor. It must make sure that the football program does not institute team prayers, hire or appoint a team chaplain, engage in religious rituals as part of team events or discriminate in hiring support staff on the basis of religion.
FFRF is advising the university to adopt appropriate policies ensuring that religious discrimination does not occur within athletic programs, train staff to guarantee compliance with the law and school policies, and monitor athletic program activities.
The Freedom From Religion Foundation is a national nonprofit organization with more than 30,000 members and several chapters across the country, including over 1,500 members in Florida and a state chapter, the Central Florida Freethought Community. FFRF's purposes are to protect the constitutional principle of separation between church and state, and to educate the public on matters relating to nontheism.