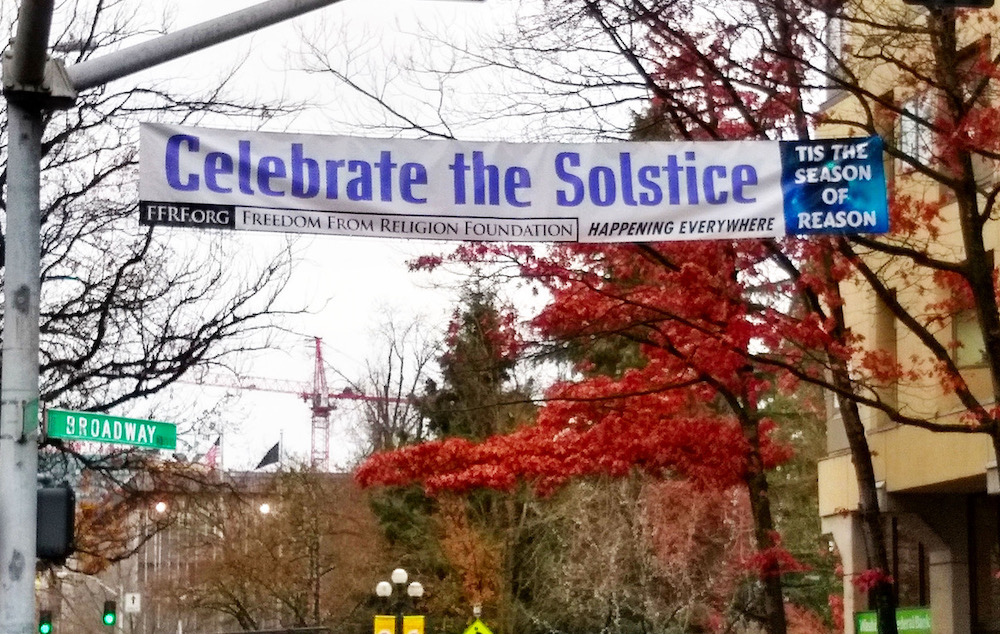 The Freedom From Religion Foundation has brought its seasonal Winter Solstice display to Eugene, Ore., for the second year in a row.
A large Solstice banner, which will be up through Dec. 27, spans 30 feet by 4 feet and stretches above Oak Street at Broadway. The display contains the message:
"Celebrate the Solstice. TIS THE SEASON OF REASON."
The Winter Solstice, occurring this year on Saturday, Dec. 21, is the shortest, darkest day of the year, signaling the rebirth of the sun and the natural new year. It's been celebrated for millennia with festivals of light, feasts, gift exchanges and the display of evergreens, which symbolize enduring life, and, FFRF maintains, is the true "reason for the season." FFRF thanks local FFRF member Charles Jones for his activism in getting the Solstice banner up.
A similarly large banner has been hung up in the area in previous years that features "Christmas" and "Jesus" in large letters. Beneath were two statements: "Attend a Church of Your Choice" and "Celebrate His Birth."
FFRF has placed its secular message in Eugene in good part to make the presence felt of the large proportion of Oregonians who are nonbelievers. In fact, Oregon has among the highest percentage of "Nones" in the country.
"Freethinkers are becoming more and more prominent as part of the social landscape, especially in states like Oregon," says FFRF Co-President Annie Laurie Gaylor. "It's only befitting that they make their voice heard in the public square."
The Freedom From Religion Foundation is a national nonprofit organization with over 30,000 members and several chapters across the country, including more than 900 members in Oregon and a chapter in Portland. FFRF's purposes are to protect the constitutional principle of separation between church and state, and to educate the public on matters relating to nontheism.