The Freedom From Religion Foundation is condemning a recent self-proclaimed Christian "takeover" of the White House.
According to several social media posts by Christian musicians and worship leaders, they were invited on Friday, Dec. 6, to the White House for a briefing that degenerated into singing, praying and what one attendee claimed was a "#WorshipTakeover," asserting that the event was "inside the White House right now." Added another post, "We were invited by this administration to worship inside the White House today."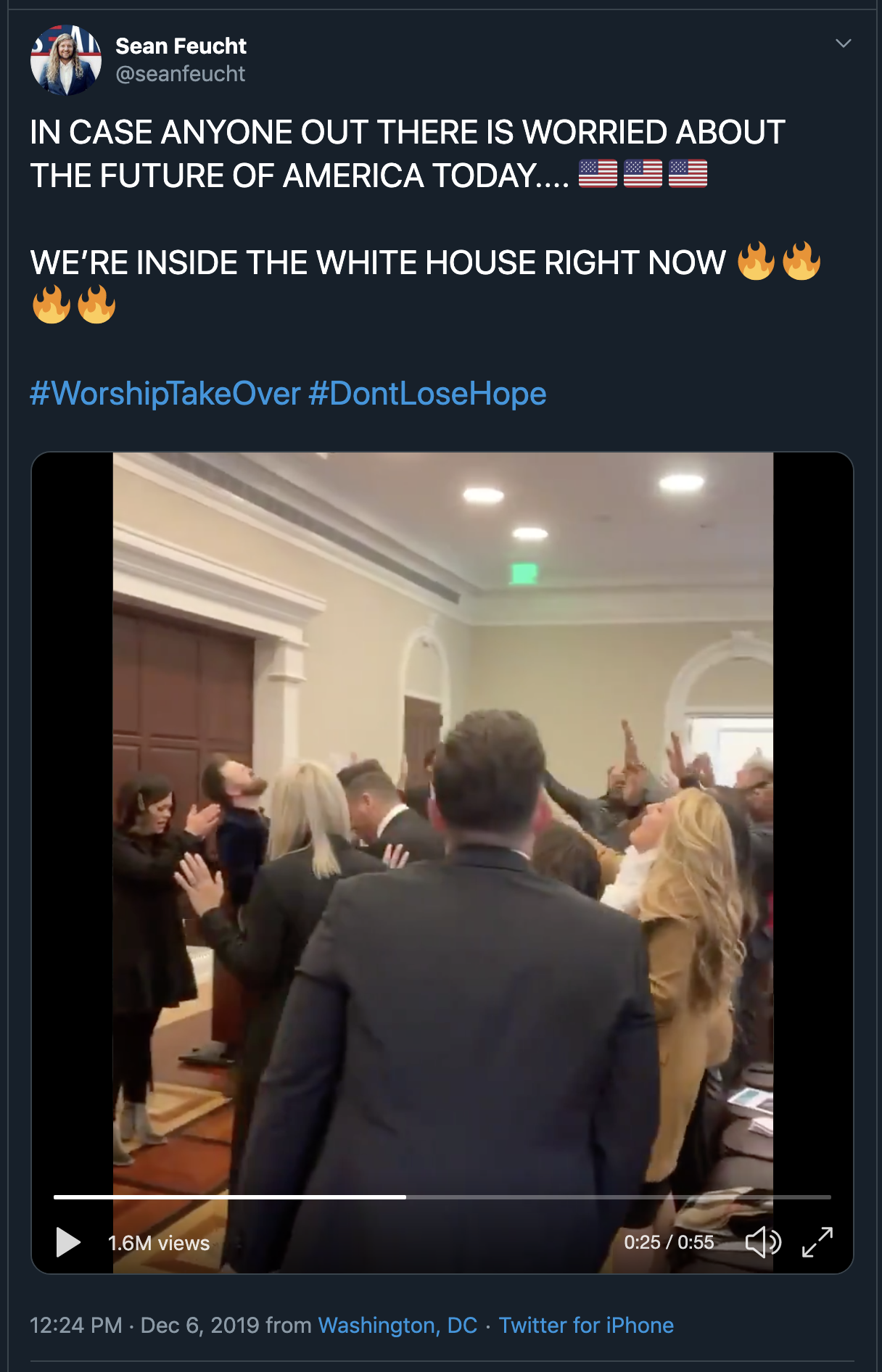 A video shows the worship service seemingly not in the White House itself but on the northern side of the Eisenhower Executive Office Building.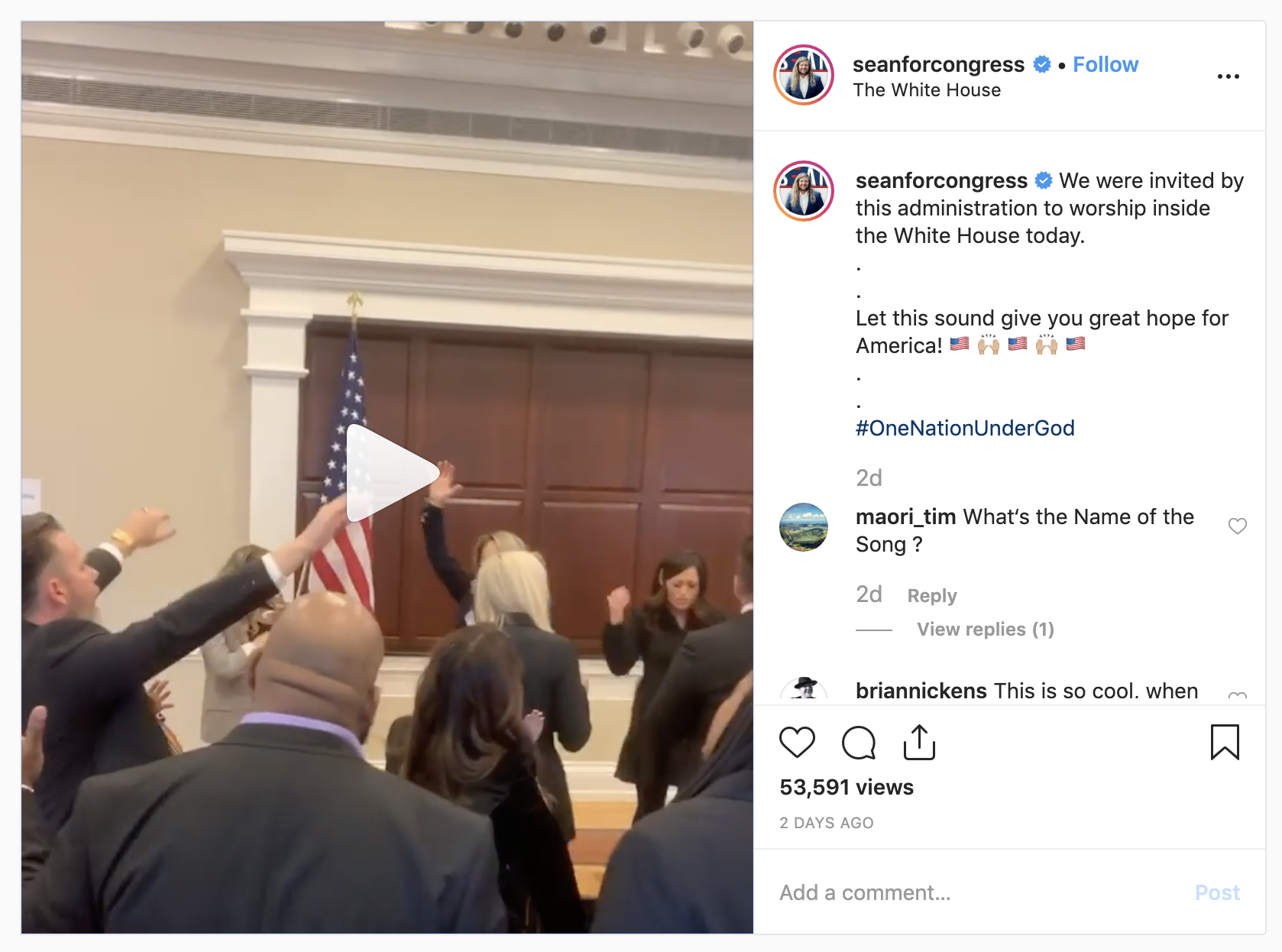 "Welcoming a group of Christian Nationalists to carry out a governmental 'takeover' is deeply disturbing, since it shows a contempt for the foundational American principle of state-church separation," says FFRF Co-President Annie Laurie Gaylor. "It should alarm every citizen."
Vice President Mike Pence showed up at the event, took some photos, and promoted it on social media, writing: "Wonderful stopping by a worship leaders briefing today at the @WhiteHouse! America is a proud Nation of believers and our Administration will always defend the freedom of religion of every American, of every faith!"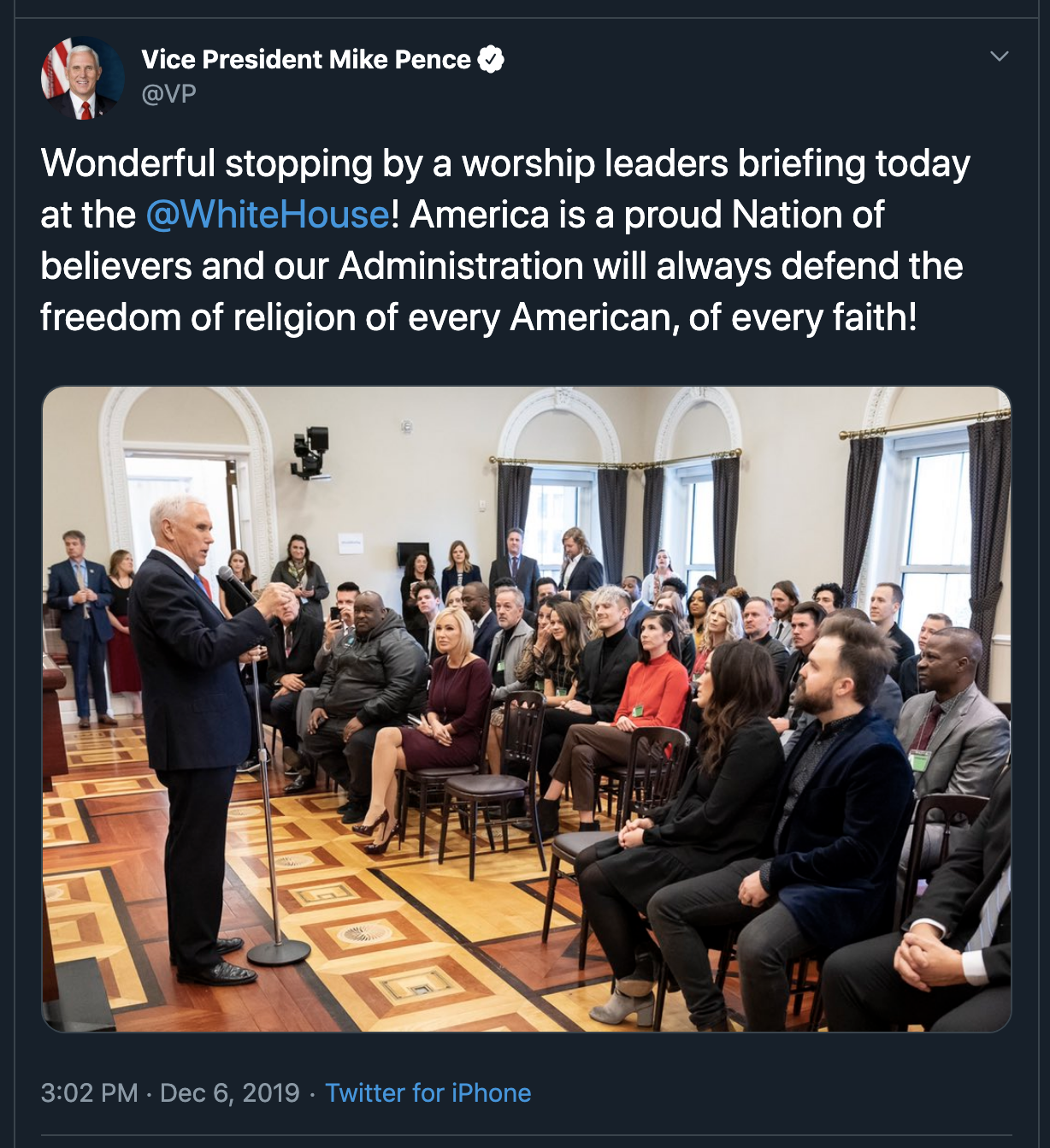 Megapreacher and President Trump's "spiritual counselor" Paula White can be seen sitting in the front row. White can also be spotted in the video standing at the back of the crowd, arms raised, as well as in Pence's tweet. FFRF has previously condemned the White House's recent hiring of White because it would blur the line separating state and church, a line this administration has diligently worked to obliterate.
An attendee later posted: "Just left the Oval Office in Washington DC after meeting and praying over Donald J. Trump." FFRF has not yet been able to substantiate this claim.
"What the Christian nationalists like Pence and White fail to understand is that the freedom of religion they hold so dear is not possible without a government that is free from religion," says FFRF's Director of Strategic Response Andrew L. Seidel.
The event comes on the heels of Pence lying to a group of faith leaders in Michigan. Pence repeated the fib that Trump has destroyed the Johnson Amendment. FFRF has debunked this lie many times. FFRF sued Trump in federal court over his executive order on the Johnson Amendment, and his own Justice Department admitted — twice — to the court that Trump's order did nothing to alter that rule or its enforcement.
FFRF is investigating the Washington, D.C., event, though much of the higher-level executive branch is not subject to the Freedom of Information Act.
The Freedom From Religion Foundation is a national group that works to uphold the constitutional separation between state and church and has more than 30,000 nontheistic members and several chapters all over the country.