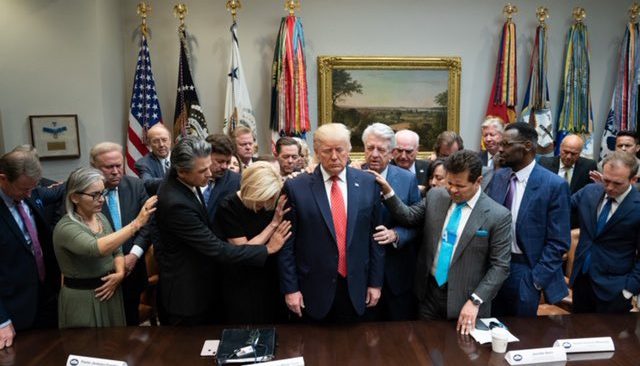 The Freedom From Religion Foundation condemns the Trump administration's appointment of Paula White, a televangelist and prosperity gospel preacher, to a White House position. Andrew L. Seidel, FFRF's director of strategic response, explains how other presidents have used religion to distract the country from impeachment and serve as a proxy for morality. In Rewire News, Seidel writes:
As Trump's impeachment fears intensify and the House formalizes its impeachment process, the White House has cranked the religion up to eleven. On Tuesday, twenty-five evangelical megachurch leaders prayed for and with Trump in the Roosevelt Room of the White House, in a grand spectacle. So much for Jesus's condemnation of public prayer as hypocrisy in his Sermon on the Mount.
Then, on Thursday night, the White House announced that one of those preachers, Paula White, a televangelist, is joining the White House staff on the Faith and Opportunity Initiative. Earlier in October, Mike Pompeo and Bill Barr delivered now infamous speeches tying the administration to Christian nationalism.
This religious revival is all about impeachment. The hour-long prayer session included a standing ovation and was widely covered by Fox News and other conservative outlets, who explicitly characterized the prayers as a pushback against impeachment. "We are unwavering in our support for the president," said one of the preachers.
A deeper dive into this fascinating history can be found in Seidel's book, The Founding Myth: Why Christian Nationalism Is Un-American. Signed copies are available through FFRF's store.