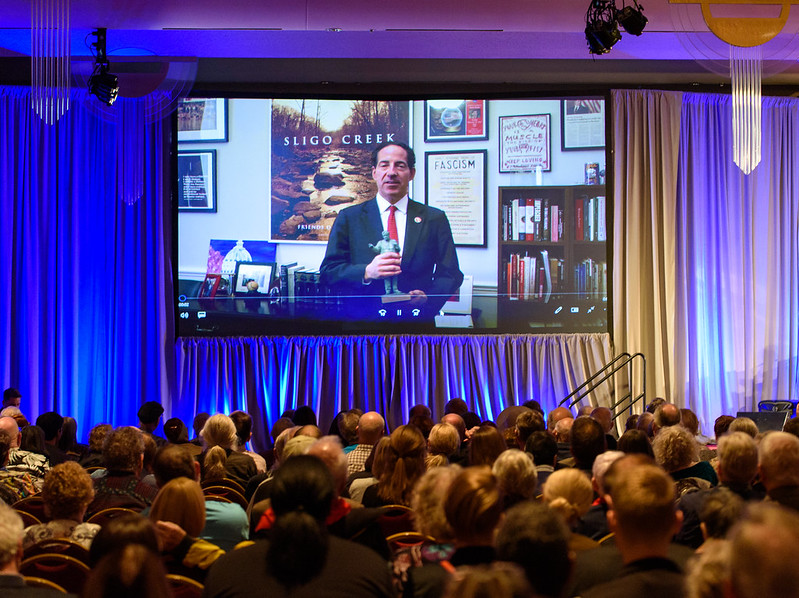 U.S. Rep. Jamie Raskin, representing Maryland's 8th Congressional District, has accepted the Freedom From Religion Foundation's Clarence Darrow Award, which recognizes "those who exemplify Clarence Darrow's commitment to the law, to freethought and to doing battle with ignorance and injustice."
Raskin, who is the co-chair of the Congressional Freethought Caucus and serves on the House Judiciary Committee, accepted the award via a video acceptance speech played during FFRF's 42nd annual convention that was recently held in Madison, Wis.
In his speech, Raskin expressed his appreciation for the "strong and growing" FFRF, noting that "freedom from religion means freedom of religion and freedom of religion means freedom from religion."
Raskin, a constitutional law professor and scholar, conveyed to the appreciative audience his admiration of Darrow, a "great lawyer who thought systematically and logically" and who was a "magnificent and eloquent champion for the separation of church and state." He added that Darrow "drew upon the deepest wellsprings of American constitutional and political thought." Raskin further praised Darrow's work against capital punishment, which Raskin helped to end in Maryland when he was serving on the state Legislature.
"A critical part of our constitutional democracy, of course, is the separation of church and state," Raskin said, emphasizing in particular the importance of keeping religious impositions out of public schools. "Some of my colleagues today still walk around Congress saying this was the moral downfall of America, when the Supreme Court banned prayer in the public schools. But I like to say the Supreme Court did not ban prayer in the public schools — as long as there are pop math quizzes, there will be prayer in the public schools."
The Clarence Darrow Award is a hefty bronze statuette that is a miniature version of the 7-foot-tall statue of Clarence Darrow created for FFRF by sculptor Zenos Frudakis, which now stands on the lawn of the Rhea County Courthouse in Dayton, Tenn., where the Scopes trial took place. The award is an all-purpose award to recognize civil libertarians, those who promote science and evolution, and/or freethought, as Darrow advocated. Raskin is the second winner. The inaugural winner was actor, writer and director John de Lancie, who has portrayed Darrow on stage and helped to dedicate the original statue.
"We can think of no one who better deserves the award than you, a constitutional attorney using the law and your congressional position to work for justice on many fronts, including the co-founding of the landmark Congressional Freethought Caucus," FFRF Co-President Annie Laurie Gaylor wrote to Raskin.
Raskin recently appeared on FFRF's weekly TV program, "Freethought Matters," which airs Sunday mornings in Washington, D.C., and 10 other major metro markets around the nation.
The Freedom From Religion Foundation is a Madison, Wis.-based national organization dedicated to the separation of state and church, with more than 30,000 nonreligious members and several chapters all around the country.
Photo by Chris Line.