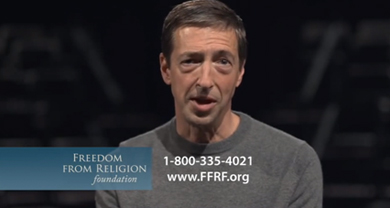 After being censored by the national ABC network when it sought to advertise during the Sept. 12 Democratic debate, the Freedom From Religion Foundation has secured airtime for its iconic Ron Reagan commercial during the Tuesday Democratic primary debate on CNN.
The 30-second spot (the first freethinking ad believed to have ever run during a presidential primary debate) will be shown twice during the Oct. 15 debate itself, and also during the primary debate pre-show and post-show. The ad will also air Wednesday on "The Lead with Jake Tapper" (4-5 p.m. Eastern), "The Situation Room with Wolf Blitzer" (5-7 p.m.) and "Anderson Cooper 360" (8-9 p.m.).
Reagan, the progressive son of President Ronald Reagan and Nancy Reagan, says during the ad:
Hi, I'm Ron Reagan, an unabashed atheist, and I'm alarmed by the intrusion of religion into our secular government. That's why I'm asking you to support the Freedom From Religion Foundation, the nation's largest and most effective association of atheists and agnostics, working to keep state and church separate, just like our Founding Fathers intended. Please support the Freedom From Religion Foundation. Ron Reagan, lifelong atheist, not afraid of burning in hell.
CBS, NBC, ABC and Discovery Science networks have refused the ad since 2014, but it has previously run periodically on CNN, Comedy Central and Rachel Maddow's show on MSNBC.
FFRF Co-President Annie Laurie Gaylor says the American public has no idea how much censorship nonbelievers encounter in seeking to disseminate their views — even when offering to pay to air those views.
"CNN has the right idea: to let there be open debate," Gaylor adds. Studies show that secular voters could comprise about a quarter of the electorate and care deeply about hot-button issues, including the direction of the judiciary and protecting abortion and LGBTQ rights.
FFRF thanks FFRF members who have donated to FFRF's Advertising Fund for making possible this major campaign.