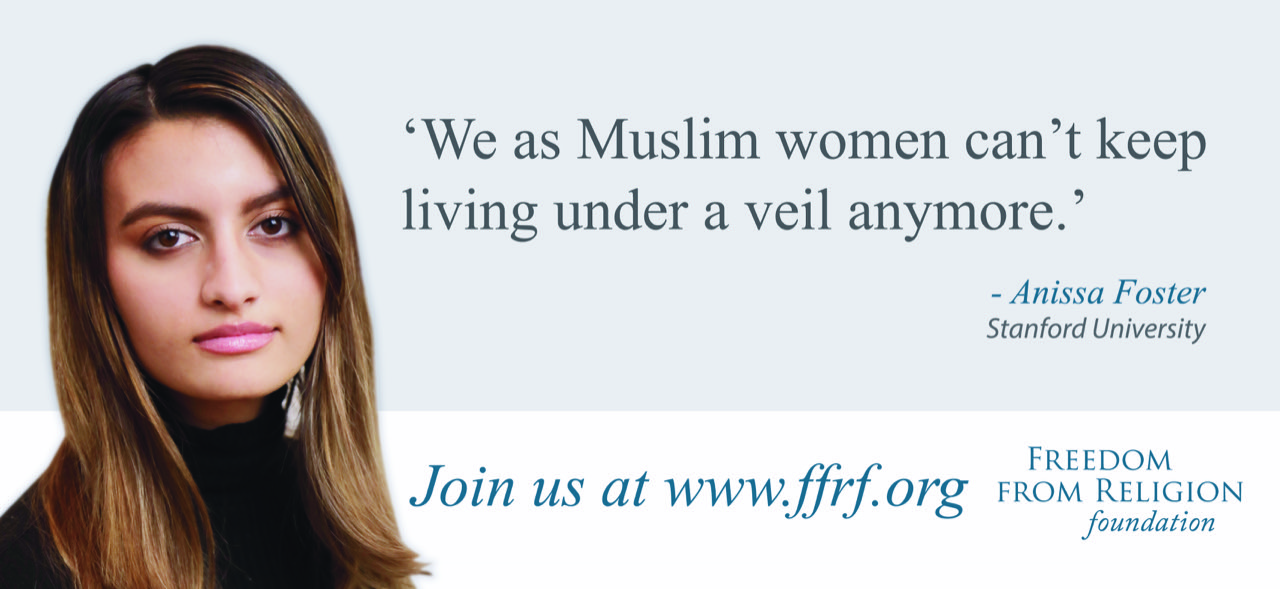 A new billboard is up in Palo Alto featuring a Stanford University student activist speaking up for women's rights within the Muslim faith. The billboard is part of a nationwide campaign by the Freedom From Religion Foundation (FFRF) featuring young freethinkers of color who have overcome discrimination in heavily religious communities.
"Throughout the world, women are oppressed and oversexualized by misogynistic religions," says Anissa Foster, a Stanford University sophomore who grew up attending Islamic school and mosque before breaking with tradition.

"We as Muslim women can't keep living under a veil anymore; we have to demand rights and we have to demand equality," adds Foster. "For me, that means speaking out about the oppression of women in my religion and all religions."
FFRF is a national nonprofit organization that fights for the separation of church and state through legal work and advocacy. The nation's largest association of freethinkers (atheists and agnostics), FFRF also supports freethinkers of color in overcoming the discrimination that can be prevalent when they come out of the closet as an atheist, agnostic or skeptic in heavily religious communities.

FFRF pays out more than $17,000 in scholarship award money to high school and college student freethinkers who write essays about overcoming discrimination. This year for the first time, FFRF is featuring some of its essay contest honorees in billboards and digital video ads shown across the country.

Foster was one of its recent honorees and selected for the billboard because of her strong message.
"FFRF is committed to helping young freethinkers like Anissa to come out of the closet and speak up," says Annie Laurie Gaylor, who co-founded FFRF with her late mother, Anne Nicol Gaylor. "FFRF came into existence after our realization that the battle for women's rights would never be won until we got to the root cause of that oppression — religion and its influence over our laws. Anne would have loved seeing strong freethinkers like Anissa taking the reins of leadership."
This is not FFRF's first foray into the Bay Area. FFRF held its national convention in San Francisco in 2018, featuring freethinkers, humanists and nonbelievers from across the country and world. It was keynoted by author Salman Rushdie and U.S. Rep. Jared Huffman, the only "out" nonbeliever in Congress, who spoke and received an award.