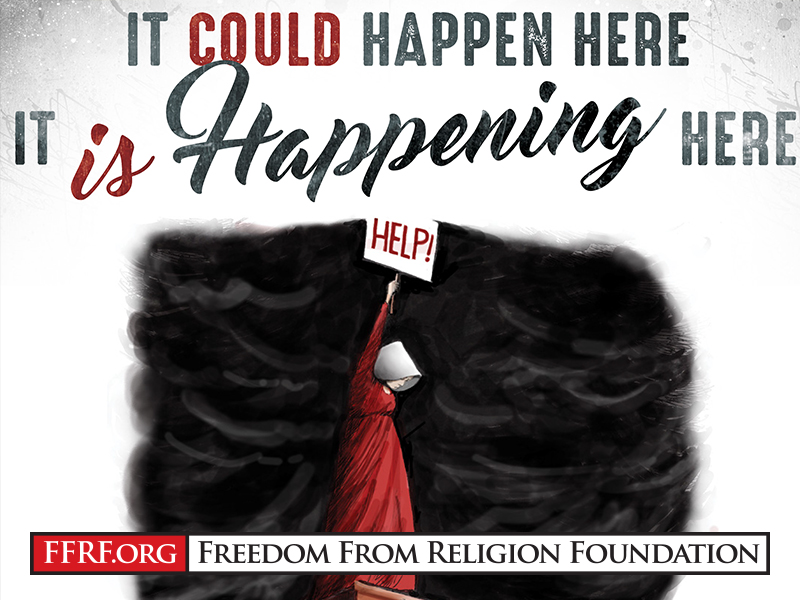 Two Wisconsin state legislators are brazenly circulating a bill to hand over $500,000 in taxpayer money to a shadowy entity that will award grants to so-called "crisis" pregnancy centers that masquerade as women's reproductive health facilities where abortions are available.
The catch is that none of these centers provides abortions. Instead they try to coerce vulnerable women to bear unwanted pregnancies to term, in part by telling them bald-faced lies about abortion's risks and regrets they will have about taking control of their own bodies.
The sponsors of LRB-2968/1 are Sen. Kathy Bernier and Rep. Romaine Quinn. According to their memorandum seeking co-sponsors, Wisconsin has 65 of these centers in 42 cities, a number that far exceeds the number of abortion clinics (four).

For years the Republican-dominated legislature has put multiple roadblocks in the way of women seeking abortions in Wisconsin. The courts have overturned some of the laws but many others haven't been.
The latest bill, uncovered by the Wisconsin Examiner, "requires the Department of Health Services to award a grant to Choose Life Wisconsin for that organization to provide grants to pregnancy resource centers. The department shall award a grant in an amount of $500,000 per fiscal year to Choose Life Wisconsin, Inc., for Choose Life Wisconsin to provide grants in an amount of up to $25,000 each to pregnancy resource centers," according to the Legislative Reference Bureau's analysis.
The bill says the money will go "for grants for pregnancy counseling." The centers are sneaky in the misleading way they name themselves and how they often locate as close as possible to abortion providers like Planned Parenthood.
The conduit for the public money is Choose Life Wisconsin Inc., formed in 2016 to sell vehicle license plates with a fetal footprint, with the state funneling $25 per set of plates to Choose Life to distribute to — guess who — pregnancy resource centers. Julaine Appling is the reason it exists, and she runs it from the same building that houses the other very conservative Christian groups she heads, Wisconsin Family Action and the Wisconsin Family Council. Concerns have also been raised about Choose Life's compliance with federal reporting requirements for nonprofits to qualify for tax exemption.
Both groups have long railed against same-sex marriage and equal rights for LGBTQ people as the downfall of Western civilization and the nuclear family. Appling, whose voice is influential in the State Capitol, claims she not behind the bill, a denial that people who know her have trouble believing. She's prominently out front at National Day of Prayer events at the Capitol and organizes church groups and student groups from Christian schools to lobby legislators.
The connections of the "forced birthers" to religion seem obvious, though they like to downplay them (irony alert) for fear of being seen as violating the constitutionally mandated separation of state and church (as if they cared about that). Of course the crisis centers are careful to not mention religion on their websites.
But it surfaces. In a 2017 column on Right Wisconsin, Appling wrote, "Now it's time to promote these Choose Life plates to Wisconsin pro-life citizens. To God be the glory! For Wisconsin Family Council, I'm Julaine Appling, reminding you the prophet Hosea said, "'My people are destroyed for lack of knowledge.'" She wrote something similar on the Voice of Christian Youth America website, a Milwaukee-based broadcaster.
The Catholic Herald of the Diocese of Madison praised and promoted the plates, as did the Thomas More Society, a conservative Catholic legal group. The Rusk County Catholic Community gushed about the plates: "Choose life today. May God bless you. In Christ, Peggy Hamill. This email address is being protected from spambots. You need JavaScript enabled to view it./"
The question is how conservatives, who purport to hate government restriction of individual rights and cry "Freedom!" at the drop of a hat, justify support for bills like this. The answer: Their religion trumps any other values they may have, so they give government a free pass to come into their bedrooms.