President Trump recently fired off a constitutionally troublesome social media missive.
Over the weekend, he tweeted praise of a recent 3rd U.S. Circuit Court of Appeals decision that allowed the Pennsylvania Statehouse to openly discriminate against atheists. Trump quoted the Christian Nationalist preacher Robert Jeffress, who discussed the decision on Lou Dobbs' TV show.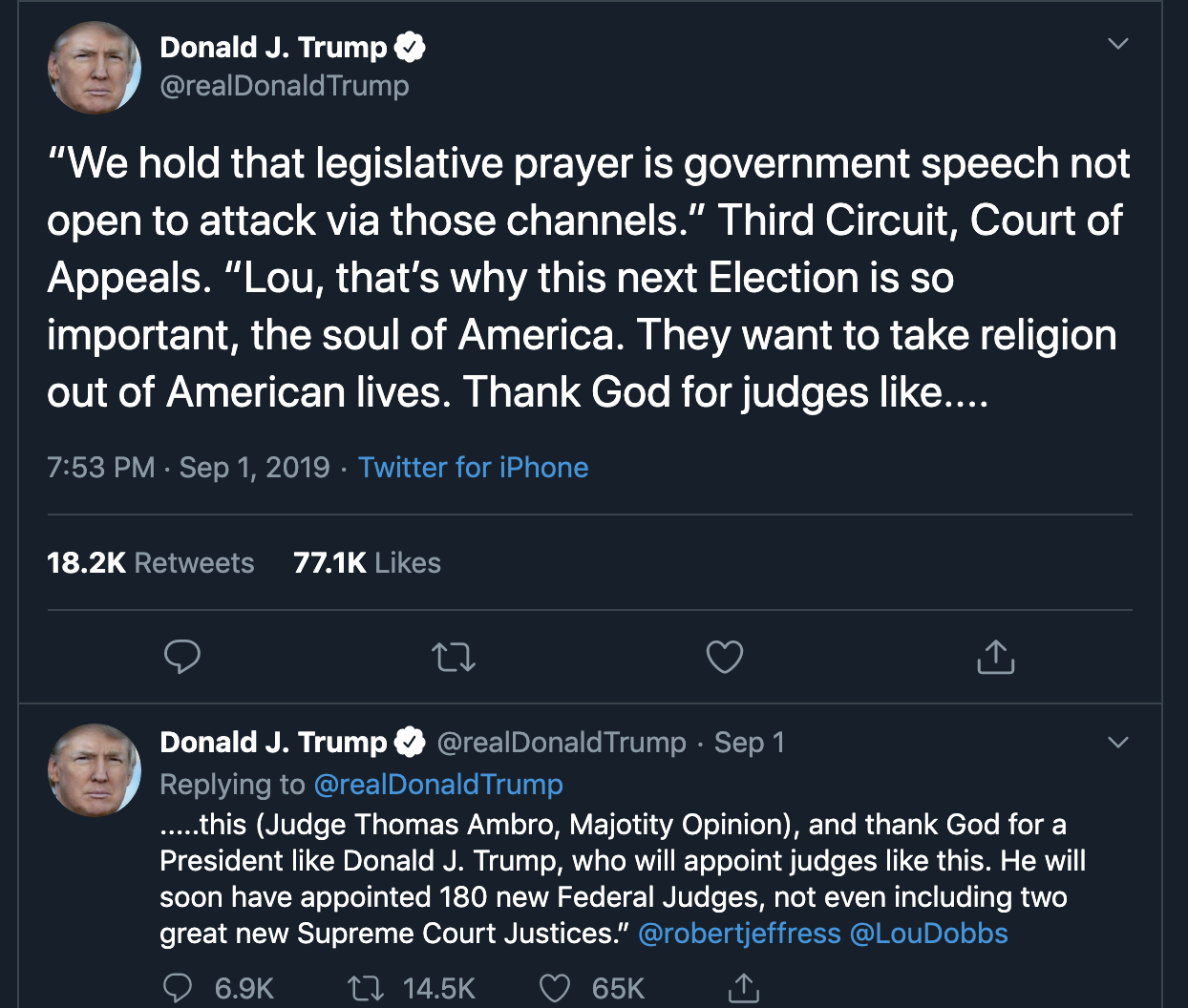 Jeffress celebrated the discriminatory decision as an example of what Trump's judicial appointees will do for decades to come. And he is right. Trump and Senate Majority Leader Mitch McConnell have rammed new judges through the confirmation process at an unprecedented pace — judges handpicked by the hyperconservative Federalist Society who will consistently rule in favor of far-right Christian Nationalists and against anyone who does not share Jeffress' warped view of Christian supremacy.
Jeffress falsely claimed that Trump has already appointed over 180 appellate judges. Trump and McConnell have actually pushed through a total of 146 federal judges, but the large majority are not appellate judges. Trump's tweet misquoted Jeffress to hide the blunder, changing it to say that Trump "will soon have appointed 180 new Federal Judges." Frighteningly, that is likely true.
The 3rd Circuit decision comes on the heels of the Supreme Court deciding that a 40-foot-tall concrete Christian cross can remain on government land and that it should be maintained with taxpayer funds. Earlier this year, another appellate court rubber-stamped discrimination against FFRF Co-President Dan Barker in a similar case to the one brought in the 3rd Circuit by our friends at Americans United for Separation of Church and State.
All this should be a major wake-up call. Non-Christians will not be able to count on equal treatment from federal courts if the current trend of judicial appointments continues. The 3rd Circuit's discriminatory ruling is a disgusting thing for the president of the United States to celebrate.
The Freedom From Religion Foundation is working to oppose theocratic judicial nominees and urges all those who believe in the American principle of equal treatment to voice their concerns to their federal representatives and get involved with groups such as FFRF.
Photo: Dr. Robert Jeffress/Facebook