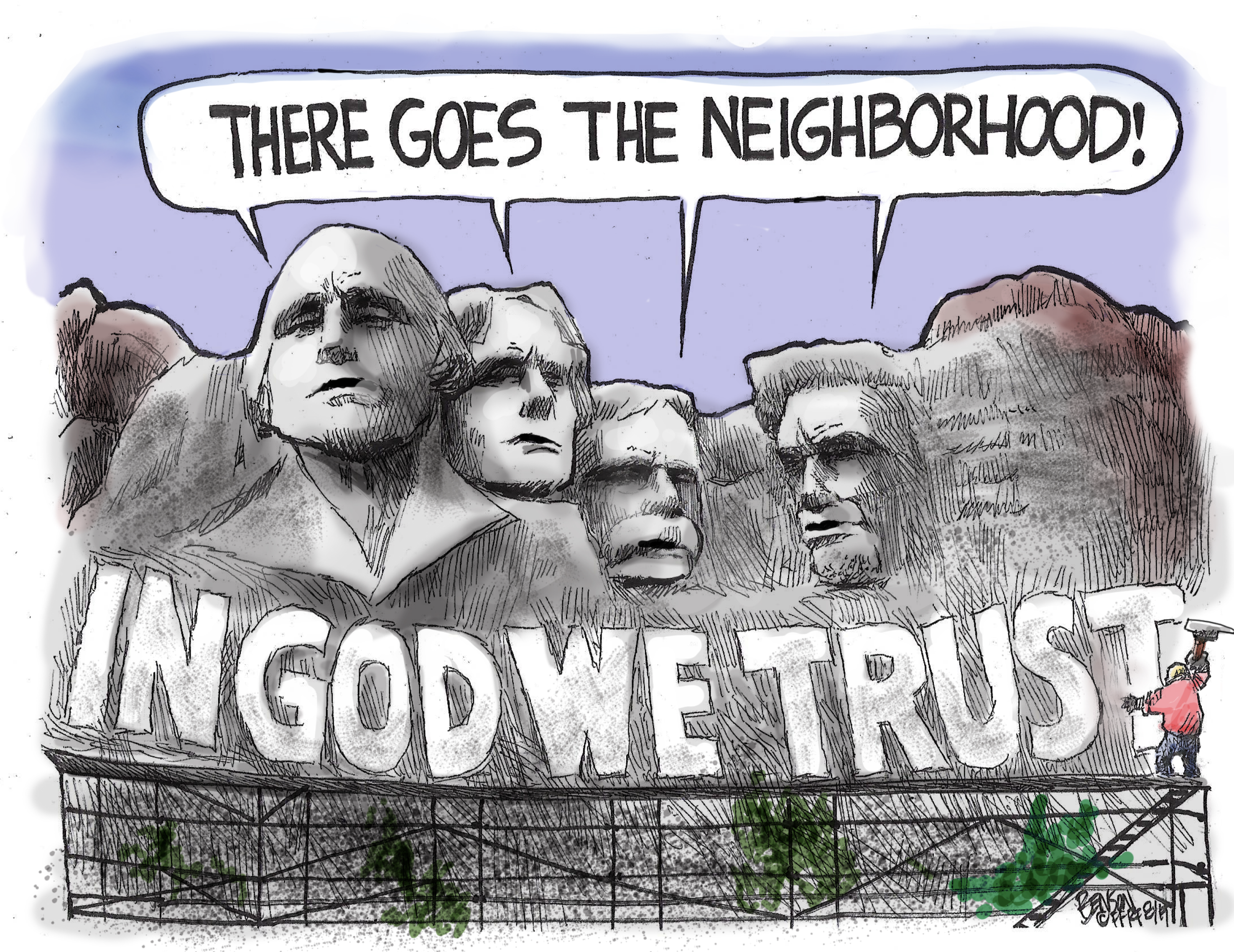 The Freedom From Religion Foundation is damning an exclusionary new South Dakota law that mandates displaying an "In God We Trust" logo in all public schools.
"A new state law that took effect this month requires all public schools in the state's 149 districts to paint, stencil or otherwise prominently display the national motto," the Associated Press reports. "The South Dakota lawmakers who proposed the law said the requirement was meant to inspire patriotism in the state's public schools."
The law — insultingly confusing patriotism with piety — is part of the nationwide legislative push by Project Blitz, which is a stealth campaign to inject religious bills into state legislatures across the country. The campaign, FFRF avers, is an unvarnished attack on American secularism and civil liberties, imposing the theocratic vision of a powerful few on We The People.
These laws are about advancing the Big Lie that the United States was "founded on God" or Christianity, thus dismantling the wall between religion and government. The motto "In God We Trust" is inaccurate, exclusionary, and aimed at brainwashing American schoolchildren into believing that our nation is a theocracy, FFRF asserts.
FFRF fought the law.
"The Freedom From Religion Foundation, based in Madison, Wis., which has legally challenged the motto's inclusion on U.S. currency, alerted its South Dakota members to contact their legislators to express opposition to the law," AP reports.
FFRF Co-President Annie Laurie Gaylor told AP: "Our position is that it's a terrible violation of freedom of conscience to inflict a godly message on a captive audience of schoolchildren."
"In God We Trust" was belatedly adopted as a motto when President Eisenhower signed legislation at the behest of the Knights of Columbus and other religious entities, which undertook a national lobbying campaign during the height of 1950s zealotry. The original inclusionary U.S. motto, chosen by a distinguished committee of Jefferson, Franklin and Adams, is the Latin E Pluribus Unum (From Many, [Come] One). As FFRF principal founder Anne Gaylor always pointed out, the religious motto isn't even correct: "To be accurate it would have to read 'In God Some of Us Trust,' and wouldn't that be silly?"
Anne Gaylor's remark is more apt now than ever. The nonreligious segment of the U.S. population is currently the largest "denomination," surpassing Roman Catholics at almost 24 percent of the populace. One-third of Millennials are "Nones," and one-fifth of Gen Z explicitly identifies as atheist or agnostic. A large portion of the schoolchildren in South Dakota belong to Gen Z — and with the required display of an explicitly religious motto, religion is being imposed on the freethinkers among them.
The Freedom From Religion Foundation is a national nonprofit organization with 31,000 members across the country, including in South Dakota. Its purposes are to protect the constitutional separation between state and church, and to educate the public about matters relating to nontheism.