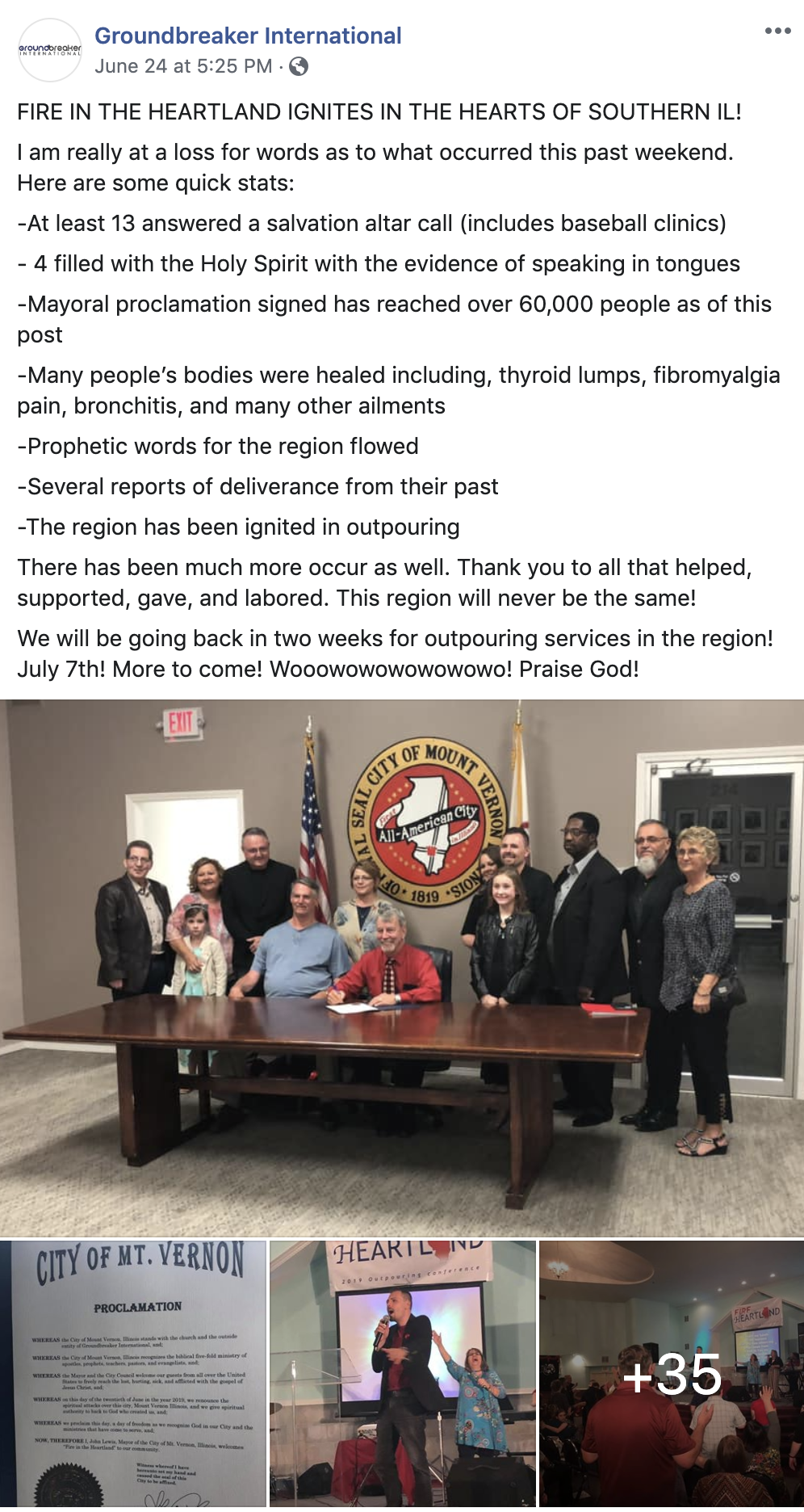 The Freedom From Religion Foundation is urging city officials in Mount Vernon, Ill., to refrain from promoting religion following an unconstitutional endorsement.
Several area residents informed the state/church watchdog that on June 20, the city of Mount Vernon issued an official proclamation that promoted and endorsed Christianity, a Christian organization and a Christian revival event:
Whereas the City of Mount Vernon, Illinois, stands with the church and the outside entity of Groundbreaker International, and;
Whereas the City of Mount Vernon, Illinois, recognizes the biblical five-fold ministry of apostles, prophets, teachers, pastors, and evangelists, and;

Whereas the Mayor and the City Council welcome our guests from all over the United States to freely reach the lost, hurting, sick, and afflicted with the gospel of Jesus Christ, and;
Whereas on this day of the twentieth of June in the year 2019, we renounce the spiritual attacks over this city, Mount Vernon Illinois, and we give spiritual authority to [sic] back to God who created us, and;
Whereas we proclaim this day, a day of freedom as we recognize God in our City and the ministries that have come to serve, and;
Now, Therefore I, John Lewis, Mayor of the City of Mt. Vernon, Illinois, welcomes "Fire in the Heartland" to our community.
"Fire in the Heartland" is a religious revival hosted by Groundbreaker International. Groundbreaker International "is all about spreading the fire of revival to every tribe, tongue, and nation." Its mission "is to dig new wells of revival and help cultivate and stoke the fires that already exist …" by "winning the lost, seeing the demoniacs delivers, the sick healed, and the Holy Spirit being poured out on all flesh."
Groundbreaker International reports that during this event, which was promoted and endorsed by the city of Mount Vernon through this proclamation, four people were "filled with the Holy Spirit with the evidence of speaking in tongues." Groundbreaker International also claimed that many people were healed during this revival event, including people suffering from "thyroid lumps, fibromyalgia pain, bronchitis and many other ailments." Organizers of this event also allegedly prayed over Mayor Lewis after this proclamation was signed.
It is unconstitutional for city government to explicitly promote Christianity, a Christian organization and a Christian event, as it violates the Establishment Clause of the First Amendment, FFRF reminds Mount Vernon Mayor John Lewis.
"This proclamation alienates nonreligious and non-Christian citizens in Mount Vernon by turning them into political outsiders in their own community, including the 24 percent of Americans and 38 percent of Americans born after 1987, who do not identify with any religion, FFRF Legal Fellow Chris Line writes. "The city's official endorsement of Christianity and the views of a Christian organization and revival event is a serious constitutional separation of state and church violation."
FFRF is urging the city to refrain from issuing proclamations that endorse a specific religious viewpoint or religious organization in the future.
"It is extremely inappropriate for city officials to use their position of power to promote anti-scientific, fringe religious beliefs," comments FFRF Co-President Annie Laurie Gaylor. "It is dangerous, irresponsible and unconstitutional."
The Freedom From Religion Foundation is a national nonprofit organization with more than 31,000 members and several chapters across the country, including over 1,000 members in Illinois and a chapter in Chicago. FFRF's purposes are to protect the constitutional principle of separation between church and state, and to educate the public on matters relating to nontheism.