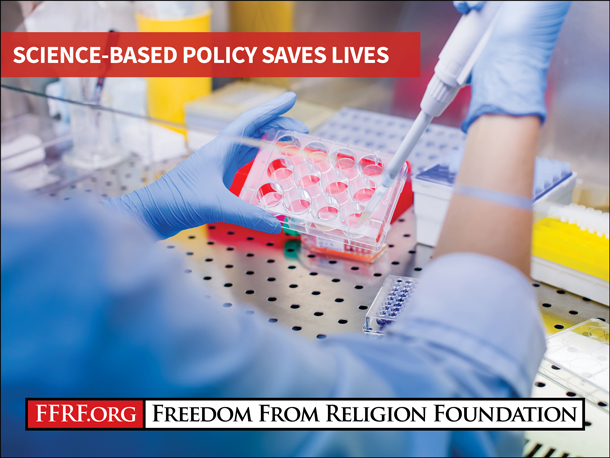 Yesterday, the Trump administration announced yet another faith-based policy, halting critical fetal tissue research that would benefit millions of patients.
Besides ending such research within the National Institutes for Health, the Department of Health and Human Services also announced it would immediately cancel its contract with the University of California - San Francisco for research involving fetal tissue.
"Promoting the dignity of human life from conception to natural death is one of the very top priorities of the Trump administration," the department said in an unctuous statement.
The belief that human personhood begins at conception is a purely religious notion — and a contested religious belief at that. There is no place for faith in dictating secular federal policies. This action not only plays right into the hands of the Trump administration's anti-choice evangelical base, it will also have lasting and devastating effects on medical research.
"It will affect everything from cures for cancer and H.I.V. through to Parkinson's and dementia," explains Lawrence O. Gostin, a professor specializing in public health law at Georgetown University. "The ban on fetal tissue research is akin to a ban on hope for millions of Americans suffering from life-threatening and debilitating diseases."
In yet another attack on reason and reproductive rights, the Nebraska Legislature spent more than 10 hours last week debating a bill requiring the state to provide information for women on what to do if they change their minds during a medication abortion — despite the fact that this sort of advice lacks scientific validity. The legislature nevertheless voted 36-11 to pass this unreasonable bill, and Gov. Pete Ricketts signed it into law this week.
Implementing medical rules and laws that are not based in science put women's lives and scientific advances at risk. The eagerness to bulldoze reason and science-based policy at every turn will have immeasurable consequences for generations to come.