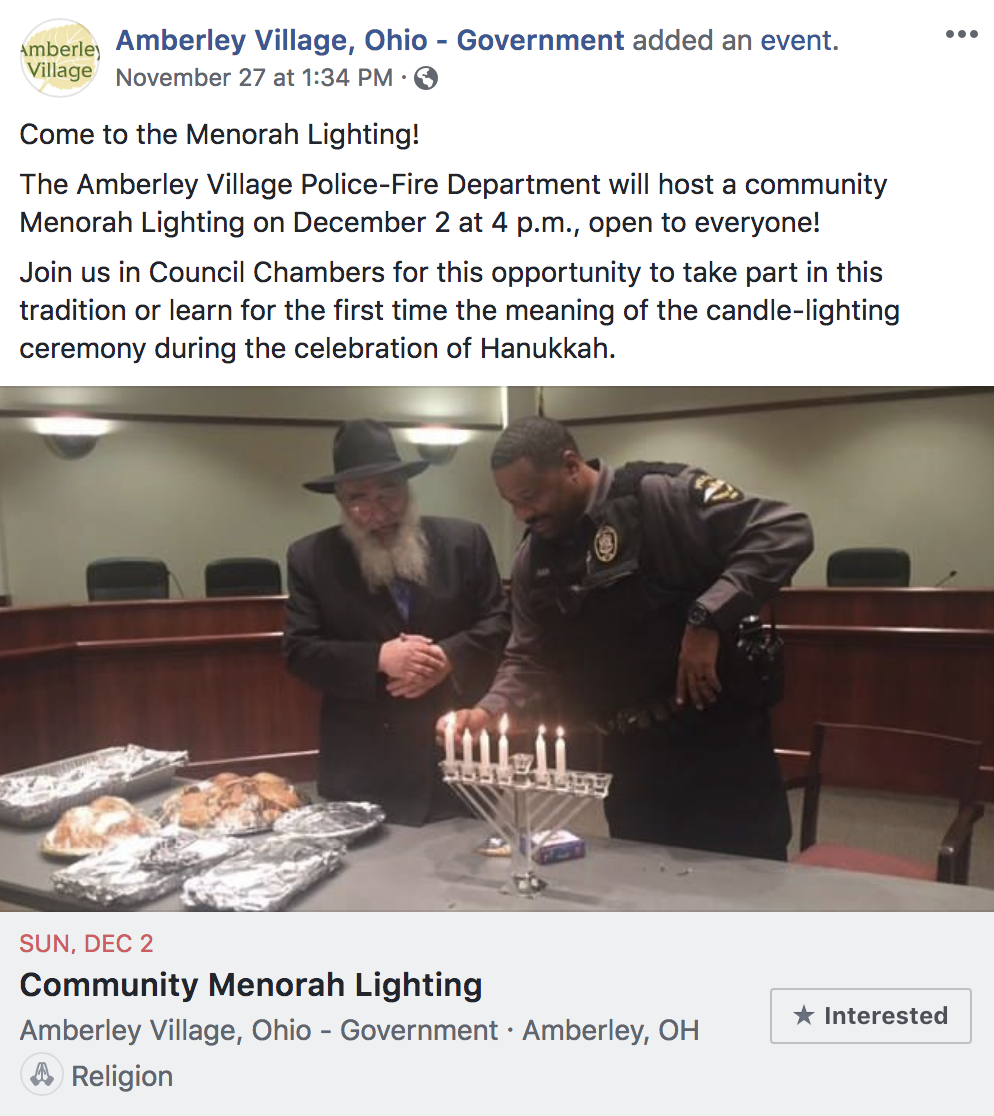 The Freedom From Religion Foundation is calling for an end to an Ohio police department's unconstitutional annual hosting of a religious event.
A concerned area resident contacted FFRF to report that each year the Amberley Village Police-Fire Department hosts a menorah lighting ceremony.
According to the complainant, this event is sponsored by the department and this year's event was promoted on the village's website and social media pages, where residents were invited to "join us for this opportunity to take part in this tradition or learn for the first time the meaning of the candle-lighting during the celebration of Hanukkah." Several uniformed officers also apparently took part in the religious ceremony.
The department's official sponsorship of this religious ceremony poses serious constitutional problems, FFRF Patrick O'Reiley Legal Fellow Christopher Line reminded it in a letter to Police/Fire Chief Rich Wallace.
The Establishment Clause of the First Amendment to the U.S. Constitution prohibits the government from endorsing, advancing, or promoting religion," Line writes. "Official Amberly Village Police-Fire Department sponsorship of a religious ceremony creates the appearance of village entanglement with religion and alienates the non-Jewish and nonreligious members of the community and Department.
FFRF is asking that the department refrain from hosting religious events in the future and that, to avoid entanglement with religion, village employees not attend or participate in religious events while on the clock or in uniform.
"Citizens rely on law enforcement during some of the most vulnerable times in their lives and it is their sworn oath to protect every citizen," says FFRF Co-President Annie Laurie Gaylor. "The appearance or existence of religious endorsement by the department is divisive and exclusionary to the very citizens it serves."
The Freedom From Religion Foundation is a national nonprofit organization with more than 31,000 members and several chapters across the country, including over 700 members and a chapter in Ohio. FFRF's purposes are to protect the constitutional principle of separation between church and state, and to educate the public on matters relating to nontheism.