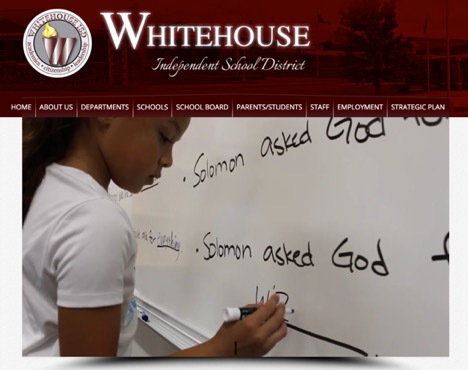 The Freedom From Religion Foundation is calling attention to a staggering constitutional violation in a Texas public school district.
A concerned community member in Whitehouse Independent School District contacted FFRF to report that the district had recently recorded and posted to its website a video promoting "faith" as part of the district's "Mission and Beliefs."
The video, which appears on the district's homepage, depicts various district staff members repeating the phrase: "We believe faith and family are the foundation of our community." At the end of this portion of the video, the district included a shot of a student writing on a whiteboard with the phrase "Solomon asked God…" appearing twice. The message appears to be that the district is willing to incorporate religious teachings into the classroom.
It is well-settled law that public schools may not advance, prefer or promote religion, FFRF reminds the district. A school-sponsored message that endorses faith conflicts with the personal nonreligious beliefs of many district students and families.
"Individual families, teachers, and students are free, of course, to choose to rely on faith as a guiding principle in their personal lives," writes FFRF Associate Counsel Sam Grover in his letter to Superintendent Christopher Moran. "But when acting on behalf of the district, administrators cannot promote faith as a core value."
FFRF is requesting that the district remove endorsements of "faith" or religious teachings from its "Whitehouse ISD Mission and Beliefs" video and cease promoting a message that emphasized religion in any future promotional materials.
"It is not the business of the district to establish religious beliefs on behalf of its students," says FFRF Co-President Dan Barker. "Public schools have an obligation to adopt a mission and core beliefs that are inclusive of all district students and families."
The Freedom From Religion Foundation is a national nonprofit organization with more than 32,000 members and several chapters across the country, including over 1,300 members and a chapter in Texas. FFRF's purposes are to protect the constitutional principle of separation between church and state, and to educate the public on matters relating to nontheism.