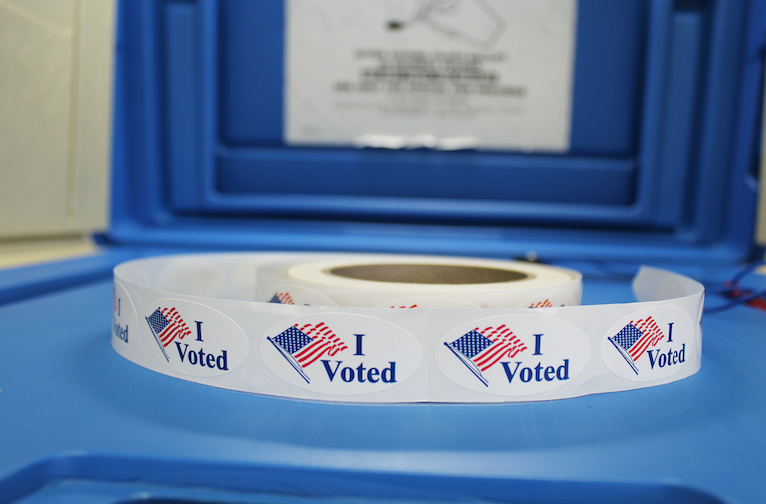 As a 501(c)(3) nonprofit, the Freedom From Religion Foundation is nonpartisan and does not take sides in elections. This rule is laid out in the Johnson Amendment, something FFRF has worked hard to protect against an onslaught led by conservative Christian churches. But elections affect everything we do — in good and bad ways. So FFRF was watching the election closely, and here are some of our takeaways.
Even the slight shift to the right in the U.S. Senate is going to further the Christian nationalist takeover of the federal judiciary and make FFRF's job that much harder. The House flipping makes it far more likely, however, that the Johnson Amendment will be protected for the next two years at the least.
Kim Davis, the Kentucky bigot and Rowan County clerk who denied same sex couples marriage licenses, lost her re-election bid. Good riddance. She's being replaced by a man who will do his job.
Megan Hunt, a progressive who is an atheist, won her bid to become a Nebraska state senator by 30 percentage points. She won't be alone: Friend of FFRF and champion of the First Amendment, Ernie Chambers, is a longtime Nebraska state senator and a non-superstitionist.
Alabama voters unfortunately passed Amendment 1 with 71 percent of the vote, which approved placing Ten Commandments displays in government buildings, including public schools. Has Alabama learned nothing from Roy Moore's embarrassing antics? FFRF will, of course, do all we can to challenge any displays that go up under this new law, which violates clear Supreme Court precedent.
Two alarming anti-abortion ballot measures — in Alabama and in West Virginia — passed, intended as a counterattack on women's right to choice. An Oregon measure seeking to do the same happily failed.
In California, U.S. Rep. Jared Huffman, a proud "None," was re-elected. He won a resounding victory by more than 50 percentage points, showing not only that it is possible to be openly nonreligious and win office, but that it's possible to win big. Huffman leads the Freethought Caucus and is bringing some religious diversity to Congress.
Photo via Shutterstock by Barbara Kalbfleisch